Television
Deadline Gallipoli
If ever there were to be an exception to Winston Churchill's military aphorism, 'History is written by the victors', the Anzac story would make a promising candidate. One doubts that those on the ground at Gallipoli would consider themselves victors. Yet here we are, one hundred years on, celebrating the Anzac tradition with more patriotic vigour than ever. How does such a grand tradition endure from such an unmitigated disaster?
In a shift in focus from the range of other productions marking the centennial anniversary of World War I – ANZAC Girls (ABC TV) Gallipoli (Channel Nine) The War That Changed Us (ABC TV) – Michael Rymer's miniseries Deadline Gallipoli (Showcase/Foxtel) serves to illuminate the role of the journalist in narrating the campaign that defined a nation. Given the press restrictions in the war zone, the reportage of a few designated journalists had considerable influence. In the case of Australia's official war correspondent, Charles Bean, this influence persists in the immense volumes of the Official History of Australia in the War of 1914–1918.
Although Bean's writings were monumental, it is important to note the environment in which he operated. Censorship and propaganda were major impediments for journalists, and this is a caveat emphasised by Deadline's writers: Jacquelin Perske, Shaun Grant, Stuart Beattie, and Cate Shortland. As the publicity tag says, 'The first casualty of war is the truth'. It is important to note, though, that Deadline Gallipoli itself requires an asterisk; one of the key characters happens to be the father of a certain media mogul and significant stakeholder in Foxtel, the network which is broadcasdting the series.
'How does such a grand tradition endure from such an unmitigated disaster?'
In attempting to restore the aforementioned 'casualty', the writing team does what any responsible journalist would do: gather its sources. Bean included, the principal sources of material for this series amount to four: British correspondent Ellis Ashmead-Bartlett, a provocative and well-connected campaign critic who later wrote The Dardanelles Campaign; little-known Australian photojournalist Phillip Schuler, whose sole legacy is his work Australia in Arms (1916); and future media magnate Keith Murdoch (father of Rupert), whose brief and late stay at Gallipoli does not detract from his impact.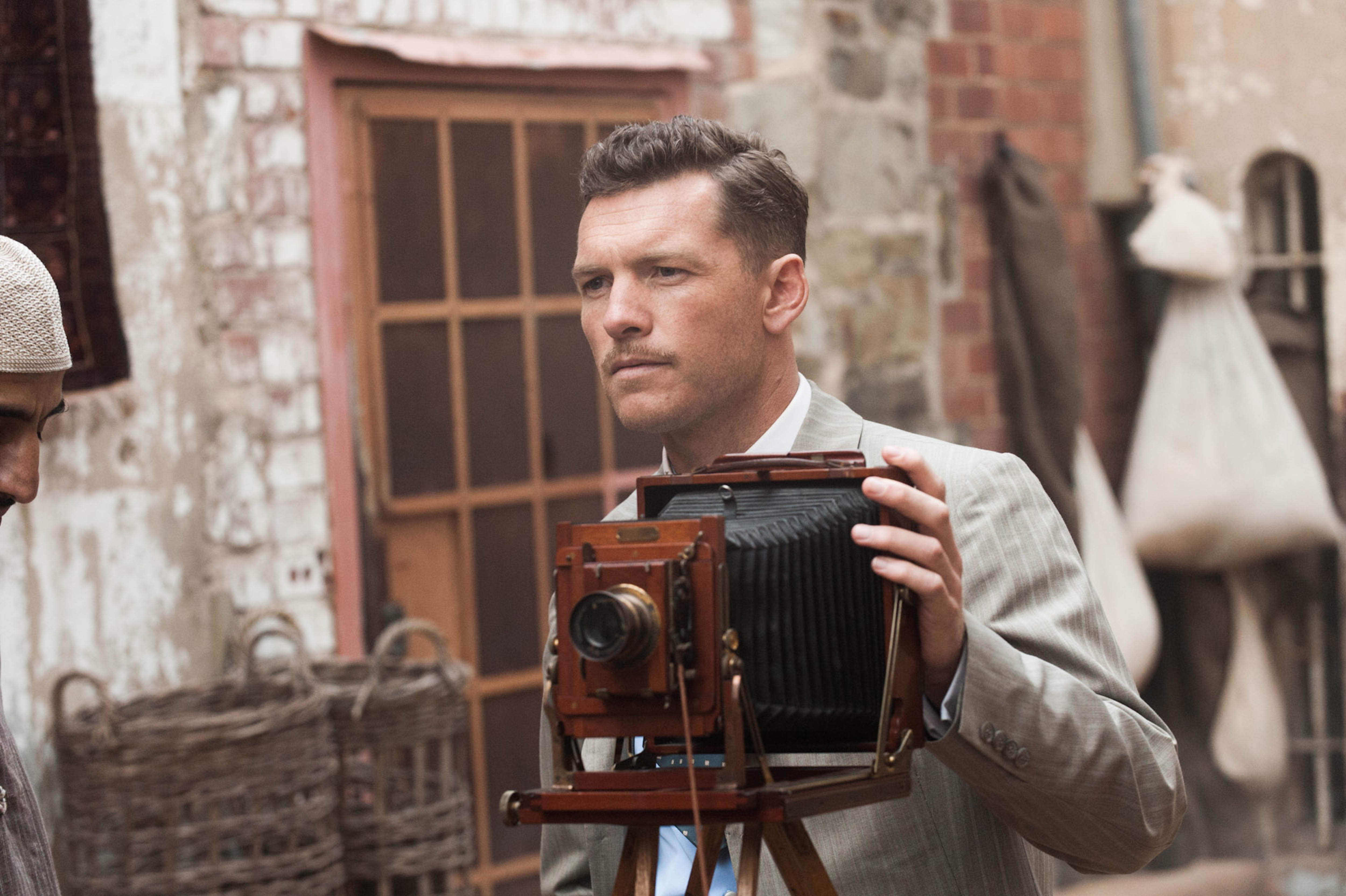 Sam Worthington as journalist Philip Schuler in Deadline Gallipoli (Showcase/Foxtel, photograph by Matt Nettheim)
From these vastly contrasting personas we are offered an epic scope, sweeping from Bean's trenches to Schuler's aid ships to Ashmead-Bartlett's dealings with the Admiralty and aristocracy. While visceral and cinematic in its aspirations, Deadline Gallipoli benefits from afour-hour running time, ensuring that it neither lingers nor rushes, even if some choice statements press the film-maker's writers' case a little too strongly.
For all the advances in journalistic media, the same discussions on ethics and war correspondence persist to this day. In this respect, the choice of the awkward and serious Bean to be the official Australian press correspondent remains intriguing. One supposes that the Australian press at the time preferred to send a moderate voice who could write copy that would fit in with any newspaper's political stance. The army, on the other hand, needed someone who could spur enlistment efforts and, to paraphrase Charles Dance's marvellous Allied Commander Sir Ian Hamilton, 'give meaning to the death'. These quandaries are not shied from in Deadline Gallipoli, and in fact speak to modern audiences with remarkable relevance.
Bean's insistence on being not merely a reporter but a witness makes for a stirring tale, even if it is periodically hindered by newcomer Joel Jackson's occasionally stilted performance. Bean's journey is one of defiance: defiance of yobbo-like troops' poor opinion of him, and of the Admiralty's smothering censorship. As dramatised here, Bean's almost romantic recitation of the troops' feats at Gallipoli owes much to this steadfastness.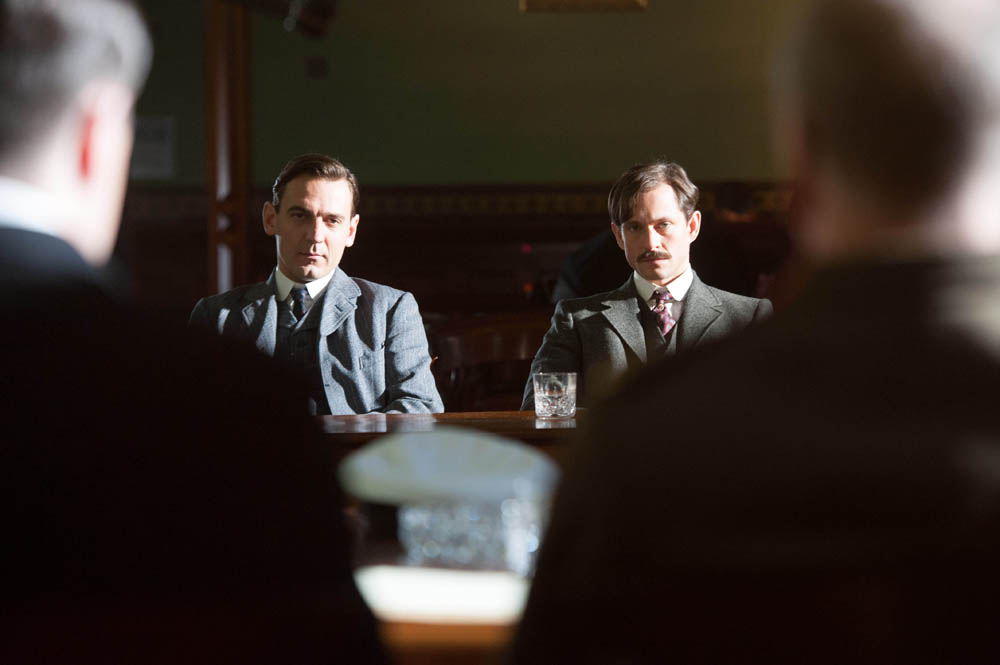 Ewen Leslie as Keith Murdoch and Hugh Dancy as Ellis Ashmead-Bartlett in Deadline Gallipoli (Showcase/Foxtel, photograph by Matt Nettheim)
Bean's view of the war also had its critics though, and one of the many interesting themes at play here is the ongoing contrast between Bean's approach and that of Ashmead-Bartlett. The latter saw the journalist's role as an analytical and, if need be, incendiary one. When he mocks Bean for his intention to observe rather than to comment, Ashmead-Bartlett defends the analytical core of his profession: 'That doesn't make you a journalist, Bean! That makes you a diarist!' Given the influence that Ashmead-Bartlett's words had at the time, the British journalist's legacy proves to have been one of the most pivotal. This is reflected in Hugh Dancy's performance, which is one of the series' finest.
Of course, perhaps the most obvious point of contemporary relevance becomes apparent when the ambitious Murdoch arrives for his brief but fruitful visit to the warzone. While Rupert's stake in the broadcasting Foxtel poses a curious conflict of interest here, there is little to suggest an overt influence. Interestingly, the producing company, Matchbox Pictures – co-producing with Sam Worthington's Full Clip – is actually an Australian subsidiary of NBCUniversal International, one of Murdoch's competitors. However, the fact that the writers sit squarely on the fence in interpreting the older Murdoch's motives and character, only letting on that he was ambitious and relentless, makes for a missed opportunity and a rather unremarkable portrayal from Ewen Leslie. Oddly, by comparison, given his screen-time and series marketing power, Sam Worthington's brash, sweet-talking Phillip Schuler seems the odd one out. While the role is well played by Worthington, the intimate toll of Schuler's journey seems like the subject for a series of its own.
The end result is a poignant and timely introduction to the people responsible for documenting this campaign and the circumstances in which the history of Gallipoli was written. Rymer is careful to communicate that those circumstances were nothing less than horrific, and balances the competing perceptions of courage and stupidity deftly. Moreover, the highlighted shortcomings in the administration of the campaign, particularly those regarding rationing and the under-staffed and -supplied medical and nursing corps, are a central and strengthening influence. After all, the story wasn't just about the casualties suffered at the hands of the noble Turk, but the ineptitude of the British command, an opinion here shared by Bean: 'This isn't war … it's a slow death through negligence.'
Deadline Gallipoli (MA15+) is a Matchbox/FullClip production for Foxtel and NBCU. It is directed by Michael Rymer, and written by Jacquelin Perske, Shaun Grant, Stuart Beattie & Cate Shortland. It screens on Foxtel's Showcase on April 19 and 20 (8.30 pm).