Music
Doug Wallen reviews 'Paul Kelly Presents: The Merri Soul Sessions'
Hopping around the stage of Ballarat's historic Her Majesty's Theatre, Paul Kelly at one point resembled a giddy teenager cutting loose on rhythm guitar at band practice rather than a veteran songwriter with nearly twenty albums behind him. Such exuberance can be attributed in large part to the night's premise: Kelly augmented his five-piece live configuration with five singers who took turns singing lead. The format originated with his most recent album, The Merri Soul Sessions (2014), but expanded to new proportions live as Kelly and his collaborators – keyboardist Cameron Bruce, drummer Peter Luscombe, bassist Bill MacDonald, guitarist Ash Naylor, and vocalists Vika Bull, Linda Bull, Clairy Browne, Kira Puru, and Dan Sultan – moved through album selections as well as reimagining Kelly classics and appropriate cover songs.
Dressed in a burgundy suit, sans tie, with his white hair cropped close, Kelly took full advantage of his chance to warm up in the regional centre of Ballarat before taking the show to Melbourne's Hamer Hall. Some in the audience may have been expecting more songs from his back catalogue, but it was clear how much Kelly relished the chance to step back from the spotlight at times and play the part of a session musician, if you will, for the assorted vocalists.
Despite soul music brimming from both the name of the project and the manner of the tour, which echoed the famous 1967 European tour by artists signed to the Stax and Volt labels in the United States, Kelly and company cut across various musical traditions. His own material still pointed to folk in the lyrics and vocals, and to rock and pop in the arrangements, but other songs incorporated gospel, blues, and more. Kelly introduced several tunes quite specifically, identifying 'Song From the Sixteenth Floor' as a 'list song' and 'Down on the Jetty' as an entry 'from the genre of somebody leaving somebody'. Those loving preambles recalled Bob Dylan's introductions to the songs he curated for his Theme Time Radio Hour program last decade.
'Kelly relished the chance to step back from the spotlight at times and play the part of a session musician'
Kelly has said that The Merri Soul Sessions album came about in various ways, from his enjoying Linda Bull's version of his song 'Sweet Guy' to writing soul-style songs with Sultan, to simply being a fan of Browne's throwback girl-group The Bangin' Rackettes. Named for the Merri Creek, which runs near the studio where it was recorded, the album gave Kelly a way to expand his vocal range, so to speak, and to try out genre settings that might not suit his own delivery. The songs also double as love letters to the past, having a timeless ring and rarely threatening to betray the year in which they were recorded. Eight of them were even issued as a series of four vinyl singles before the album's release.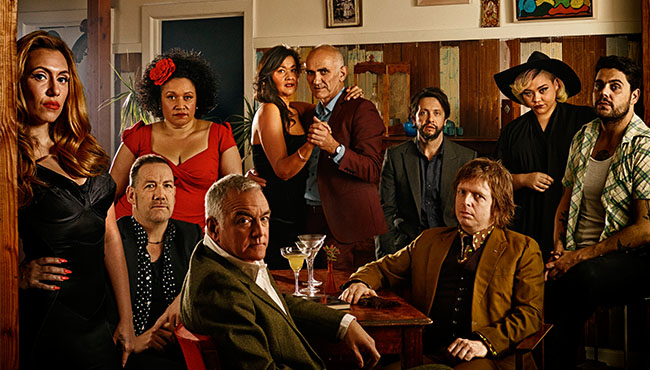 The Merri Soul Sessions band
Performed live, the album tracks ranged from the brash soul of the night's opening 'What You Want', with Vika Bull singing lead, to the folky poetry and morality of 'Righteous Woman', sung by Kelly. Sultan alone moved from a rock star's confident electric-guitar licks to the jaunty soul and pop tones of Sam Cooke and Jackie Wilson. 'Thank You' evoked the wise musings of Cat Stevens, while Puru brought low-slung intimacy to 'I Don't Know What I'd Do', during which Kelly took a break off-stage. The aforementioned 'Sweet Guy' swung from powerhouse R&B to a burning bar-band finale, and Sultan took Kelly's place on 'Look So Fine, Feel So Low', leading the song's jangly power-pop to a call-and-response exchange with the audience. Kelly and Puru also joined up for a duet on the classic soul tune 'The Dark End of the Street'.
'The songs also double as love letters to the past, having a timeless ring'
Browne was the night's most consistent breakout singer, adept at both fragile balladry and belting out magnified emotions. Her duet with Sultan for the soul standard, 'When Something Is Wrong with My Baby', was the night's biggest highlight, with the band bringing as much heat as their combined voices, and she played a big-voiced siren for the bluesy 'Keep On Coming Back For More'.
Kelly included many of his most famous tunes, including his signature song (and title of his 2010 memoir), 'How to Make Gravy', and 'I Close My Eyes and Think of You', written for his mother, as well as 'Beggar on the Streets of Love' and 'Dumb Things', during which a party practically broke out on stage. All six singers went into a cappella mode for the closing 'Meet Me in the Middle of the Air', a haunting rendition that lingered in the mind.
This was still a Paul Kelly concert, but it was not quite like any he has done before. It was a unique experiment between peers, delivered with much enthusiasm.
Paul Kelly Presents: The Merri Soul Sessions toured nationally in January and February 2015, and is currently staging encore shows in Melbourne and Sydney. Performance attended 9 April.