Music
Ben Brooker reviews 'Reflections on Gallipoli'
It is, of course, one hundred years since almost 9,000 Australians died on a small Turkish peninsula during a campaign that, despite its localised failure as a military operation and futility in influencing the overall course of the war, has been unalterably woven into the fabric of our national mythos. Commemorative presentations are frequent. Orchestras, television producers, and performing arts companies across the country rally to a cause that has, over the decades, moved in and out of the public consciousness, its meaning ceaselessly contested.
The Australian Chamber Orchestra's contribution is Reflections on Gallipoli, a multidisciplinary concert devised by Richard Tognetti (lead violinist and the company's artistic director), Neil Armfield (theatre, film, and television director), and Nigel Jamieson, known as a creator of large scale works both here and in the United Kingdom. The program – interspersed with dialogue drawn from biographical accounts of the war and performed by actors Yalin Ozucelik and Nathaniel Dean against a massive backdrop of projected still images and footage – is an intriguing meeting of the standard Anglo repertoire, Turkish folk music and military songs, and two world premières by Australian composer Carl Vine. Pieces by Béla Bartók (the menacing, rondo-like second movement of his String Quartet No. 2, which opens the program), Frederick Septimus Kelly (Elegy for String Orchestra 'In Memoriam Rupert Brooke'), and Turkish composer Kodalli (the elegiac Adagio for String Orchestra) have a different provenance again.
The effect of this hybridity is interesting, on the one hand foregrounding to an unusual degree the Turkish side of the conflict, and on the other reducing the war down to what, at such close focus, looks like a regional skirmish between improbable foes rather than merely a spot fire of a global conflagration. Both sides are brought together in the more substantial of Vine's compositions, Our Sons, which sets a libretto based on General Mustafa Kemal Atatürk's epitaph on the Turkish memorial at ANZAC Cove ('there is no difference between the Johnnies and the Mehmets to us') to a cantata that, perhaps not without design, shares something of the draining intensity of Benjamin Britten's War Requiem. Soprano Taryn Fiebig sings impeccably from the work's mournful beginning, through a coruscating middle section, to a forlorn, repeated prayer for peace that leads into an ethereal finale.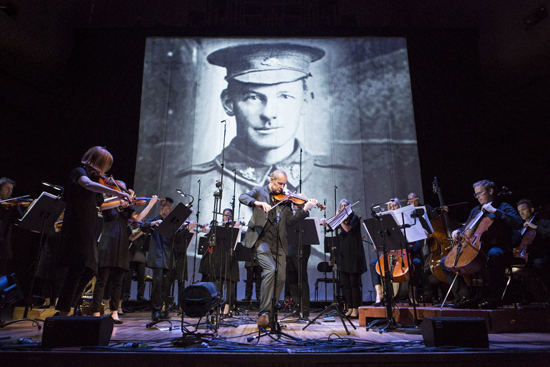 Richard Tognetti performs 'The Lark Ascending' during the ACO's Reflections on Gallipoli (photograph by Jamie Williams)
'The effect of this hybridity is interesting'
There is, unfortunately, a tension that is never quite resolved between such powerful abstractions and the starkly quotidian war stories provided by the actors. In a different setting, their unsparing brutality – carpets of dead men underwater, soldiers drowning in their own excrement, the bayoneting of comrades' bloated corpses to permit burial – might have been admirable, but here they jar. Dean's overemphatic delivery does not help matters. It could also be argued that Vaughan Williams' pastoral, nostalgic The Lark Ascending, however masterfully handled by Tognetti, is a curious choice to end the second half, its rapturous solo violin part too obviously freighted, in this context, with the idea of transcendence. It is a conclusion that, in its romanticism, plays too readily into the mythologisation of the Great War.
'The intertwining of Turkish and Australian stories of the war can only be a good thing'
The pleasures of Reflections on Gallipoli are many, from the striking visuals which blend Sean Bacon's thoughtfully crafted video design and Matthew Cox's subtly evocative lighting, to a moving performance of Elgar's Sospiri, Op. 70 that brings the first half to a sighing, funereal close. Nihavend Longa, a frenetic dance in 2/4 time with Brian Nixon providing martial percussion, is a bracingly exuberant addition to the program. The intertwining of Turkish and Australian stories of the war can only be a good thing, underscoring that the hostility between the men who fought and died in each country's name was driven, on the whole, by nothing deeper or more lasting than a quirk of historical circumstance.
In the end, though, all commemoration is political, every act of memorialisation also an act of forgetting. There is truth in these reflections, but false consolation too. This is the terrain on which our centennial remembrances of World War I's sixteen million dead will be fought.
Reflections on Gallipoli, performed by the Australian Chamber Orchestra with assorted soloists – conducted by Richard Tognetti, directed by Neil Armfield, and devised by Nigel Jamieson – continues in Sydney, Melbourne, and Brisbane until 27 March 2015. Performance attended 17 March (Adelaide).