Theatre
Samuel Beckett and James Joyce in Adelaide
One might be pardoned for assuming, from the preponderance of mono-dramas at this year's Adelaide Festival, that some mix of budgetary pressures and theatrical taste has meant that drama even the minimal Greek combination of three theatrical presences is not high on the director's shopping list. Elsewhere, as in Perth during its recent Festival, there are theatre offerings which indicate that slightly larger- scale works can actually be programmed.
However, given this proviso, State Theatre Company's Beckett Triptych –

– and Olwen Fouéré's riverrun (sic) –

– offer audiences four distinguished solo performers who bring varying levels of virtuosity and insight to their roles.
'Four distinguished solo performers who bring varying levels of virtuosity and insight to their roles'
Eh Joe, originally conceived for television, featured Paul Blackwell and the recorded voice of Pamela Rabe in a clean, carefully structured staging from Corey McMahon; Footfalls, again with Rabe and directed by Geordie Brookman offered a somewhat mixed realisation of Beckett's elliptical yet haunting text; and Krapps Last Tape had Peter Carroll handling the voice of the young Krapp as well as the physical presence and voice of the ageing, obsessive eavesdropper, with careful attention to Beckett's text and precisely stipulated physical business, in a nicely modulated staging from Nescha Jelk.
The choice of different spaces for the three works (the audience is divided into two groups for the first two plays, which are staged twice in succession, and are then brought together in a different space for the final offering) was a smart idea, cleverly realised. The minimal stage action of Eh Joe – in which the performer checks the windows and the space itself, before sitting on the bed, motionless and without speaking, for the duration of the piece, while a female voice picks at his sense of self depicted through the body and face projected onto a huge scrim – allows the listener–viewer to focus both on the text and, finally, every pore of the actor's skin and being. But it seemed somewhat puzzling that while Beckett's text has the woman make explicit mention of how Joe 'admired my elocution', Pamela Rabe's recorded delivery paid insufficient attention to the required clarity and rhythmic outline of the text itself.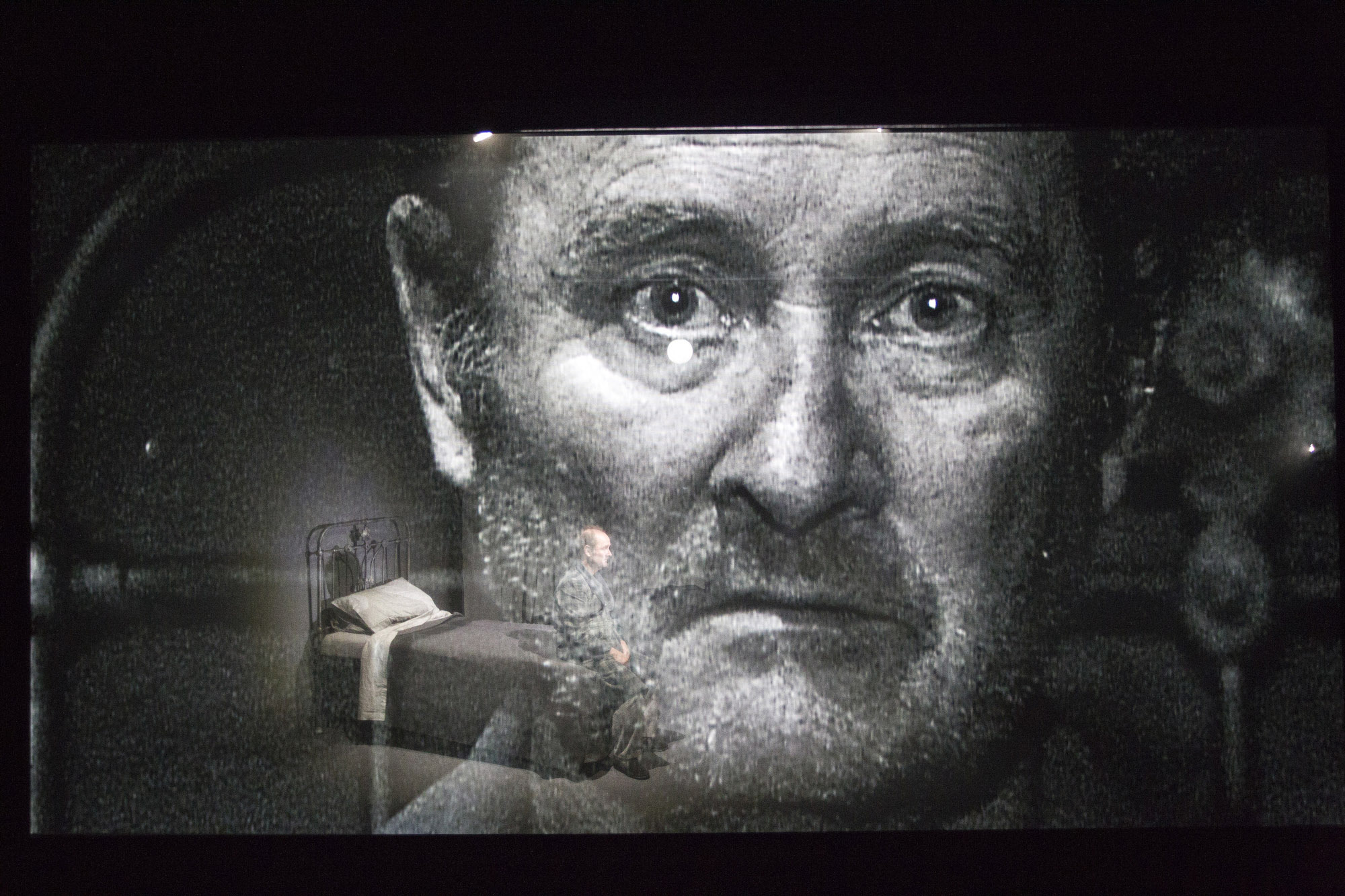 Paul Blackwell in Eh Joe as part of Beckett Triptych (photograph by Shane Reid)
On the other hand, Sandy Gore's performance (for that's what it was) of the spoken voice in Footfalls was exemplary for its colour, precision and attention to the music of the words, though this precision was not matched in Rabe's somewhat blurred realisation of the physical movements Beckett demands from the performer. To take the most obvious: the play is called Footfalls – both a noun and an indication of a verbal re-enactment. What was offered was something more like a hard-shoe shuffle, which is rather hard to justify, given that the notoriously precise Beckett actually stipulates in his stage direction 'Steps: clearly audible rhythmic tread.' Distance can often lend enchantment to both visual and aural recollections, but Billie Whitelaw's realisation of this unsparing examination of familial connections at a previous Festival remains one of my strongest memories of a Beckett production anywhere.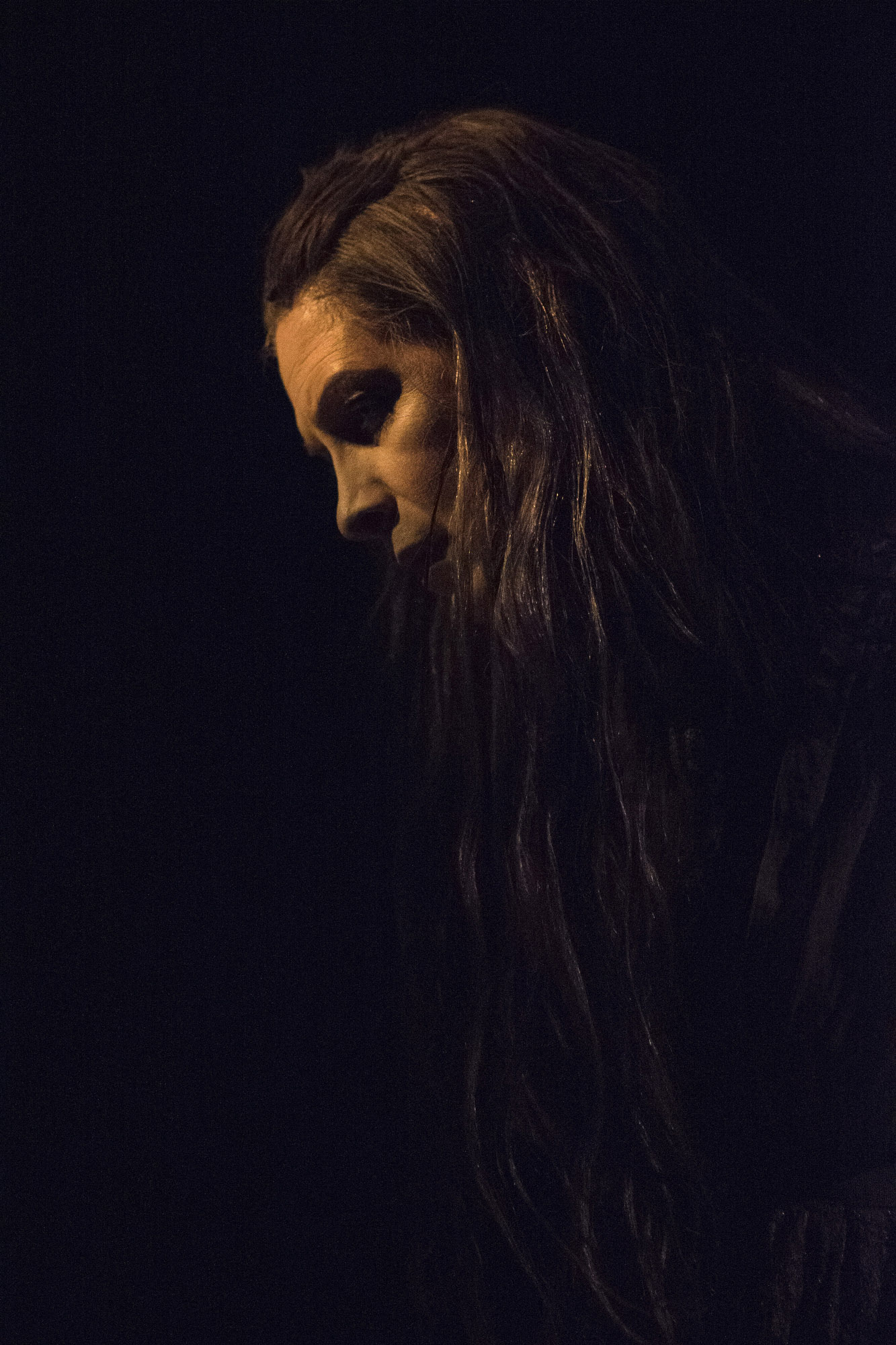 Pamela Rabe in Footfalls as part of Beckett Triptych (photograph by Shane ReidAnd while recollections of previous Krapps (perhaps a pun which might have been intended by the Joyce of Finnegans Wake) inevitably jostle – as the character's spoken memories do with his present self – with one's response to any staging, Peter Carroll's characterisation lost little by comparison with other performers of the role. Thankfully, his interpretation had none of the sleep-inducing ponderousness offered – again, at a previous Festival – by Rick Cluchey. And while his banana business could not match (well, whose could?) the virtuosic piece of show-stopping delivered by the great comedian Max Wall, his stillness and attention to vocal and physical detail were equally virtuosic – though with no overt display of theatrical skills.
'Peter Carroll's characterisation lost little by comparison with other performers of the role'
The opening moments may have been a touch tentative, but thereafter the (only seemingly) bare and austere poetry of Beckett's text revealed all its layers of colour and richness in Carroll's delivery, and his take on what Beckett summed up as the essential requirement for the actor – 'expressiveness in blankness'. The only messy note (a cardinal sin in Beckett) in the production was the totally superfluous (even if shadowy) presence on stage of an array of towering skips packed with clutter and rubbish. On this point, Beckett was, as always, both emphatic and correct – 'there should be nothing whatever on stage but the table'.
Such minimalist attention to detail was clearly visible in the design for riverrun, which featured possibly the most beautifully twisted and sinuous microphone I have ever seen – matched, to be sure, by Olwen Fouéré's intermittent physicalisation of moments from Joyce's text. A bare stage was flanked on either side by banks of lights at floor level, and a jagged white outline in the centre. Yet, while one has nothing but admiration for the performer's extraordinary command of the text (amalgamating sections from Joyce's famously baffling work), her vocal technique and range, her subtle and effective incorporation of movements and patterns from Tai Chi and Asian dance, this viewer was left wondering about the theatrical purpose of the exercise.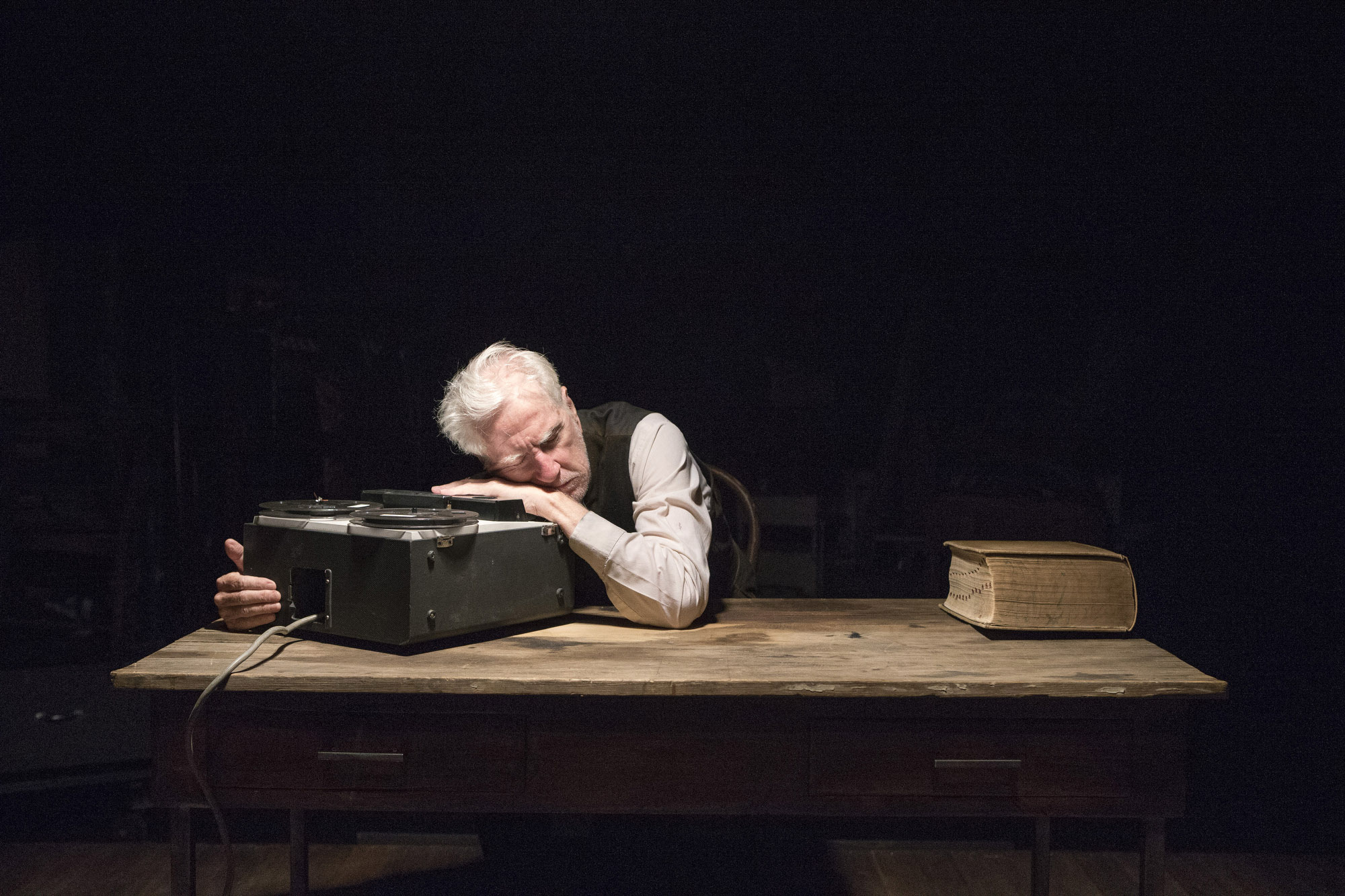 Peter Carroll in Krapps Last Tape as part of Beckett Triptych (photograph by Shane Reid)
It seemed, for example, almost perverse to have excluded some of the more evocative and poetic moments, such as the Anna Livia Plurabelle section – a short segment of which Joyce himself recorded, demonstrating just how the music and poetry of the word can be combined in delivery. In the final analysis, I would have to admit more than a sneaking sympathy for Beckett's (Joyce's former secretary) declining of an invitation to a screening of a film version of the novel – 'for neither love nor even money'.
For all the trance-like atmospherics of Joyce's word pictures, Beckett's complex yet always theatrical late texts are, by comparison, a cosy talk in the dark.
Beckett Triptych, presented by the State Theatre Company of South Australia as part of the Adelaide Festival. Season continues until Sun 15 March 2015. Performance attended 24 February.

riverrun, adapted, directed and performed by Olwen Fouéré as part of the Adelaide Festival. Performance attended 26 February.