Theatre
Carol Middleton reviews 'Jumpy' (MTC)
Jumpy, by British playwright April De Angelis and directed by Pamela Rabe, opens Melbourne Theatre Company's 2015 season. First produced at London's Royal Court Theatre in 2011, it is a modern-day comedy of manners whose plot and subject matter owe much to the television sitcom. Its humour relies on bedroom intrigues, blunt sexual dialogue, marital dissatisfaction, and the laments of middle age. With tired jokes about sexual politics, it falls short of cutting-edge satire but is an entertaining romp, with plenty of scope for physical comedy.
At the same time, Jumpy is a drawing-room drama, albeit an open-plan drawing room with white leather couches. Hilary (Jane Turner), a fifty-year-old mother, is facing her own midlife meltdown while reining in her fifteen-year-old daughter, Tilly (Brenna Harding). Tilly is determined to break all the rules and live life her way, risking disasters, pregnancy included. The intergenerational conflict is accompanied by other conflicts and dramas: marital discord, infidelity, and midlife angst.
Since writing her first play Breathless in 1986, April De Angelis has been a prolific and successful playwright. Her early career was as an actor in women's theatre. 'Feminism was my lodestone,' she recalled in an interview with Theatrevoice. Now, in her early fifties, she is looking back at feminism from the perspective of middle age, drawing on her own experience of raising a daughter.
In Jumpy, De Angelis reprises the themes and references in her play Hush (1992). What can society, and parents, offer a fifteen-year-old rebellious daughter? The backdrop to this scenario is middle-aged nostalgia for a less confusing past and regret for lost ideals and lost opportunities. In Hilary, De Angelis has created a protagonist who harks back to her days of active feminism. No longer sure of her place in the world, she has become a figure of fun, preoccupied with her midlife frustrations and unable to confer any of her ideals on her daughter, who grudgingly spares five minute of her time to listen to her mother. Addicted to her mobile phone, Tilly storms in and out of the house, hurling abuse at Hilary, as she leaves for yet another party or to have sex with her boyfriend.
'With tired jokes about sexual politics, it falls short of cutting-edge satire but is an entertaining romp, with plenty of scope for physical comedy'
It is impossible not to make comparisons with the role Jane Turner made famous in Kath & Kim. But in Jumpy it is Hilary's friend Frances who is the feisty, overconfident one, and Marina Prior delivers that role with relish. Hilary is more conflicted, and Turner underplays her as a lacklustre, frustrated housewife, for whom a red feather duster can only have one, practical, purpose. Wearing a fringe and with minimal makeup, Turner's expression lacks definition. In spite of some clever physical comedy, her character too remains undefined.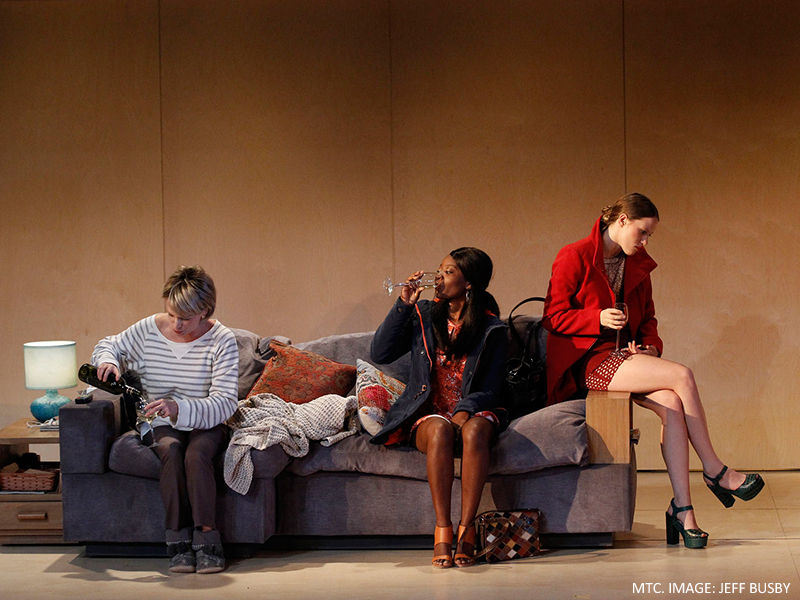 Jane Turner as Hilary, Tariro Mavondo as Lyndsey and Brenna Harding as Tilly in Jumpy (photograph by Jeff Busby)
In Jumpy, there is a tricky balance to maintain between comedy and drama. The most effective moments in the play are when comedy takes precedence. Outstanding performances by Prior, John Lloyd Fillingham (as the over-earnest actor Roland) and Dylan Watson (as the stud Cam) bring sexual tension and absurdity to the forefront. Among the more dramatic moments, a highlight is the confrontation between the two sets of parents (Tilly's and her boyfriend's) as they lay down their sexist double standards for boys and girls over the head of a teenage mother (delightfully played by MTC newcomer Tariro Mavondo) and her baby.
Harding, in her stage début, plays Tilly with venomous energy and a sense of entitlement that has her mother wondering what has happened since her own rebellious days as a supporter of the Women's Peace Camp at Greenham Common. In Tilly, De Angelis has put a contemporary young woman into the spotlight. Her character is unequivocal. Tilly is burning with righteous indignation. She is awful, but she has passion on her side. On the other side are the all-too familiar misgivings of the middle-aged, and the old comedy fallbacks of overheard conversations and unexpected discoveries.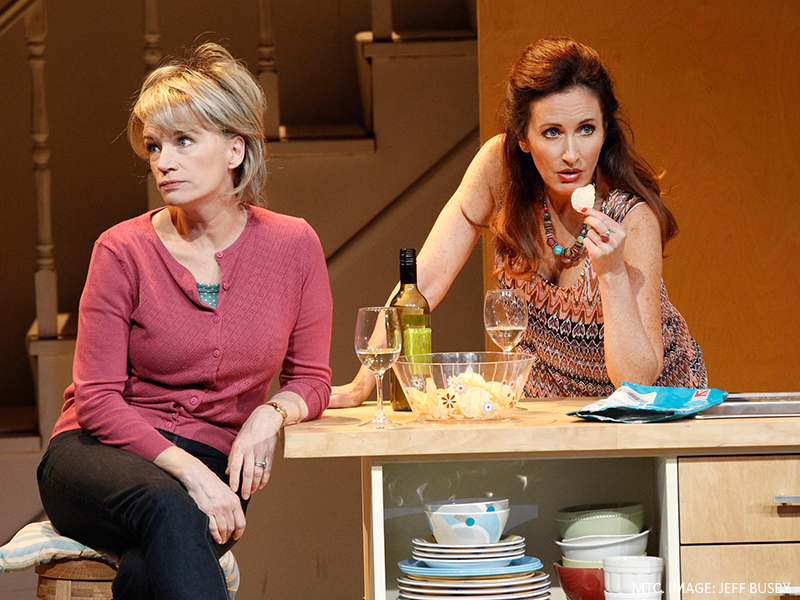 Jane Turner as Hilary and Marina Prior as Frances in Jumpy (photograph by Jeff Busby)
The creative team has put together a striking overall design using broad brushstrokes. Michael Hankin has brought a sense of humour to the set design, which combines up-to-the-minute minimalism with a revolving floor that has furniture whizzing by with alarming alacrity. Yet this domestic drama works best when the set orbits to reveal the kitchen, complete with well-stocked fridge, and the opportunity for some comical stage business. The lighting by Matt Scott is suitably brash and unforgiving. Teresa Negroponte's costumes are eye-catching and spiced by semi-nudity. Drew Crawford's upbeat score is studded with recognisable cultural references.
In spite of the play's sentimentality, it opens up the way for discussions about middle age, menopause, parenting, and latter-day feminism. It is an opportunity to laugh at our own foibles, without offering any resolution to the issues it raises. It seems the future for women over fifty is uncertain, at best.
Jumpy, by April De Angelis, directed by Pamela Rabe for Melbourne Theatre Company, and performed at Southbank Theatre, The Sumner, until 14 March. Performance attended 5 February.