Opera
Don Pasquale (Opera Australia)
Epicœne, or The Silent Woman is one of Ben Jonson's most witty and least familiar satires. First performed in 1609 and published in 1616, it is set in contemporary London. Morose, a well-named old bachelor, is intent on finding a bride who will give him an heir so that he can disinherit his nephew, Sir Dauphine Eugenie. Morose, a famous misanthrope, detests noise ('the perpetuity of ringing had made him devise a room with double walls and treble ceilings'). What he needs is a submissive wife – the 'silent woman' of the piece. Truewit (one of Jonson's most brilliant creations) warns him of the improbability of finding such and predicts that if Morose marries, 'every half hour's pleasure must be bought anew'. But Morose, with his 'itch of marriage', is determined, and marry he does. Along the way there is much comic teasing and baiting. Epicœne, the youthful bride, soon personifies the termagant of Truewit's predictions. Shrill, insolent, garrulous, profligate, she snaps: 'I'll have none of this coacted, unnatural dumbness in my house, in a family where I govern.' Morose, comprehensively tormented, realises that 'Strife and tumult are the dowry that comes with a wife.' Truewit, looking on, wonders: 'Was there ever poor bridegroom so tormented, or man, indeed?' At the end of the play, Dauphine, having extracted £500 a year from his uncle, reveals that Epicœne is a boy.
Jonson's play, regarded by Dryden as 'the greatest and most noble of any pure unmixed comedy in any language', satirises materialism, selfishness, vanity, hypocrisy, and the pretensions of modern speech. Few plays that that do it so well are so disregarded.
Nonetheless, Epicœne is the subject of two major operas: Gaetano Donizetti's Don Pasquale and Richard Strauss's Die Schweigsame Frau. After Hugo von Hofmannsthal's death in 1929, Strauss turned to Stefan Zweig for a new libretto, and Zweig chose Epicœne. The opera was deeply controversial because of Zweig's Jewishness, but Hitler personally authorised the première in Dresden in June 1935, with Karl Böhm conducting. The opera was banned after three performances. I am not sure that it has ever been performed in Australia.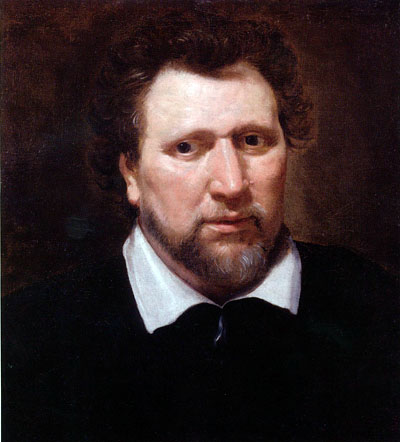 Ben Jonson (portrait by Abraham van Blyenberch)In Donizetti's case, the debt is more indirect. After the success of La fille du régiment (1840) and Linda di Chamounix (1842), he looked for a new subject and turned to Pavesi's opera Ser Marcantonio (1810), whose libretto, by Angelo Anelli, was based on Epicœne. Giovanni Ruffini, Donizetti's collaborator, based his libretto on Anelli's. According to legend, Donizetti wrote his three-act opera buffa in eleven days. The first performance took place in Paris on 3 January 1843 (the year in which Donizetti's mental disintegration began to manifest itself). Though possibly shaded by the phenomenally melodic and inventive L'elisir d'amore (1832), Don Pasquale has never lost its popularity or its appeal for great bel canto singers.
'According to legend, Donizetti wrote his three-act opera buffa in eleven days'
As in L'elisir, entrapment of myriad kinds is the rule in Don Pasquale. Don Pasquale (the Morose character) is displeased with his mocking nephew, Ernesto, who has fallen in love with a young widow, Norina. Don Pasquale seeks to disinherit his nephew. Dr Malatesta, Don Pasquale's dubious friend and adviser, persuades him to marry his putative sister, Sofronia (who is in fact Norina). Jonsonian mayhem and humiliation ensue: Sofronia (though no boy) is Epicœne-like in her noisiness, contemptuousness, and extravagance. By the end of the opera Don Pasquale is only too pleased to admit his mistake and to offer Norina and Ernesto his blessing.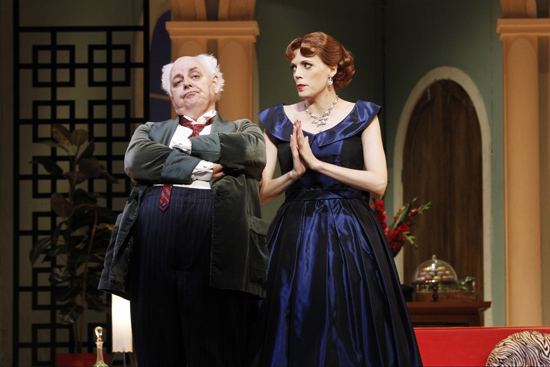 Conal Coad as Don Pasquale and Rachelle Durkin as Norina
(photograph by Jeff Busby)
Opera Australia's second Melbourne offering this spring is a revival of Roger Hodgman's production of Don Pasquale. For many it will come as a relief after the endless vamping and juvenile rompishness of Simon Phillips's Il turco in Italia, which we saw here in May 2014. Richard Roberts's inspired, retractable sets create the piazza, sitting room and garden needed for the successive dramas and revelations. The production, inspired by William Wyler's film Roman Holiday (1953), is set in Rome, complete with Vespas, sunglasses, tight-waisted skirts, and espresso shots. Everything – sets, lighting, costumes, even the slightly de trop chorus (which only appears in Act III) – is at the service of this likeable comedy.
'Entrapment of myriad kinds is the rule in Don Pasquale'
The cast is small: just five of them (and the Notary's role is tiny). Don Pasquale is a much more complex and sympathetic character than Morose. Conal Coad, who has been singing the part for decades, gave another redoubtable performance, despite being vocally hurried at times. The patter duet with Malatesta in Act III – a Rossinian marvel of celerity and invention – deserved the long ovation that followed.
Rachelle Durkin, now a regular member of the Metropolitan Opera, has returned to sing Norina for another season. The role is perfect for her light, high, accurate soprano. There is much tomfoolery in the opera, many role reversals and histrionic pranks, but Durkin is such a nimble actor that she made Norina credible in her several guises: tremulous bride, instant harridan, compulsive shopper, and, ultimately, the compunctious cause of old Don Pasquale's undoing.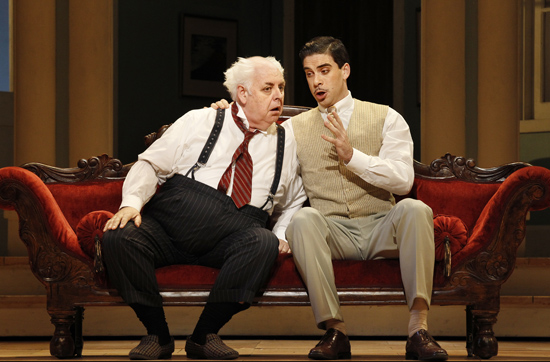 Conal Coad as Don Pasquale and Samuel Dundas as Dr Malatesta
(photograph by Jeff Busby)
Samuel Dundas, fresh from his outstanding Prosdocimo (the best thing in the aforementioned Il turco), was an elegant, suave, and Gable-like Malatesta. John Longmuir (Ernesto) was an ardent but overbearing lover. Don Pasquale is full of wonderful melodies, and Ernesto claims two of them: 'Com'è gentil', the Act III aria with lute and choral accompaniment; and the deeply Mozartian duet that follows, 'Tornami a dir', surely one of the most exquisite things that Donizetti ever wrote. Here, Longmuir was far too dominant for Durkin. Richard Conrad, in the famous television version with Joan Sutherland, is a much subtler listener and duettist.
'There is much tomfoolery in the opera, many role reversals and histrionic pranks'
Guillaume Tourniaire, with his usual dash, conducts Orchestra Victoria, which is playing exceptionally well. The introduction of a solo trumpeter on stage during Ernesto's celebrated Act II aria was inspired.
Next up, we have Verdi's valedictory opera, Falstaff (1893), based on The Merry Wives of Windsor (which was written about ten years before Epicœne) and long regarded as one of the classic comic operas, with Il barbiere di Siviglia, Le Nozze di Figaro – and Don Pasquale.
Opera Australia's production of Don Pasquale, directed by Roger Hodgman and conducted by Guillaume Tourniaire, runs until 12 December 2014 at the State Theatre, Arts Centre Melbourne. Performance attended 19 November.