It is a romance of simplicity and much tenderness. There are two people, and they are in love. Their love is tested, but hope triumphs in the end.
Anne (Helen Morse) is in her sixties, a grandmother, still doing piece work to support herself while babysitting for her daughter. She begins a relationship with Majid (Yomal Rajasinghe), a much younger man of a different race, an immigrant who is out of work and still finding his feet in his new home. An old white woman and a young coloured man – what will the community think?
Dreamers is an Australian première and marks the first collaboration between playwright Daniel Keene and director Ariette Taylor in more than a decade. Between 1997 and 2002, the two led the Keene/Taylor Theatre Project, a small ensemble which presented more than forty-seven shows and influenced a generation of theatre artists. Back then, they focused on the lives of the urban underclasses and on characters on the margins of society. Here, in a one-off collaboration, they turn to intolerance and fear in a testing but ultimately uplifting drama that stands love on the uncertain ground between faith and despair. Majid and Anne's relationship inspires resentment and disgust in the local community; what starts out as nasty gossip and offended sniping soon escalates to violent confrontation.
'An old white woman and a young coloured man – what will the community think?'
The play was commissioned in 2009 for French company Tabula Rasa, based in Toulouse, and yet there is an uncanny and strikingly contemporary Australian parallel in its conjuring of mingled xenophobia and nostalgia. An irascible construction site foreman, played by Marco Chiappi, mourns the disappearance of his old neighbourhood, where everyone knew the same jokes and sang the same songs. And then, he complains, you began to see new faces, different and unknowable: 'Suddenly it wasn't your world any more. You were a stranger among strangers. Everything that you knew, that you understood and trusted and loved, had been swept away.'
It is a sentiment, both wistful and bitter, which mirrors – or has somehow anticipated – the image of obliteration used in the infamous leaked emails of Professor Barry Spurr, who laments the passing of white-picket Perth circa 1954, when all the kiddies were white, slim, and bright eyed: 'Now utterly gone with the wind.'
Taylor foregrounds this connection, the longing for Australia's mid-twentieth century English monoculture, by placing an old pianola centre stage. The play opens with all the supporting cast – the soon-to-be-outraged community – singing along to jaunty ragtime numbers.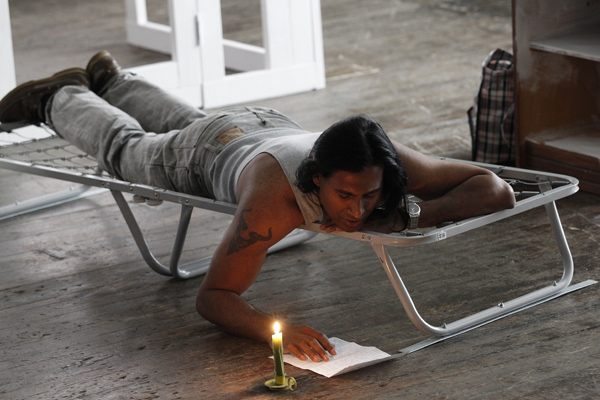 Yomal Rajasinghe as Majid (photograph by Jeff Busby)
The point is not mock the old songs. As Taylor writes in her director's note, the pianola is great fun. Instead, Dreamers sets up a distinction similar to that which is proposed by cultural historian Svetlana Boym, between reflexive nostalgia and restorative nostalgia. On the one hand, there are those contemplative or ambivalent or ironical feelings we sometimes have for fragments of the irrecoverable past, like vintage fashion or the songs of Irving Berlin. On the other, there are those more restless and obsessive longings, longings which invite the fantasy of return, of repairing the lost neighbourhood or restoring the homeland. It is this latter which, in the words of Boym, breeds monsters.
All the supporting cast are very impressive. We see the root of their individual prejudices, and can easily empathise. Feelings of frustration, isolation, and confusion are convincingly suggested. The way Natasha Herbert, for example, as a lonely neighbour in Anne's building, transforms her annoyance at Anne's aloof self-sufficiency into open hostility when she discovers the deplored relationship is convincing, and also pitiable.
But the overall tone of this production is optimism. There is a window frame stage left, above the bed in Anne's apartment. Illuminated by some secret, internal source of light, it hangs there as a proverbial window of hope as shadows play across the rest of the stage.
'I've always tried to be an optimist,' says Anne. 'I've no time for despair, even when I have every reason for it.'
'That takes courage,' says Majid.
The courage of optimism is contrasted with the false bravado of those who think courage is calling a spade a spade. But I wonder what cause there is for optimism? What is the secret of the illuminated window frame?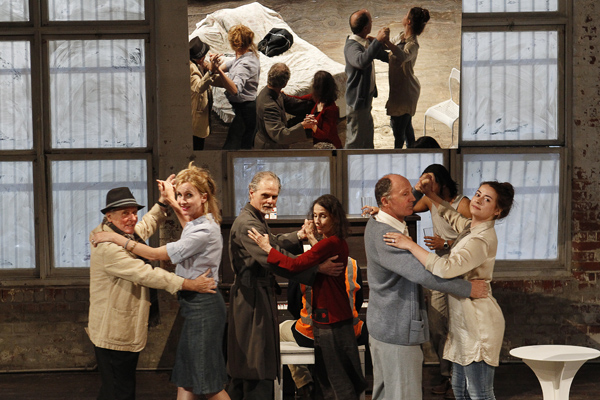 Jonathan Taylor, Natasha Herbert, Paul English, Helen Morse, Nicholas Bell, and Brigid Gallacher in Dreamers (photograph by Jeff Busby)
This is one of the subtler and more difficult parts of Dreamers, belying the story's outward simplicity. Hope is here connected with a sense of humility. This is a production without pose or pretension. Rajasinghe, for instance, in his first professional role, is sincere and insistent, but never saintly. Morse, too, as his lover, shifts from stubbornness toward something more elevated and lyrical, but never forces the revelatory moment. Taylor and Keene evoke a world on the cusp of poetry; this is not naturalism or expressionism, or any other theatrical mode: it is something quiet and enclosed, which, in its careful, truthful way points toward a new existence, an altered kind of freedom – a different kind of hope.
'This is not naturalism or expressionism, or any other theatrical mode: it is something quiet and enclosed'
Anne, for instance, writes in her diary about the falling of snow, about the silence of the world when snow falls, and, later, in some more mysterious sense, how it suggests a state of grace.
Falling snow is often used by writers to symbolise transformation and renewal, as snow blankets even the ugliest features of the world. But the idea of snow as hope and change and the silent redemption of the world – while lovers sleep – particularly recalls Yves Bonnefoy:
And a snowflake lingers, our eyes follow it,
We'd like to watch it forever,
Another poises on the open hand.
And another, slower and as if lost, recede
And whirls, then returns. And isn't that to say
One word, then another word, to be invented,
Might redeem the world?
Yet we don't know
If we understand this word, or dream it.
('The Torches')
Still, I am not sure that this mysterious evocation of blank futurity entirely justifies the abruptness of the final scene, which is unexpectedly positive given the dire trajectory events appear to be taking. It implies a sort of radical break, an authorial or directorial interruption of the existing situation. What might be the grounds for such an interruption? For Daniel Keene, translation suggests one possibility.
The play was originally written by Keene with the understanding that it would be translated into French for its first performance. It is not surprising then that he should think of translation as a metaphor for social change, for the transformation of a community. Anne and Majid sit in their little apartment as Majid reads a translation of a traditional story from his homeland to Anne. He worries about whether the story is still the same, having slipped from one language to another, one word at a time. The story is changed, but the same. It doesn't look or sound like it once did, but it is recognisable, and engages the same characters and places.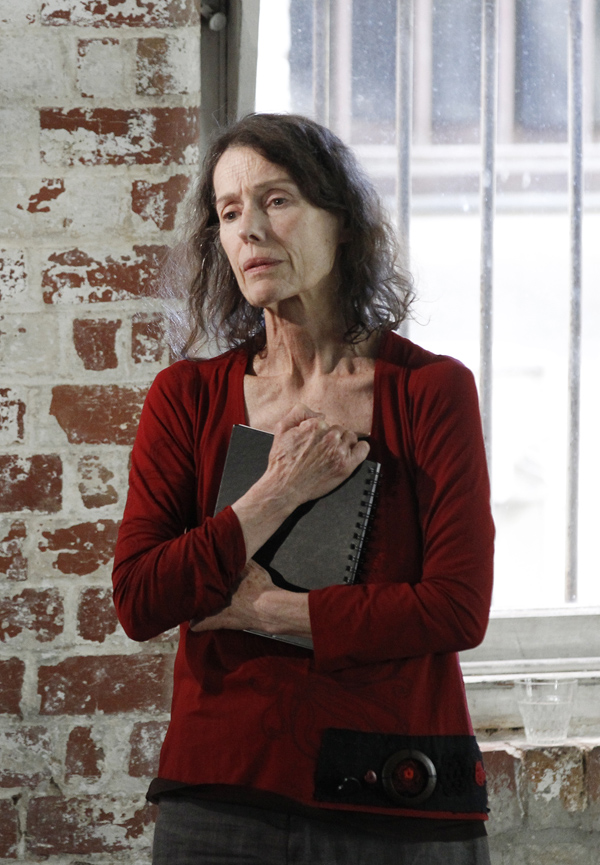 Helen Morse as Anne (photograph by Jeff Busby)

And a community is like this. It too can be changed, but it requires a creative intervention, a new beginning, and an acceptance that the old story cannot exist in the new language.
Who are the dreamers? Perhaps it is not the lovers. As Bonnefoy says, sometimes dreams disguise themselves as memories. Is it that all the neighbourhood characters, restless and resentful, are dreaming of a place where they fit in and are at home? Lacking the courage to look forward to a new life, they imagine that there was once a perfect time where everybody knew everybody else. Courage would be to dream this for the future – and to leap beyond the breath that merely hopes.
Dreamers, by Daniel Keene, directed by Ariette Taylor, presented by fortyfivedownstairs, at fortyfivedownstairs, Melbourne, 6-30 November 2014. Performance attended 8 November.