Music
2014 Wangaratta Jazz and Blues Festival
There was a genuinely celebratory air to this year's Wangaratta Jazz and Blues Festival, and why not, given that the Festival was marking its twenty-fifth birthday. When the city first hit upon jazz as the basis for a festival back in 1989 – a somewhat arbitrary decision, based on the fact that most other musical forms had already been snapped up – few could have predicted it would attain this sort of longevity, let alone develop into an event of international standing that attracts some 25,000 visitors each year.
The Festival's continued success can be can be attributed to many factors, not least of which is the support and goodwill of the city and its many volunteers. But if pressed to nominate one telling ingredient, I would settle for Adrian Jackson, the artistic director, whose singular vision has steered the Festival for a quarter of a century. Jackson's push to spotlight contemporary, rather than older styles of jazz, has provided the Festival with ongoing relevance, helping to shape the direction of jazz in this country, and nurturing the growth of musicians and audiences alike.
'A genuine highlight was the inclusion of legendary Italian trumpeter Enrico Rava'
A genuine highlight was the inclusion of legendary Italian trumpeter Enrico Rava, his first appearance in Australia. Adrian Jackson had booked Rava back in 1996, but last minute visa problems forced his cancellation. A long-term recording artist for the ECM label, Rava's forty-year plus career has included performances and collaborations with some of the great jazz artists of recent decades: Lee Konitz, Paul Motian, Steve Lacy, Carla Bley, Pat Metheny, Joe Lovano, Cecil Taylor, and Gil Evans.
For his Wangaratta appearance, Rava performed in three different settings: a Friday evening concert with Monash University staff and students, featuring a selection of his compositions lately recorded in Italy for The Monash Sessions (Jazzhead); a Saturday morning performance with a quintet featuring Paul Grabowsky, Mirko Guerrini, Frank Di Sario, and Niko Schauble; and a Sunday evening set with Papa Carlo, a quartet comprising Rava, Schauble, Steve Magnusson, and Chris Bekker. This sort of collaborative emphasis, bringing together international performers with local musicians on the same stage, has always been a strength and feature of the Festival's programming.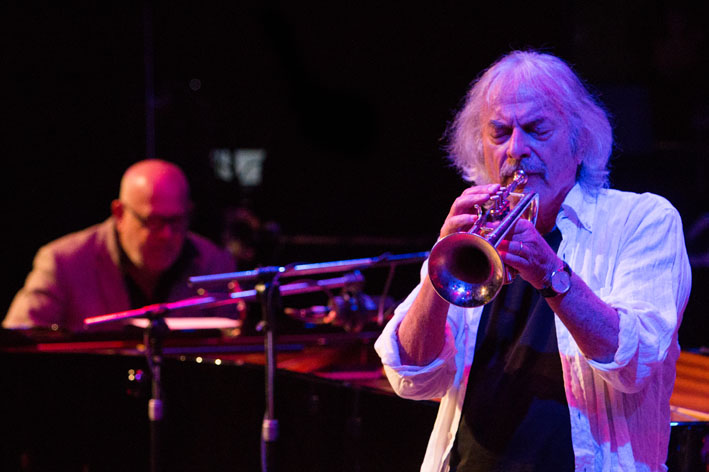 Paul Grabowsky and Enrico Rava
(photograph by Marc Bongers)
Rava possesses a beautiful sparse tone, clearly influenced by the 'less is more' approach of Miles Davis. Like fellow European trumpeter and ECM stablemate Tomasz Stańko, his phrasing tends toward the abstract, favouring ensemble interaction over traditional soloing. Nowhere was this more evident than with the Papa Carlo set, reprising music from quartet's wonderfully ambient 1995 recording Night Music. Though the band had never performed together previously, the four musicians demonstrated telepathic communication as they fashioned a series of atmospheric soundscapes, full of light and shadow. The results were mesmerising.
The other anticipated headliner was US drummer Jeff 'Tain' Watts, best known for his long-term powerhouse work with Wynton and Branford Marsalis. His quartet played two thundering concerts, displaying the sort of energy we associate with the classic Coltrane Quartet. Sax player Troy Roberts, who originally hails from Perth, literally shrieked and howled on his horn throughout, as if determined to be heard over Tain's monstrous sound. Impressive as it was, the music at times came across as one-dimensional, all sound and fury. I found myself wishing the band would ease its collective foot off the throttle now and again.
'Australian performers, as has been the case in previous years, were far from overshadowed by their international counterparts'
Australian performers, as has been the case in previous years, were far from overshadowed by their international counterparts – a testimony to the incredible surfeit of local talent here. In a recent interview in The Age, Jackson noted that 'the early years of Wangaratta coincided with a particularly fertile period in Australian improvised music'. It's fair to say that many of these younger musicians came to prominence via the National Jazz Awards, established by the Festival in 1990. The list of previous winners reads like a who's who of contemporary jazz in Australia: Barney McAll, Julien Wilson, Scott Tinkler, Steve Magnusson, Phil Slater, Elana Stone, Zac Hurren, and others. The featured instrument at this year's Awards was guitar, with first place going to Sydney-based guitarist Carl Morgan – a new talent to watch – ahead of runners-up Hugh Stuckey and Peter Koopman.
The grandeur of the Holy Trinity Cathedral was the site of many fine performances, particularly by pianists. Stephen Grant delivered a one-hour history lesson in jazz piano, starting with Scott Joplin's early rags, before moving on to Jelly Roll Morton, stride piano, and the music of Ellington. On the Saturday afternoon, Paul Grabowsky played a rare solo concert, coinciding with the release of his début album in that format. The haunting opener 'Angel', first recorded with a sextet back in 1994, set the tone. Grabowsky's extended meditation on Thelonius Monk's 'Round Midnight' managed to breathe new life into an oft-recorded classic.
James Greening's latest project, Greening from Ear to Ear, saw the leader adding a visually striking sousaphone to his usual arsenal of trombone, pocket trumpet and tuba. Greening and his band performed a suite of original music, entitled Tam O'Shanter Tales, dedicated to the musicians who have influenced him. The rousing 'Hazara', inspired by the Hazara refugee community in Tasmania, beautifully demonstrated the strengths of this band – an eclectic rhythmic palette that draws as much upon world music as jazz.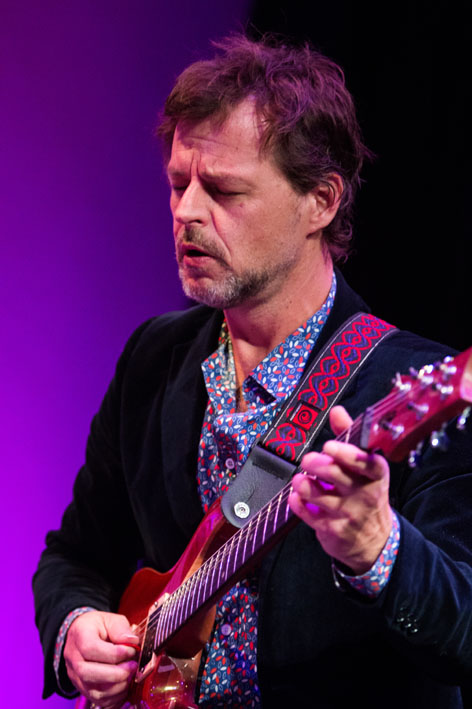 Steve Magnusson
(photograph by Marc Bongers)Other strong performances in the larger WPAC Theatre included Magnusson's Kinfolk, which saw the guitarist teaming up with the other-worldly sounds of Hammond organist Tim Neal; and pianist Mike Nock, whose final piece, 'The Dude Abides', highlighting Brett Hirst's muscular bass playing, invoked the central character in the Cohen Brother's film The Big Lebowski.
The smaller WPAC Hall is generally reserved for the Festival's more adventurous and experimental performances, and this year was no exception. The trio Drub – trumpeter Scott Tinkler, guitarist Carl Dewhurst, and drummer Simon Barker – delivered an hour-long noise-fest that proved wild and unhinged at every turn. Dewhurst's guitar was a sonic delight, coarse-grained and abrasive. This was jazz in extremis, performed by a trio of Australia's finest improvising artists.
This year marks another milestone in Australian jazz, the twentieth anniversary of the Australian Art Orchestra. Originally founded by Paul Grabowsky in 1994, and now under the stewardship of trumpeter Peter Knight, the AAO performed their new work, Struttin' with some Barbecue,on opening night, the third in Orchestra's series of homages to jazz greats. The large-scale composition, written and arranged by trumpeter Eugene Ball in collaboration with Peter Knight, aims at a contemporary interpretation of the life and music of Louis Armstrong. Kicked off by drummer Allan Browne's old-time New Orleans syncopated rhythms, the piece went on to dissect, rearrange, and deconstruct Armstrong's classic compositions, employing video installation, turntables, electronics, and the voice of Papua New Guinea born singer Ngaiire. This was anything but an exercise in nostalgia – more a bold, brash, and occasionally atonal, remix of jazz past and present. As with previous AAO projects, this one was both demanding and challenging. And if the music wasn't always likeable, that seemed entirely beside the point.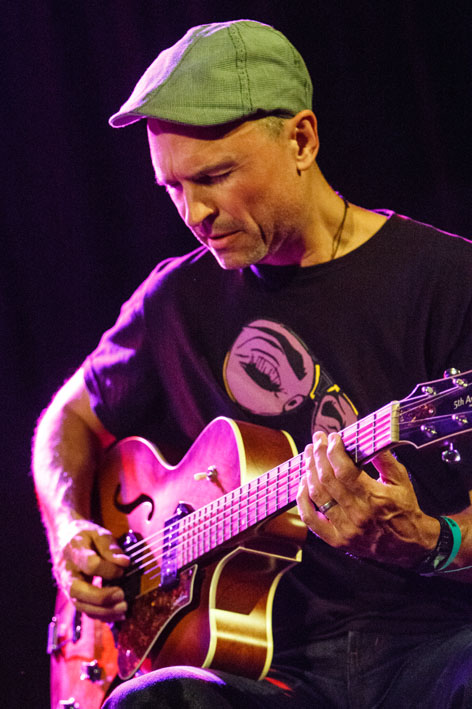 Carl Dewhurst
(photograph by Marc Bongers)Like any good music festival, there was more on offer than could be sampled. Even after some eighteen hours of music, there were the inevitable regrets: Roger Manins's funk-driven Hip Flask; the première of Allan Browne's new suite based on Homer's Odyssey; Sam Keever's tribute to the work of the late Bernie McGann, and others. For some festival-goers, the real action was down at the Blues tent; for others, it was about kicking back in Reid Street, listening to local bands, and sampling the local food and wine. Each to their own. Was this, the twenty-fifth Festival, the best ever? That's a redundant question. Since first attending in 1994, come Cup weekend I have made the journey up the Hume from Melbourne every year, and I have never once been disappointed. It's a festival that broadens the mind and the ears, and one that positions jazz as critical to the broader Australian cultural landscape.
Wangaratta Jazz and Blues Festival, 31 October–3 November 2014.