Theatre
Passion (Playhouse Theatre)
Stephen Sondheim may be famed for his wit, but many critics over the years have lacerated him for it, finding in it proof of emotional frigidity or even callousness. Reaction to his work largely mirrors that of another revered auteur, Stanley Kubrick, who shares with Sondheim an exacting and interrogative attitude to humanity.
There isn't much overt wit in Passion, Sondheim's 1994 musical of romantic obsession, currently receiving a rare staging in Melbourne by Life Like Company. It is certainly not a jocular piece, and what laughs audiences do find often seem like the audible expression of squeamishness. It is there, though, subsumed and ironic.
A musical adaptation of the Italian film Passione d'Amore – itself an adaptation of Igino Ugo Tarchetti's semi-autobiographical novel Fosca (1869) – Passion tells the story of Giorgio (Kane Alexander), a dashing soldier who is pulled away from his beautiful lover Clara (Silvie Paladino) to oversee military exercises in a remote village. He quickly becomes the romantic focus of a seriously ill, and seriously ugly, woman named Fosca (Theresa Borg). Her relentless, unseemly pursuit of his love, and his horror and eventual capitulation, form the scaffold of the sparse plot.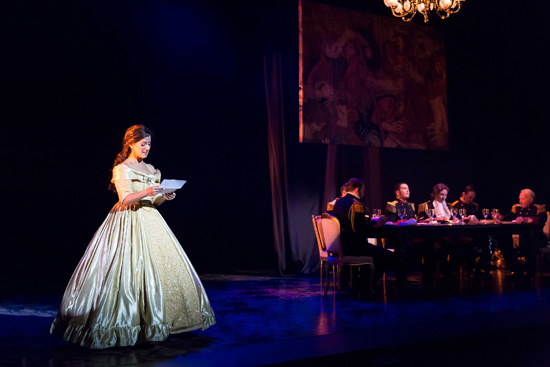 Silvie Paladino as Clara in Passion (photograph by Ben Fon)
The milieu is steeped in late romanticism, with its symbolically burning candles and distant ruined castles. Beds are places of torment as much as ecstasy, and when Giorgio at one point sings 'I've begun to fear for my soul', we believe him. Far from the cool detachment Sondheim is usually charged with, Passion heaves with melodramatic fervour, clasping and desperate as its female lead.
'Far from the cool detachment Sondheim is usually charged with, Passion heaves with melodramatic fervour'
As in the original Broadway production, audiences – even diehard Sondheim fans – have reacted to the central character of Fosca with a mix of revulsion and derision. In this, she is rather like the character of Edith in Stefan Zweig's novel Beware of Pity (1939), so abject, so utterly subjugated, that she seems an embodiment of the monstrous feminine, a pre-feminist succubus. Of course, just as this interpretation begins to cement, the dynamics shift in her favour.
Sondheim's own words on the character are particularly enlightening: 'What bothered [the audience] most was how extreme she was, the lengths she went to, her shamelessness – all the things that for me ennobled her.' Borg plays Fosca without restraint, alive to the character's horrific cunning, but unwavering in her resolve. There is an obstinate dignity in her that eventually blooms into a kind of spiritual expansiveness, and it is transfixing to watch.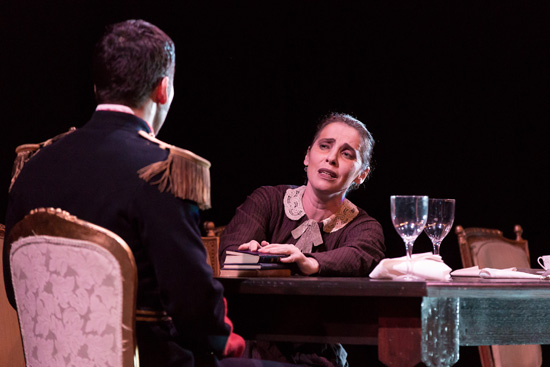 Kane Alexander as Giorgio and Theresa Borg as Fosca in Passion
(photograph by Ben Fon)
For all the hypnotic perversity in Fosca, it is Giorgio who is the real engine of the play. His emotional arc is precarious, and his shift in affection from the garrulous and supplicating Clara to the cloying and piteous Fosca is a stretch, to say the least, but Kane Alexander pulls it off with remarkable conviction. His realisation that 'love within reason, that isn't love' resonates like a creed. There is urgency to Alexander's performance, and his voice is consistently lovely.
Paladino's Clara is, given the restrictions of the role, less compelling than the other leads, but she is still able to hint at unspoken ambivalences lurking under her character's cheerful exterior. The rest of the cast are fine in various supporting roles, although you do get the impression that Sondheim and writer James Lapine would have done away with them all if they had found a way to make the unremitting claustrophobia of the central love triangle bearable for the audience.
'There is urgency to Alexander's performance, and his voice is consistently lovely'
The suggestive lushness of the set and lighting design (Rob Sowinski) adds considerable atmosphere, and finds a visual equivalence to the chiaroscuro at the heart of the show. Even the characters' names evoke it; Clara means light and Fosca dark. Neil Gooding's direction is strong on the interpersonal dynamics, but less certain with the ensemble work. Scene changes are often plodding, and the pacing slack. This is mildly problematic in a jauntier musical, but more serious in 'the romantic gloom' of Passion.
The music, under the direction of Guy Simpson, is simply wonderful though, and it sweeps the play along in great emotional waves. Sondheim has described the piece as 'one long rhapsodic love song: musically relentless, the recitative where necessary morphing into formal patterns'. The dominant technique is arioso, which sits somewhere between sung dialogue and full-blown aria, only occasionally settling into recognisable song forms. Musical and textual phrases echo and reflect each other in a shimmering and complex web, words reverberating outwards.
It is the kind of piece that cannot be fully grasped in one sitting, which may go some way to explaining audiences' initial resistance. That sophisticated and knowing repartee, the kind that links Sondheim to George S. Kaufman and Oscar Wilde, is really only evident beneath the text in Passion. The wit is in the music, and faintly evident in the uneasy repetitions. In the opening song, Clara sings to Giorgio 'How quickly pity leads to love.' If only she knew.
Passion, music and lyrics by Stephen Sondheim, directed by Neil Gooding, for Life Like Company, performed at the Playhouse Theatre, Melbourne, 5–8 November 2014. Performance attended 5 November.