In David Fincher's slick adaptation of Gone Girl, an attractive white woman, Amy Dunne (Rosamund Pike), disappears on her fifth wedding anniversary and her husband, Nick (Ben Affleck), quickly becomes the prime suspect.
Left behind at their Missouri McMansion are signs of a violent struggle – glass coffee table smashed, antique ottoman overturned, a copious amount of blood mopped up haphazardly from the kitchen floor – although the evidence itself appears to have been at least partially contrived. The revelations and further fabrications this crime scene engenders become a metaphor for this couple's relationship. Amy and Nick Dunne, both writers who met in New York but have since returned to Nick's Midwest childhood home after 'his-and-her layoffs', are an immaculately curated scene of a couple: she a thin 'Cool Girl' too nonchalant to ever nag; he an adorable, corn-fed 'Good Guy'.
Closer inspection of Nick and the testimony of a series of diary entries penned by Amy (and delivered in flashbacks and voiceovers) begin to suggest ever more hostile and violent possibilities. The back-story to Amy's disappearance and the dark heart of Gone Girl are the twisted convolutions of the Dunnes' relationship. How did Amy disappear? Did Nick kill and dispose of Amy? The answer to these questions compels the drama as much as our prurient fascination with the noxious brew of passive aggression and sociopathic manipulation behind the veneer of this perfect couple.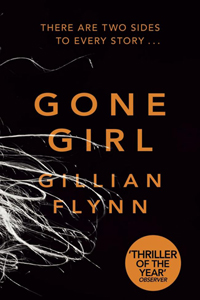 The mega-bestseller novel announced its chokehold on readerly imaginations in 2012. The book is a dazzling masterwork of crime writing structured around thrilling cliffhangers, twists, and counter-twists that turn on hairpins, and a domestic noir that see-saws between His and Her perspectives. Both voices, in turns reliable and unreliable, are credible. Its catalogue of clues, strange testimonies, outlandish characters, and trashy news reports magically coheres, in spite of its lurid implausibilities. Beyond the structural pyrotechnics, Gone Girl has also become the exemplification of something of a Zeitgeist of 'chick noir' – domestic psychological suspense narratives including Natalie Young's Season to Taste or How to Eat Your Husband (2014) and A.S.A. Harrison's The Silent Wife (2013), which autopsy poisonous intimacies, with the added frisson of a missing husband or a murderous wife. It is a well-heeled tradition from Daphne du Maurier to Alfred Hitchcock, buoyed once again by the shifting relational dynamics of our post-feminist, post-GFC, reality TV, and social network mediated universe.
'The glossy screen adaptation takes careful note of everything satisfying about the novel and translates all it can into 149 minutes of expertly coordinated viewing pleasure'
Adapted by the book's author, Gillian Flynn, the glossy screen adaptation takes careful note of everything satisfying about the novel and translates all it can into 149 minutes of expertly coordinated viewing pleasure. Rumours circulated about a newly conceived third act, but the narrative is quite faithfully reproduced (with a few small omissions). Its violations of disbelief are deftly smoothed over by skilful shifts in atmosphere and cinematic type: from crime drama to melodrama to erotic thriller to self-conscious satire of all of the above. These shifts are so smooth we may actually require a category beyond 'baroque' to describe what is happening to genre in Fincher's film. Imagine, if you will, Revolutionary Road (2008) crossed with Basic Instinct (1992), and delivered with the suburban display home gloss of Desperate Housewives (2004–12) and the pace of House of Cards (2013–) (which Fincher produced and partly directed). Though it is far better suited to the big screen, this version of Gone Girl owes much to the editing conventions and the cool visual tone of many a quality DVD box set.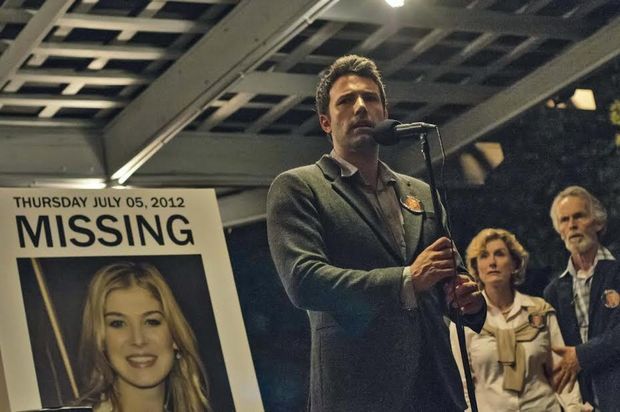 Ben Affleck as Nick Dunne in Gone Girl
The genre cartwheels are also forgivable, because a hideously relatable relationship-turned-sour drama develops. The underside of the marriage plot is the marriage-as-war-sport plot, with a lineage dating back to August Strindberg's Dance with Death (1900). If the erotic thriller has often brought violence and crime into the domestic realm from outside, the suburban noir turns unflinchingly inward. Gone Girl is a sour yet surprisingly thoughtful bourgeois tragedy for our times, however generously it languishes in our taste for the scandal of perfect couples who secretly hate each other.
There are, of course, moments when the rubbishy tabloid street party or the ironic suburban discontent descends into the ridiculous. But these moments are well distributed and genuinely funny; even in the preposterous final act, neither writer nor director releases the drama or the tension. The performance of Neil Patrick Harris as an ex-lover of Amy's is a case in point: his work near the end of the film helps to propel it towards a Gothic, nightmare-of-misogyny turning point, but without falling into caricature.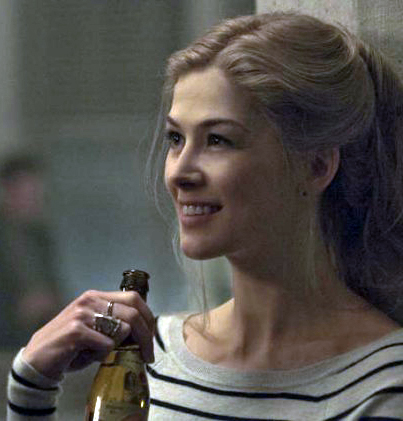 Rosamund Pike as Amy Dunne in Gone Girl
There is a whiff of feminist backlash to the film that the novel is much more unresolved about, and this will undoubtedly spark further scrutiny. Fincher can't quite do justice to the micro-aggressions of everyday domesticity that, in Flynn's novel, deliver more of Amy's motivations. Consequently, Affleck's Nick is more docile. His doleful frustration is more 'end-of-men' than the Michael Douglas crisis-of-masculinity rage of Fatal Attraction (1987) and Disclosure (1994). That in itself is insidious: everyday husband sociopathy is much less spectacular than femme fatale manipulation, so we are accustomed to not noticing it. I would like to see Jane Campion direct another version of this film.
The happy couple pretence has become so scripted and overwrought in the Instagram era that perhaps the only approach to it is to keep going. Gone Girl is less about the mystery of what goes on inside your partner's head than it is about what goes on inside an absurdly perfect relationship. It could be the ultimate anti-date movie, unless an unflinching cynicism about relationships is your seduction modus operandi.
Gone Girl, directed by David Fincher, based on the novel by Gillian Flynn. 149 minutes. Released 1 October 2014.