Opera
The Pearl Fishers (Melbourne Opera)
Georges Bizet was twenty-four when he wrote Les Pêcheurs de perles, which was first performed at the Théâtre-Lyrique in Paris, in September 1863. This was twelve years before Bizet's masterwork, Carmen, which premièred in the year of his death. The first opera was immediately popular. Berlioz reviewed it warmly. As it happens, this was Berlioz's last review. Lucrative royalties from Les Troyens, which premièred at the Théâtre-Lyrique five weeks after The Pearl Fishers (not a bad season for the house, really) enabled him to give up journalism: 'deliverance' for this self-declared 'unhappy feuilletonist'.
No complete score of The Pearl Fishers survives, and it has been subjected to endless unauthorised cuts and interpolations. But this precocious lyrical work is rarely missing from most opera company's repertoire for any length of time. The greatest sopranos, tenors, and baritones have recorded the major arias and the famous duet. Caruso himself recorded Nadir's aria twice and appeared in a starry revival for the Metropolitan Opera in 1916.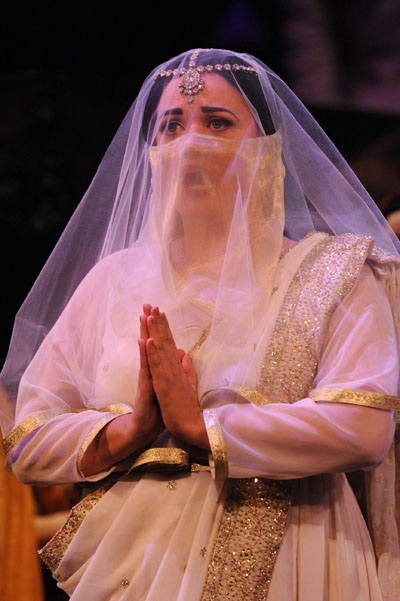 Lee Abrahmsen as Leïla (photograph by Matt Deller)

Richard Divall, closely associated with the work, conducts the new Melbourne Opera production. It is thirty-six years since he led a celebrated Victoria State Opera production, which was designed by John Truscott and featured memorable performances from Yvonne Kenny and Keith Lewis as the illicit lovers.
The Melbourne Opera Orchestra, under Divall, has rarely sounded better: there was real authority and energy in the playing, despite the Athenaeum Theatre's stultifying acoustic. The willing chorus, which has much singing to do, was in excellent form, with real heft from the larger voices. The big ensembles – almost Verdian at times – were stirring.
The production itself is very old-fashioned – not a major problem with such a wobbly and unconvincing drama. (Few of Bizet's librettists did him any favours, and here all the opera's dramatic limitation were evident in the English translation.) It is hard to take the story seriously. Zurga is elected chief with a speed that would impress the Politburo, and the business with Leïla's necklace (which ultimately saves her life, as necklaces seem to be meant to do) is very clumsy. It was a busy little stage on opening night, with four swirling dancers, effusive choristers, and a prominent grey set that served as a rocky cliff, a ruined temple, and a menacing pyre.
Clearly this was no gerontocracy in ancient Ceylon, where the opera is set. The principals are all young singers. Brenton Spiteri, who won the 2012 Herald Sun Aria, has a suitably light and high tenor voice for Nadir. At first there was a slightly nasal quality in the singing, but Spiteri sang Nadir's great aria, 'Je crois entendre encore', with real feeling and brave high notes at the end. Bizet intended this to be sung piano, and so it was.
Phillip Calcagno has done much singing in Italy – and with this company (though this is his first Zurga). His youthful baritone, like his playing of this conflicted and easily hurt character, has an endearingly vulnerable quality. The great duet towards the end of Act 1 – 'Au fond du temple saint' – was performed as a hymn of longing and regret. Spiteri and Calcagno are no Jussi Björling and Robert Merrill – but no one is. The well-known duet was transformed by this tender, sensitive singing.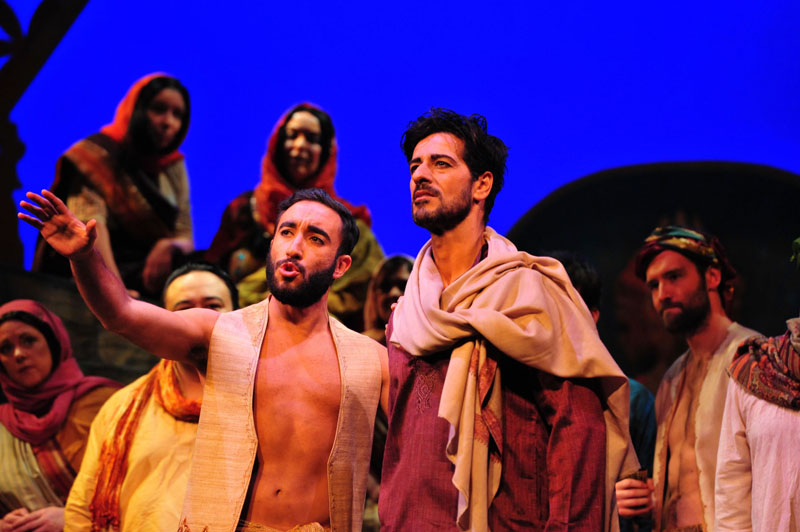 Brenton Spiteri as Nadir and Phillip Calcagno as Zurga (photograph by Matt Deller)
Act 2 belongs to Leïla. The long aria 'Comme autrefois dans la nuit sombre' requires immense control and impeccable coloratura (certainly not Auden's 'ravished coloratura trilling madly off-key'). It reminds us of Micaela's great aria in Carmen, which is similarly horn-coloured. Here, Lee Abrahmsen, who had made a tentative entrance in Act 1, came into her own. The testing aria was impressively sung and ended with limpid high notes and a confident trill. In the ensuing impassioned duet with Nadir, Abrahmsen was commanding. Her singing in the final moments – as Leïla and Nadir, on being spared by Nadir, reprise the great melody from the men's duet – augured well for future performances from this young artist (another Herald Sun Aria winner).
This enjoyable production runs until early October, with several major cast changes scheduled for later in the run.
The Pearl Fishers, directed by Hugh Halliday for Melbourne Opera. Performances continue at the Athenaeum Theatre until 30 September, with a performance at the Alexander Theatre, Monash University, on 4 October. Performance attended on 19 September 2014.