Theatre
The Good Person of Szechuan (Malthouse Theatre)
When Brecht wrote The Good Person of Szechuan (1939–42), he had been influenced by the colour and brashness of Chinese theatre, whose archetypal heroes and villains underpinned his concept of the Alienation Effect. Brecht, ever the political theorist, wasn't interested in characters with whom the audience empathised, or of employing Stanislavski-based acting techniques that strove to reach emotional truths. His Verfremdungseffekt was designed to shake audiences out of apathy and make them recognise capitalist society's inherent corruption and amorality, so that they would take action both inside and outside the theatrical space. The play was first produced in 1943 and, though set in distant China for convenience (much less likely to lead to any censorship), skewers the West's disregard for misery and poverty and its indifference towards the needs of the people.
This timeless morality tale lends itself to contemporary reinterpretation. When the Gods come to earth to seek one good soul, the only person to give them refuge is the streetwalker Shen Te. They reward her with a thousand pieces of silver, with which she buys a small tobacconist's shop. Soon she is beset by hangers-on, conmen, and a fickle pilot who claims to love her, though he is simply after her money. She disguises herself as her male cousin Shui Ta in a bid to assert control and independence. At the end, she is left alone, pregnant and penniless. The Gods, of course, retreat, telling Shen Te they cannot meddle in economics and urging her to continue being good.
'[The Good Person of Szechuan] is coarse, funny, cheeky, and hugely entertaining.'
This Malthouse Theatre collaboration with the National Theatre of China (NTC) is the first in a series of exchanges between the two companies. The production will tour to China later in the year, and the Malthouse's artistic director, Marion Potts, will direct at NTC in 2015. The Good Person of Szechuan is an inspired choice and a firecracker of a production. Much of its boisterous energy comes from director Meng Jinghui, who bores into the satire with verve, vulgarity, and vim. His Good Person is by no means didactic (which can sometimes happen when Brecht is over-intellectualised). It is coarse, funny, cheeky, and hugely entertaining. Meng has built a reputation as an iconoclast, and his trademark directorial style mixes street smarts with commedia dell'arte, over-the-top melodrama with a rapper's beat. At its core, the play is a vehicle for tight ensemble work, for the ever-present cast act as chorus, double up in roles, give all they have got in a gym dance workout, and sing asuccession of politically charged and moralising songs. These, composed by The Sweats, get the feet tapping and drive the action forward. For the most part (there are a few directorial excesses resulting in occasional messiness), the ensemble work is exceptional, the actors hamming up the drama with engaging in-your-face directness.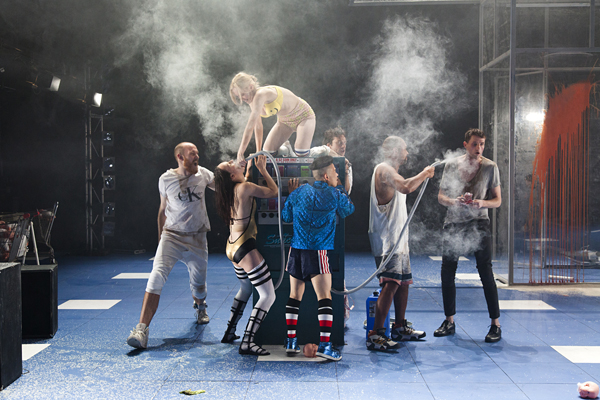 Pictured (L-R) – Josh Price, Emily Milledge, Genevieve Giuffre, Aljin Abella, Richard Pyros, Bert LaBonte, Daniel Frederiksen (Photograph by Pia Johnson)
Moira Finucane – Meng Jinghui's first choice to play the dual role of Shen Te and Shui Ta – is perfectly cast. Best known as a cabaret artist, she brings her knowledge of Weimar-style expressionistic performance to her interpretation, a quality often noted in Brecht's own productions. Her Shen Te is quietly idealistic, while Shui Ta snarls and saunters around the stage in a slick pant suit and shades. The underlying messages of gender switch have much more resonance today than they did in1943, giving the text a rich, contemporary grittiness that explores what it means to be a woman in a man's world.
The translation process of the production is a tale in itself. The play's adapter, Tom Wright, worked from an English translation of the German text, which was then re-translated into Mandarin. All rehearsals took place with an English interpreter in situ, conveying Meng's direction to the cast. It is remarkable, under the circumstances, that the finished product is so close to Brecht's original. There has been little contraction and omission, and the essence of the play remains intact.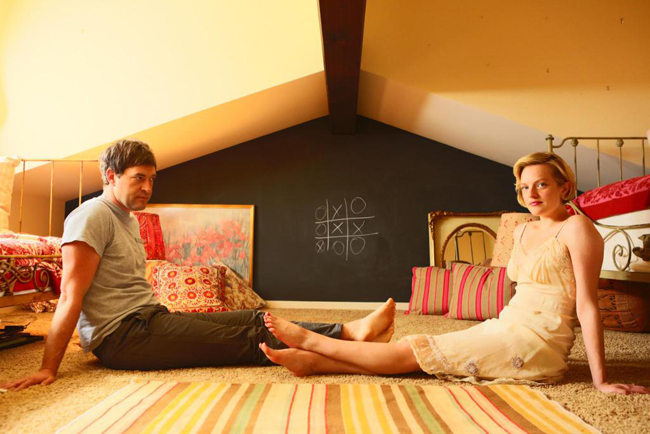 Moira Finucane as Shen Te (photograph by Pia Johnson)
If there are passages that are lost in translation, they are few, and probably based on directorial choices. At one point, the cast put on animal tails and prowl around the stage. If this is to symbolise that the world is a jungle, this is over-obvious, even in a production that emphasises shock value over subtlety. (There is one brief, but unnecessary, flash of male genitalia). In Brecht's text, Shen Te is given a gripping monologue in which she laments the exploitation of children for commercial gain. Meng's version has Finucane placing baby dolls around the stage, and as the dolls slump and lean into each other, the set resembles a bizarre, abandoned orphanage. Out of context, this comes across as puzzling, although the image itself is powerful.
For Brecht, the last sight of Shen Te is of her pregnant and alone. Meng shows her giving birth on stage to a lump of concrete, a shrewdly conceived finale that echoes designer Marg Howell's setting of a twenty-first-century Chinese slum of huts and garbage bins, in the shadow of a brilliantly illuminated high-rise tower. In this China, this world, morality is determined by political and financial systems, and millions have been left behind, despite so-called economic miracles.
The Good Person of Szechuan by Bertold Brecht, adapted by Tom Wright, directed by Meng Jinghui, Merlyn Theatre, Malthouse Theatre, 27 June–20 July. Performance attended 2 July 2014.