Theatre
Red, Like Our Room Used to Feel
'Nothing is not giving messages,' reads a postcard wedged between the keys of a typewriter on a cluttered bedside table. As well as a nod to Edwin Morgan, the postcard is just one item in an abundance of ephemera lining a small makeshift bedroom in the basement of the North Melbourne Town Hall. This is the setting for American-born, Edinburgh-based poet Ryan Van Winkle's one-on-one poetry performance, Red, Like Our Room Used to Feel – though to describe it as a 'performance' perhaps too closely implies the theatrics of 'performance poetry'. This is certainly not the case. Red, Like Our Room Used to Feel is an assemblage of poems written for the page, experienced intimately.
In twenty-minute sittings, Van Winkle reads a selection of poems to one visitor at a time. Before the reading, he meets you outside the room, introduces himself, and lets you know what to expect: he's going to offer you some port, or tea if you prefer; he won't look at you while he's reading the poems; you can take off your shoes if you like; you may position yourself on the bed, or elsewhere in the room; he will sit on a chair.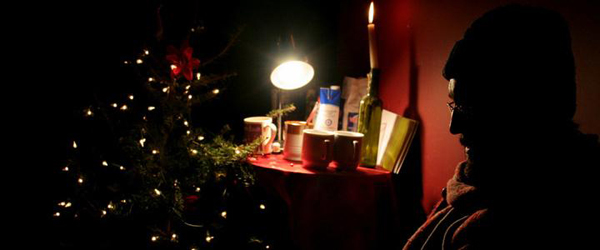 The room feels at once familiar and strange, and at first it's hard not to consider yourself an intruder in Van Winkle's private space. But as he begins reading, each object comprising the clutter is gradually enlivened with meaning, and it quickly becomes clear – just as the postcard implies – that there isn't a dust particle in the room that isn't radiating some kind of message, be it Van Winkle's or your own. Kindled by fairy lights, your eyes wander during the reading to an ashtray; a miniature Christmas tree; empty bottles on the floor; the glass of port in your hand. Calmly and steadily Van Winkle reads the words 'So, I want to say sorry / for forgetting to hang / my shirt where my shirt belonged'. You notice a green summer dress hanging on the wall and, next to you on the bed, a crumpled men's shirt.
And yet, despite any literal ties between Van Winkle's poems and the surroundings in which they are read, the overwhelming result of being in the room is a distinct sense of what could be missing from it. The poet's reflections on memory and loss provoke reminders of your own, and the experience of Red, Like Our Room Used to Feel – simple and consuming – is as if you've suddenly brushed shoulders with someone wearing the perfume of an ex-lover or absent family member, and have managed to remain in the acuteness of that moment for twenty absorbing minutes.
Red, Like Our Room Used to Feel was part of the Melbourne Fringe Festival, and ran from 20 September to 5 October 2013.