Theatre
Who's Afraid of Virginia Woolf?
A traditional version of Edward Albee's classic
Red Stitch Actors' Theatre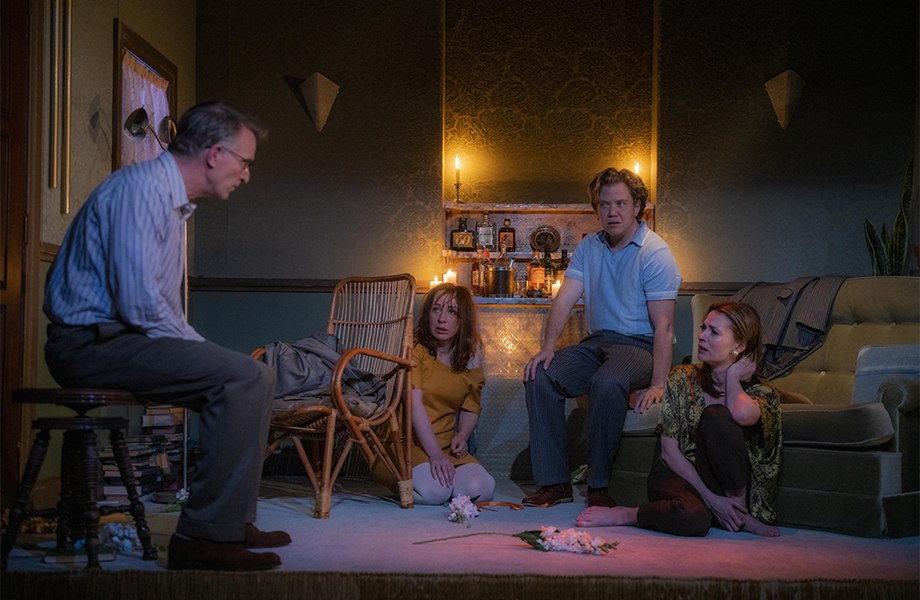 Since its sensational début on Broadway more than sixty years ago, Edward Albee's Who's Afraid of Virginia Woolf? has become an enduring classic of the modern American canon. Its depiction of warring middle-aged couple Martha and George, and their drawing of young couple Honey and Nick into the gravitational field of the savage, alcohol-fuelled contretemps their marriage has become, remains a perennial favourite of the English-speaking theatre. Like moths, actors of a certain vintage are drawn to its bright flame, which shone never more brightly than in the superlative 1966 film adaptation directed by Mike Nichols, with Elizabeth Taylor and Richard Burton in the starring roles.
The play has been frequently performed in Australia; the AusStage database lists sixty-five productions, the first just two years after its 1962 US première. As recently as last year, State Theatre Company SA staged a contemporised revival that, while not wholly successful, at least attempted to inject new life into the play via colour-conscious casting and an unconventionally non-realistic set.
Red Stitch's new production, directed by Sarah Goodes, makes no such gestures towards innovation. It is markedly traditionalist, eschewing any peeling back of Albee's text in the search for new meanings. Rather, it attempts to make a virtue of sticking to the basics, which is to say leaving the play firmly within its original setting and letting the playwright's sparkling dialogue speak for itself.
The result is an assured production and one that, in the absence of directorial interpolations, ends up reaffirming Albee's notion that the play is in essence about living life without false illusions. At a time when untruths circulate freely, amplified by virulently partisan media and in the toxic echo chambers of cyberspace, that feels like enough – despite the odd, unavoidable anachronism – to ensure the play's relevance in 2023.
Goodes's approach is one that lives or dies by the play's casting. In Kat Stewart, she is fortunate to have found a Martha equal to any I have seen (including, dare I say it, Elizabeth Taylor's). Svelte, feline, and libidinous, all flashing eyes and high cheekbones, Stewart commands every scene she is in. Less wounded and mercurial than Susan Prior's take on the role in last year's STCSA production, Stewart's Martha is tempestuous yet self-possessed, her rage coming across as a series of carefully aimed feints rather than an uncontrolled, booze-unleashed force. Stewart is also a masterful interpreter of Albee's deceptively rhythmical dialogue, always seeming to know just when to throw a line away, and when to sink her teeth into it (credit here, also, to Goodes, who is nothing if not an actor's director par excellence).
In contrast, Whiteley is tightly coiled, his delivery a low-key, often deadpan drawl. This is also, it must be said, a performance that, as it stands, is undercooked. Opening night found him searching for lines with frustrating regularity, sucking the air out of moments requiring the utmost tension. This is unfortunate, because it's possible to detect the outline of a much more adroit performance – one that may realise itself as Whiteley's confidence (not to mention his grasp of lines) sures up over the season. For now, the chemistry between George and Martha – pivotal to the success of the play – is hit and miss. Too often Stewart has to contrive the drama that should flow organically from their sparring.
The supporting roles of Nick and Honey, and especially that of the latter, have always struck me as among the more thankless in Albee's oeuvre. Emily Goddard convinced me otherwise, mining the comparatively underwritten part of Honey for every inch of its comic potential. I wasn't surprised to learn that Goddard trained at Philippe Gaulier's famous clown school, such is the comedic verve with which delivers single looks and sounds. It's an outstanding piece of casting.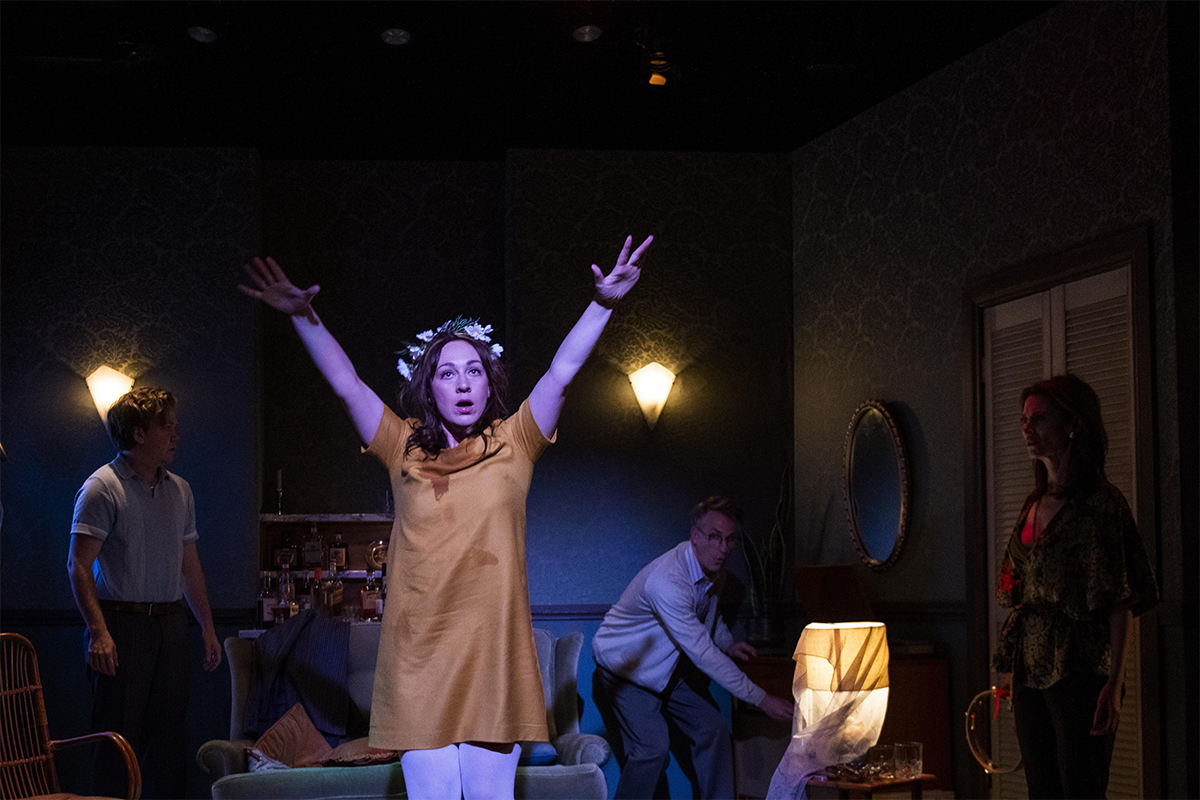 Harvey Zielinski, Emily Goddard, David Whiteley, Kat Stewart in Who's Afraid of Virginia Woolf (photograph by Jodie Hutchinson)
The baby-faced Harvey Zielinski brings more guilelessness than braggadocio to the role of Nick and gets better as the play goes on. He is especially good – sly, ingratiating, and likeable while never wholly trustworthy – in the opening scene of Act Two, when Nick and George discuss Honey's 'hysterical pregnancy' and the dismal (though probably entirely fanciful) story of a childhood friend of George's who killed both his parents. There is a palpable sexual tension between the two men, which brings me to another feature of this production: it convinces us that any one of the characters would, either for the pleasure of it or because of some perceived advantage, fuck any one of the others.
This is the first production of Who's Afraid of Virginia Woolf? I have seen in which Martha's opening lines – 'What a dump!' – serve as an accurate rather than ironic description of the set (usually a vast living area populated with floor-to-ceiling bookshelves, objets d'art, and lashings of mid-century furniture). Harriet Oxley's set is a thing of faded beauty, a cramped, superbly realised campus house lounge room circa 1962, complete with marble-topped bar, well-worn sofa, and radiogram.
While Honey's beehive and mod dress are redolent of the decade, the set's turquoise-heavy colour scheme calls back to the drabber, more conservative 1950s. We are reminded that the play takes place in a fascinating interstitial moment, poised between the austerity of the postwar years and the aesthetic, political, and social revolutions which were just around the corner ('if we make it,' as George mutters darkly at one point, as though to remind us that the play's première coincided with the Cuban Missile Crisis).
The decision to frame the stage with proscenium curtains is an intriguing one, creating a subtle distancing effect, while David Bowyer's occasional video projections – the spectral figure of an adolescent boy appears in one – provide additional visual interest. Grace Ferguson and Ethan Hunter's sound design is unobtrusive but effective, underscoring key moments with melancholic swells of piano and jazz trumpet.
The elements here more than justify a traditionalist revival of a play that will be familiar, even overly so, to many. If a certain pitch of intensity – that febrile quality of Albee's – proved elusive on opening night, I have no doubt it can be reached within this production's run. Stewart has brought the blue touch paper; it only remains for Whiteley to light it.
---
Who's Afraid of Virginia Woolf? (Red Stitch) continues until 17 December 2023. Performance attended: 18 November.