Art
Kandinsky
Vasily Kandinsky from the Guggenheim
Art Gallery of New South Wales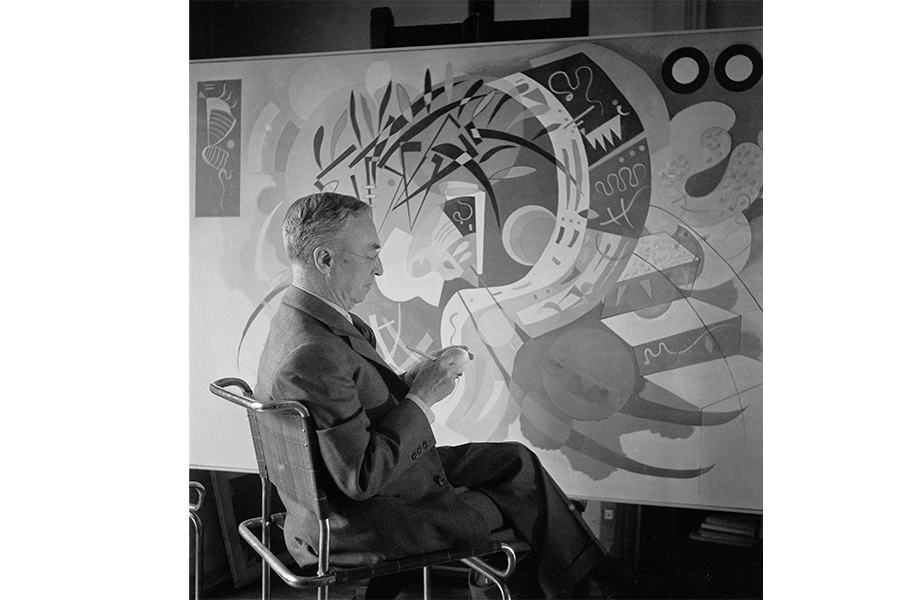 We can all be grateful for Kandinsky, this summer's main exhibition at the Art Gallery of New South Wales. It is a strong and balanced show by the most influential among the early practitioners of modern abstract art. There are four main collections of Kandinsky's work worldwide, but the best one belongs to the Solomon R. Guggenheim Museum in New York. It was formed from the late 1920s by Baroness Hilla von Rebay, a German artist advising one of America's richest men, the Philadelphian-born mining magnate Guggenheim. Friends of the artist, in 1939 they founded the Museum of Non-Objective Painting, whose collections, two decades later, were housed in the celebrated spiral building designed by Frank Lloyd Wright.
What we see in the Sydney gallery is about half of the original eighty-five works from the Guggenheim's Vasily Kandinsky, Around the Circle, the latest of its periodic in-house displays. Like the Matisse exhibition from the Pompidou in late 2021, the AGNSW's loan show draws from just one source. It is not the result of active, formative curating from multiple sources so much as negotiating a large rental fee (paid with state government money), shipping and hanging expertly, and publicising (though public programs seem lacking in Kandinsky's case). Such single-source shows are a favourite practice of Australian state museums, and rarely have much intellectual heft. Yet it continues to surprise me that great overseas museums are willing to risk their treasures in this way. Government indemnity schemes and non-seizure protocols provide some surety, while the practice of transporting the works in four or five separate freight planes distributes the risk.
The Gallery has elected to show Kandinsky in the bowels of the original 'South Building' (while Louise Bourgeois will open in the new 'North Building' on 25 November). Kandinsky is not easy to find, down two levels and behind a pair of allied shows 'in the spirit of' the Russian master (one of British spiritualist Georgina Houghton and the other a contemporary installation oriented to children). In-house curator Jackie Dunn's hang, spare but elegantly paced and toned, uses nine curved walls across several open-ended rooms. The Guggenheim has consented to lend four or five of the artist's acknowledged masterpieces, starting with Blue Mountain (1908–9), a shimmering cascade of intense yellow and puce skies (or trees), above a cavalcade of Arab horsemen etched against an indigo peak.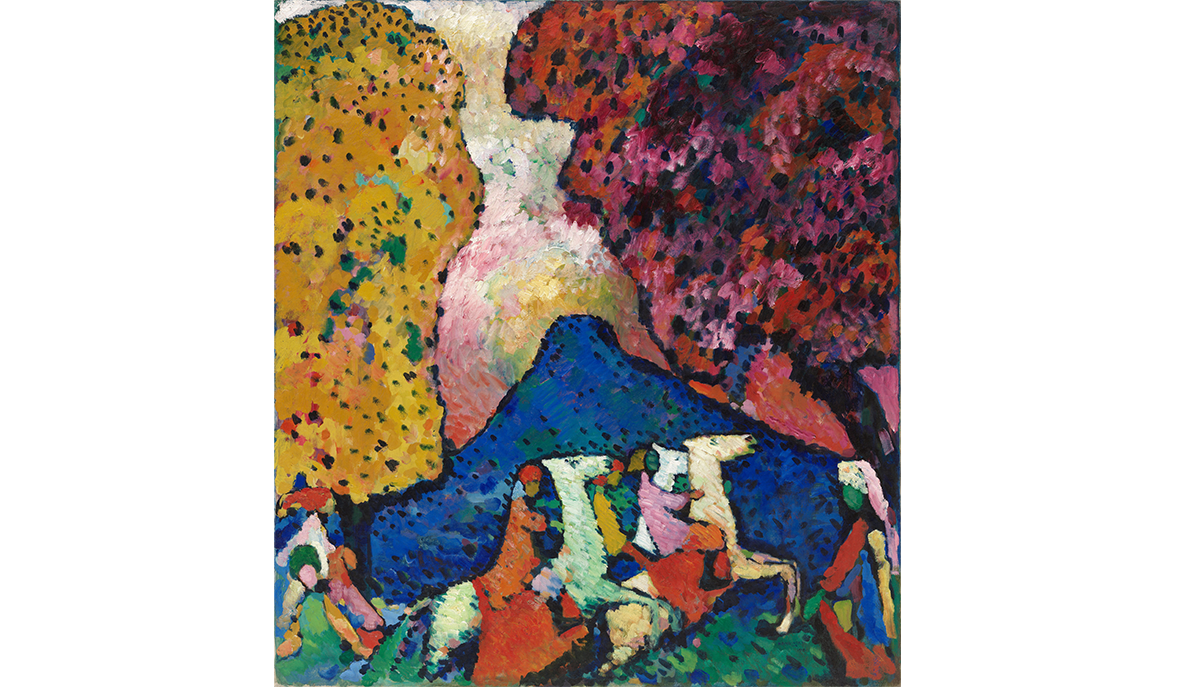 Vasily Kandinsky's Blue mountain (1908–09), oil on canvas, 107.3 x 97.6 cm, Solomon R. Guggenheim Museum, New York, Solomon R. Guggenheim Founding Collection, by gift, (photograph courtesy Solomon R. Guggenheim Foundation)

The shift from the clutch of dour late-Impressionist landscape sketches on the first wall to Blue Mountain and the kaleidoscopic Murnau landscapes nearby mark a galvanising event that ushered in the great period of Kandinsky's work (1908–14). Between 1904 and 1907, the artist and his new partner, German painter Gabriele Münter, spent extended periods abroad in Holland, Tunisia, Italy, and France. It was in Paris (where he exhibited extensively) that Kandinsky absorbed a new approach to colour from the contentious 'Fauve' paintings of Henri Matisse, and most particularly André Derain. Switching from gouache to oil colours and increasingly detaching hue from observed colour, Kandinsky, working in tandem with Münter and Alexei Jawlensky in Murnau, arrived at a chromatic formula stunningly evident in his Landscape with Factory Chimney (1910). The celebrated 'colour storms' of Kandinsky had begun to mass; they are fully realised here in Improvisation 28 (2nd Version).
Painting with White Border (1913) is the Guggenheim's most famous Kandinsky, and after conservation was the subject of a show that assembled the two dozen line drawings, watercolours, and oil sketches that preceded it.[i] It is a surprise to learn that every squiggle, colour-patch, and blot in this stupendous work was planned and adjusted over multiple iterations. The central motif – a hunched, lance-wielding St George transfixing a multicoloured tentacular dragon – is disguised by what Kandinsky called his 'stripping and veiling' of objects and figures. He believed the residual presence of such elements would ease the viewer into his new visionary language of the abstract. The theoretical basis of this is set out in his book Concerning the Spiritual in Art (1912), a tract at once incoherent and seminal.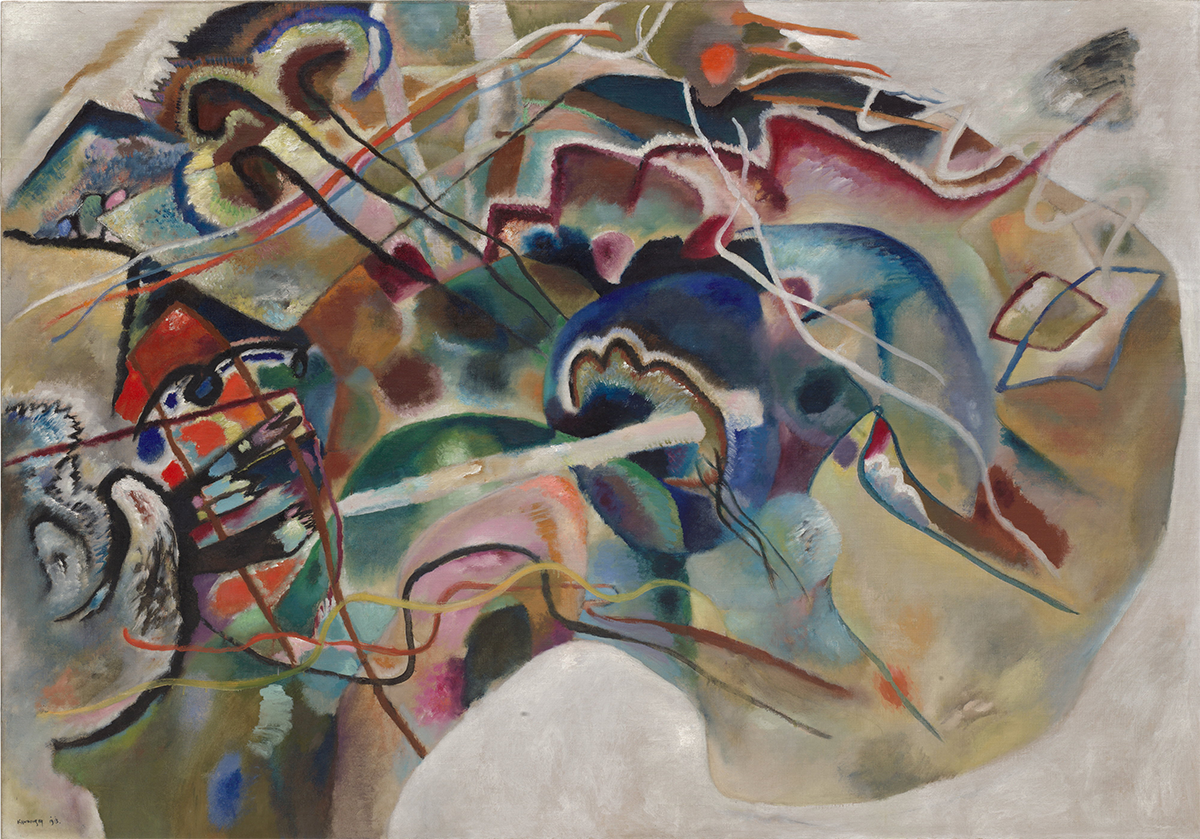 Vasily Kandinsky's Painting with white border (May 1913), oil on canvas, 140.3 x 200.3 cm, Solomon R. Guggenheim Museum, New York, Solomon R. Guggenheim Founding Collection, by gift, (photograph courtesy Solomon R. Guggenheim Foundation)
Across Europe, many things froze during and after World War I. Kandinsky's primal creativity may have been one of them. With the Bolshevik Revolution, the family wealth that had long enabled his cosmopolitan lifestyle disappeared, while he and his third life partner, the much younger Nina Andreevskaya, suffered the loss of their only child. Kandinsky, expelled from Germany and living in Moscow (1917–21), was enlisted into the short-lived but remarkable official empowerment of the radical Russian and Ukrainian avant-gardes – those of Malevich, Lissitzky, Tatlin, Popova, Chagall, and others. Kandinsky spent almost four years as an arts administrator in this new Soviet Union. But crucially, his free-wheeling, anarchic sense of space and colour became frozen as he moved to conform to the new hard-edged geometry of his younger Suprematist and Constructivist colleagues. It's as if his great multipartite effusions of colour and shape were subjected to a grid made by the drafting tools of set-square, French curve, and compass. For me, this has always seemed like an academicisation, but one imposed by the artist upon himself.
So it is that the exhibition divides into two. The post-1918 works are more numerous, but have less gravitas, less Sturm und Drang. There are moments of clarification, such as In the Black Square, where you surmise this is what Kandinsky was thinking. His signature kremyls, tree-tops, rowing-boats, mountainsides, and shell-blasts are crisply delineated in a graphic scheme à la Lizzitsky, and placed in an anamorphic Suprematist slanting square.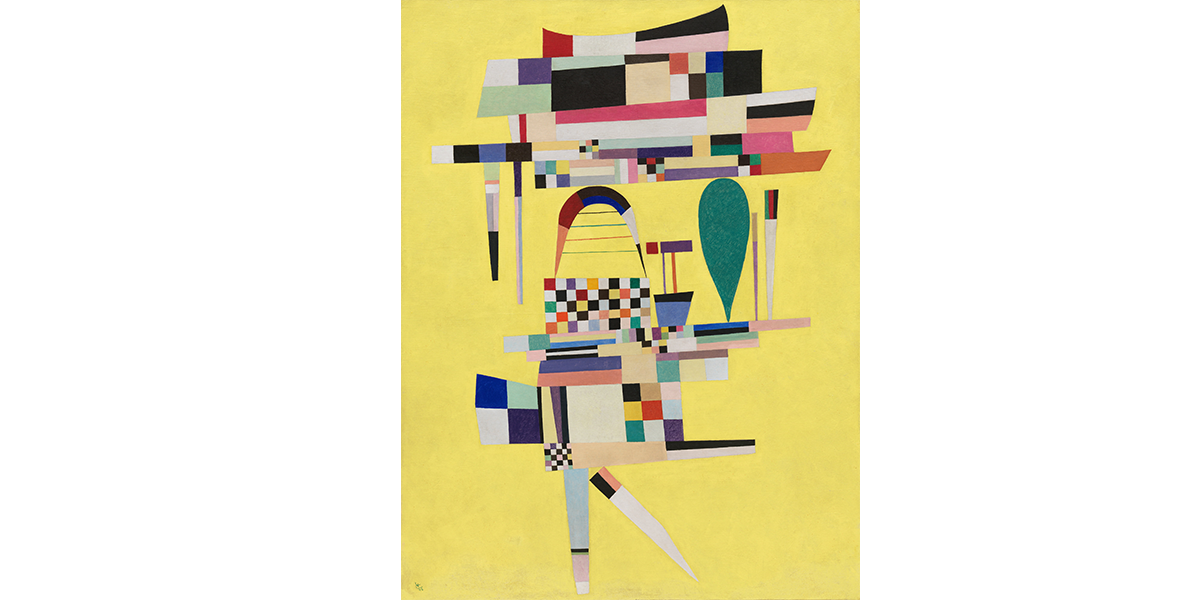 Vasily Kandinsky's Yellow painting (July 1938), oil and enamel on canvas, 116.4 x 88.9 cm, Solomon R. Guggenheim Museum, New York, Solomon R. Guggenheim Founding Collection, (photograph courtesy Solomon R. Guggenheim Foundation)
In the late 1920s, when Kandinsky was a professor at the Bauhaus, it seems to me his work owes overmuch to the brilliant Paul Klee, his old friend and close colleague. Works on show like Calm; Upwards; Unshaken; or Levels are too Klee-ish and comparable to Bauhaus school-pieces by emigrants like our own undervalued Ludwig Hirschfeld-Mack. This second half of the exhibition shows us Vasily the Professor, dressed in a suit and working out his compositions with precision and a modicum of creativity. As Megan Fontanella proposes in her essay 'Around the Circle', his colour schemes lightened and changed in these years as his 'reminiscences' returned to his late-nineteenth-century encounters with Siberian peasant culture during his voyages as a young ethnographer. In the final rooms, Kandinsky, now in his sixties and seventies, becomes a meticulous painter of amoebae, vermicelli, and spermatozoa in a set of pictorial petri-dishes. A grand-scale composition like Dominant Curve (1936) might remind visitors of the iridescent Hubble Telescope images of today: inexplicable coloured forms whirling delightedly in an infinite space.
The book on sale at Kandinsky is in fact the Guggenheim's 2021 catalogue Vasily Kandinsky: Around the Circle, edited by Tracey Bashkoff and Fontanella, unchanged and reprinted for Sydney. Steeply priced at $69.95, it is an unremarkable if stylish souvenir album. There are five short essays, the best of which include Bashkoff's masterly overview of the artist and the collegial contexts in which he always operated, and a stimulating text on Kandinsky's series of pre-war 'Improvisations'. These are held against traditions of musical improvisation by the musicologist George E. Lewis. Efforts to enlist Kandinsky into the ranks of doctrinaire Anarchists (the essay by Leighten and Antliff) or shamanic mysticism (Fontanella) are only partially convincing. Fontanella's second essay, on Kandinsky at the Bauhaus, resonates with a major study of the Bauhaus diaspora recently published here.[ii] Finally, the copious and illustrated 'Chronicle' by Annegret Hoberg repays close attention: Kandinsky's was a life of admirable richness that traversed a 'Great Epoch' of intensely troubled times.
Don't say: I know nothing about art, but I know what I like. Do say: I wish I were Kandinsky.
---
[i] Kandinsky and the Harmony of Silence: Painting with White Border, Phillips Collection with Yale University Press, 2011. The fact that the AGNSW owns a fine watercolour study for White Border surely encouraged this key loan.
[ii] Bauhaus Diaspora and Beyond, edited by Philip Goad et al., Miegunyah Press with Power Publications, 2019.
---
Kandinsky is at the Art Gallery of New South Wales until 10 March 2024.