Theatre
Happy Days
Judith Lucy tackles Beckett's Winnie
Melbourne Theatre Company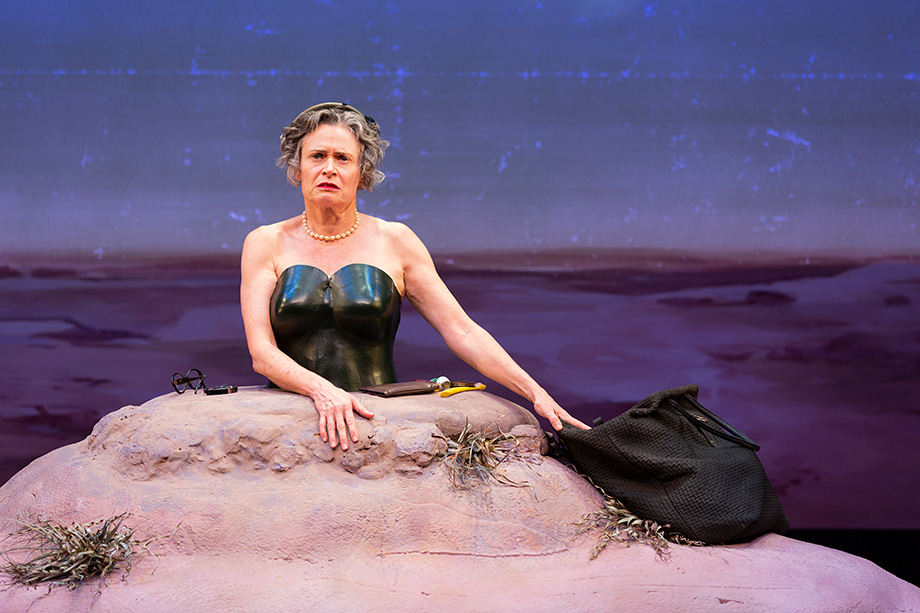 A middle-aged woman, Winnie, is buried to her waist in the middle of a mound, amidst a dry, monotonous expanse while the scorching sun beats down. It is one of Beckett's indelible theatrical images. She finds solace in her handbag, where she uncovers a domestic detritus that affords her the rituals and distractions that help her endure: comb, toothbrush, mirror, hat, music box. She herself is a protrusion or an excrescence, caught between organic and inanimate matter, like the teeth and hair she seeks to prettify.
First performed in 1961, in New York City, Happy Days is Samuel Beckett's last full-length play, and the first to feature a woman. It is a breakthrough work artistically, looking forward to the gabbling female characters that emerge in later 'dramaticules' like Not I (1972), while also departing from the residual realism of its predecessor, Krapp's Last Tape (1958). Beckett's theatre often includes memorable visual images – the tree on the roadside, the parents in dustbins – but from this point it will tend towards a searing, singular visual intensity, as akin to video art as to stage drama.
Continue reading for only $10 per month. Subscribe and gain full access to Australian Book Review. Already a subscriber? Sign in. If you need assistance, feel free to contact us.