Fiction
Three new crime novels by Emma Viskic, Christian White, and Garry Disher
These are exciting times when the new normal for Australian crime fiction is strong domestic interest and sales, but also international attention in the form of Australian-only panels at overseas writers' festivals, plus regular nominations and awards in Germany, the United States, and the United Kingdom. Whether this is a literary fad or sustainable in the long term – with Australian crime fiction becoming a recognisable 'brand' in the manner of Scandi-noir or Tartan-noir – will depend largely upon the sustained quality of the novels produced here.
This sounds like an obvious thing to say, but the good news is that Australian crime novels rarely feel as though they're the over-hyped or rushed-to-print product of authors struggling to meet the demands of multi-book deals. A strong and savvy ecosystem of independent publishers has produced some of the bestselling titles, but also novels containing some of the genre's most beloved characters.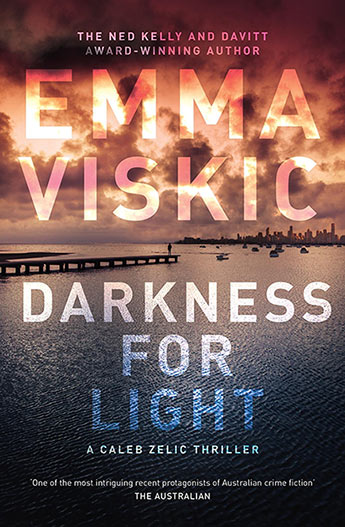 Darkness for Light by Emma Viskic

Echo, $29.99 pb, 304 pp, 9781760685812
Emma Viskic's PI Caleb Zelic is one such character, and Darkness for Light is the third book in her award-winning series. In keeping with the two previous novels in the series, Darkness for Light is a propulsive thriller sustained by a writer with a sharp wit and a seemingly effortless facility for maintaining and building tension within scenes and across chapters, as well as over the longer story arc. The result is a novel that starts with a hard acceleration and builds significant momentum from there – something that any writer will tell you is incredibly hard to achieve. The danger, of course, is that keeping to such a pitch can result in reader fatigue, a sense that the narrative is straining for effect. That is never the case in Darkness for Light, which has everything to do with the character of Caleb Zelic. Profoundly traumatised after recent events, Caleb is receiving counselling and has managed some significant integration into the deaf community. He is soon to become a father. His new and effective mantra is 'Make Good Decisions'. Gentle to himself and others, he is fragile. So, unfortunately, is the layer of safety built around him. Upon receiving a call to meet a potential client, only to discover that a murder has taken place, Caleb is drawn back into the world that he's worked so hard to escape from – subsequent to the return of his former PI partner, the now fugitive Frankie.
A copper subsequently appears who may or may not have gone rogue, running an investigation that is accompanied by a growing body count. When Caleb is forced to take charge of a minor, a smart and observant girl who is fascinated by Caleb's deafness and whom he teaches to sign, the stakes are raised even higher. Amid the skilful plotting and sustained tension are scattered genuine literary delights, such as the description of Tedesco, a jaded, health-food-loving detective, who sets up a meeting in a suburban park: 'Tedesco was standing by a food van, eating what looked like a bowl of grass. A large man with close-cropped hair; hunched over his food, he looked like one of the boulders artistically scattered throughout the park.' While such descriptive verve is part of the genre, what sets Caleb's observations apart is the role that his deafness plays in his interactions with others, in that the focus required for him to move through the world draws important detail to the surface that might otherwise skate through, enlivening the narrative with sharp insights into character and place, but also playing a key part in advancing the plot of this stylish thriller.
The Wife and the Widow by Christian White

Affirm Press, $32.99 pb, 334 pp, 9781925712858
Descriptive verve and clever plotting are also key aspects of Christian White's second novel, The Wife and the Widow, a more than worthy successor to his début, The Nowhere Child (2018).
While it is the highly inventive plot that will stay with many readers, as White masterfully manipulates the novel's structure to draw the two main storylines together, it is his characterisation that really elevates this novel and amplifies the emotionally powerful ending. Deftly using a braided narrative structure that raises the stakes within each instalment from the 'wife' and the 'widow', with each chapter ending at precisely the right moment to ratchet up the suspense, the two central protagonists, Kate and Abby, separated by class and opportunity as much as by physical distance, are each beautifully drawn, together with their immediate family.
Kate lives in Melbourne with her daughter and husband, John, who fails to return from a business trip to London. Abby and her husband, Ray, together with their two teenage children, live on the island of Belport. Abby works at a local supermarket and teaches herself taxidermy, while Ray is a handyman and property caretaker.
The island itself is an important character, for The Wife and the Widow is a novel where the internal landscapes of the characters and their family dynamics are reflected in the brooding and secretive island landscape where the storylines converge. Belport, a fictional island off the coast of Victoria in the Bass Strait, now in the off-season, is a place that 'should have felt bigger with fewer people in it, but it was [instead] somehow smaller, as if the coastline was slowly closing in'. While Abby has lived most of her life on the island, she's still considered something of a blow-in: 'the wrinkles on his forehead deepened. Abby had seen this look a number of times, on the faces of many of Belport's lifers. Biller was trying to determine her security clearance.'
A meditation on grief and trauma as much as it is a gripping crime novel, The Wife and the Widow is to be especially recommended for its inventiveness and risk-taking in terms of plot, in particular. It is a risk that pays off handsomely for the attentive reader.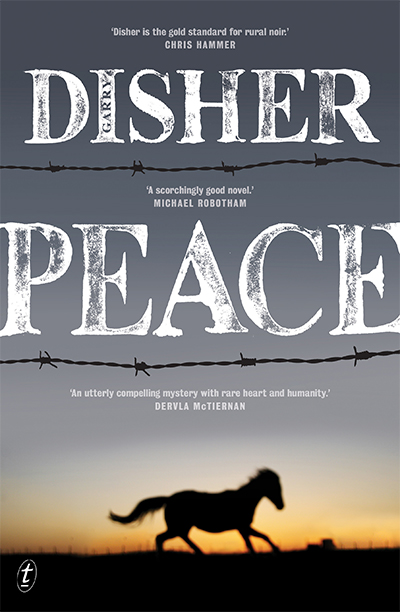 Peace by Garry Disher

Text Publishing, $29.99 pb, 336 pp, 9781922268150
Garry Disher's Peace is his second novel featuring Constable Paul 'Hirsch' Hirschhausen, set in the rural South Australian town of Tiverton. Remarkably, Disher is the author of some fifty books. A blurb on the back of the novel, taken from a review in The Australian, states, 'Garry Disher has been giving us highly intelligent literary thrillers for decades and he gets better and better.' This is no idle claim, as Disher's recent novels attest, and Peace displays the full palette of a writer at the top of his craft.
The novel proceeds with a great deal of patience, as befits its setting in a town and region where the crimes are generally at the lower end of the scale – petty theft, DUI, assault, etc. Having been exiled to the sticks for unwittingly being part of a corrupt detective squad, Hirschhausen lives a simple life, in a home not very different from the earliest police stations scattered throughout rural Australia: small office at the front, small living quarters at the back. Despite only being stationed in Tiverton for a year, Hirsch has managed a degree of integration into the life of the town by way of effective community policing, dropping in to see isolated people and participating in the town's social calendar (Christmas is coming soon and Hirsch has been nominated as town Santa).
Hirsch has genuine affection for many of the town residents, and is wisely wary of others, such as the brilliantly drawn passive-aggressive town busybody, Martin Gwynne, and the hard-as-nails but dysfunctional Flann family. When some thefts and acts of petty vandalism occur, and some beloved animals are slaughtered, Hirsch has his hands full. Following the surfacing on YouTube of an embarrassing video of Hirsch, events quickly escalate, drawing media focus to the small town and building thereafter towards the novel's dramatic conclusion. Peace is a masterful crime novel whose many pleasures include its incisive characterisation, its nuanced reading of Australian rural life and history, its brilliant plotting, and Disher's always painterly eye.