In The Bush (2014), Don Watson explored notions of what that most variegated of terms, 'the bush', meant to earlier generations, including his own family. In A Single Tree, he presents extracts from writings of all kinds for what he calls 'a fragmentary history of humans in the Australian bush'. He takes as given the diverse applications of the word 'bush' over time and chooses pieces that give expression to a multiplicity of feelings, words, and thoughts around aspects of Australian place.
The urge to assign meaning to the natural world beneath our feet or in the distance is abiding and universal, and the work has been pursued on Terra Australis as elsewhere on the planet. For Australia's British conquerors in the nineteenth century, the job was never going to be easy. Before any possibility of harnessing the continent to their various needs, a first difficulty lay in simply comprehending what it was they were seeing, so different was the scene to back home.
With a lack of free-flowing rivers and fertile expanses, it soon became evident that Australia was not another America. The poet Charles Olson once wrote that the defining fact of 'man in America' was space, but such space as North American colonists knew and could voyage around was never the kind that white folk encountered in Australia. And yet Australian space also came to be appropriated by a growing non-Indigenous population that would eventually layer and invest this land with unique, local meanings and attachments of its own.
Watson, in The Bush, suggested that by the second half of the nineteenth century any perception of the bush as a kind of Australian wilderness was already a thing 'of the past', representing perhaps no more than 'an early form of theme park'. If that earlier sense carried stray Romantic connotations, they did not last long. Those who had created farms and homesteads, who had tree-felled and cultivated for pasture or agriculture, would stop seeing themselves as living amid untamed nature as soon as material success allowed. But such control as colonists and settlers had achieved sat less happily once the degradation inherent in earlier practices became obvious, and was qualified again when it was understood that Aborigines had been managing their environments skilfully and less destructively for aeons past.
A more realistic acceptance of this continent's potential for mass habitation and exploitation, including its limits, had to wait for twentieth-century imaginations and politics. Some among recent generations have come to see and relate to the bush, or at least tried to, in ways drawn from Indigenous perspectives: 'Changing to this view of reality had been a long hard struggle against the old conditioning' (Robyn Davidson). Many more have given up against its various forms of obtuse resistance and have fled to easier locales: 'Australia, like some great termitey redgum, is emptying out, concentrating its vital tissue into a thin coastal cambium with big fat nothing at its centre' (Elizabeth Farrelly).
The task of populating this collection has led Watson to take an imaginative route through a very Australian drama. The tension between cultivation and preservation pervades the volume. From the farming and husbanding side, Watson includes a despairing despatch from 1853 about the setbacks in growing animal herds: 'I find from the rapid strides the silk-grass has made over my run, I will not be able to keep the number of sheep the run did three years ago' (John Robertson) – and a later and cheerier bit of advice from someone now comfortable enough to even provide 'how-to' thoughts on land management (Francis Myers, 1914). In sharp contrast, a decidedly modern perspective appears further along, presenting a serious but also entertaining argument in support of weeds: 'Weeds are stateless persons, with no civil rights, subject to arbitrary execution' (George Seddon).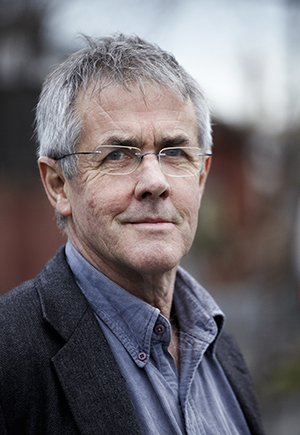 Don Watson (Photograph by Susan Gordon-Brown)Science divides the Australian landscape into various geo-botanical zones – dry coastal, sclerophyll forests, wetlands, etc. – but this is not how we live it. We enter and traverse our instance of the bush as individuals, filtering and tuning to build a personal version of what is and what counts. Which is perhaps what the more literary voices in this collection do best. Reflective of the image in the book's title, novelist Roger McDonald is found here in non-fiction mode, writing with a kind of melancholy wonder about ' trees away out in the smashed-glass glare of wheatfields: yellow box, white cypress, kurrajong. Lone sentinels shimmering in heat haze. And playground eucalypts in asphalt, their leaves pungent after rain ...'
Many of the pieces assembled in A Single Tree are memorable for the distinctive – and sometimes prescient – sensibility on display. Among those are a few that do much to honour their subjects, as in the passage extracted from a 1953 essay by the acclaimed journalist and anthropologist W.E.H. Stanner. At a time when the deep unity of Aboriginal life with land was only just beginning to be appreciated, he wrote: 'And, arching over it all, is the logos of the Dreaming. How we shall state this when we fully understand it I do not know, but I think we are more likely to ennoble it than not ...' The author delivers homage from the ground of factual study and the heart of moral recognition.
Watson's panoptic approach allows him to draw in a fascinating spread of material – everything from bits of measured observation and eloquent insight, to items of innocent misapprehension or wilful ignorance. While A Single Tree makes available all kinds of texts against which readers might test or expand their own vision of the 'bush', its compiler also quite properly states that 'Across place and time, no book could do justice' to the principle of variety that has guided his selection. Still and all, on a subject as big as this, Don Watson's 'fragmentary history' stands as an excellent and thoughtfully arranged non-compendium, non-anthology that gets satisfyingly close.