Biography
Thea Astley: Inventing Her Own Weatherer
by Karen Lamb
'If there are going to be any more of her novels, perhaps we should come right out and promote her as an utter bitch?'
So wrote Alec Bolton, the London manager of Angus & Robertson, to his senior editor John Abernethy in Sydney. The novelist in question was Thea Astley, and the book was A Boat Load of Home Folk (1968). Bolton had optimistically sent a copy of this bleak and savage novel to Christina Stead for comment; Stead, no pussycat herself, had some positive things to say but also referred to the novel's 'frenzied cruel pursuit … of old maids [and] the contempt for middle-aged married men'.
Astley herself at this time was a middle-aged married woman and therefore a member of neither category, but she turned contempt and cruelty inwards to herself at least as often as she inflicted them on other people. This is a biography of a complex and contradictory character, someone whose capacity for inflicting pain both on other people and on herself was balanced by her energy and brio: she was fun, she was funny, she was an inspired teacher and performer, a highly educated and sophisticated writer who was also a loving mother, and, within the strange parameters of her marriage, a deeply loyal, if not a technically faithful, wife. The plethora of internal contradictions in Astley's attitudes and behaviour is the strongest thread running right through this account of her life, entertainingly summed up by her response to winning the Patrick White Award in 1989. For all her life as a writer, and despite steady critical attention and multiple prizes, Astley had complained about not receiving adequate recognition: on receiving the White award, which is specifically for 'a writer who has been highly creative over a long period but has not necessarily received adequate recognition', she complained about that as well: 'It's for people who fail.'
The idea that Astley had 'failed' in any sense seems ludicrous to readers like Lamb (and like me) who know and love her work. Her first novel Girl With a Monkey (1958) was published the year she turned thirty-three. She won the Miles Franklin Award five years later for The Well-Dressed Explorer (1962), sharing the award with George Turner; she won it again two years later for The Slow Natives (1965) and a third time for The Acolyte (1972), and then for a fourth and final time for Drylands (1999), sharing the prize with Kim Scott. Four Miles Franklin Awards is a record equalled only by Tim Winton; to win one may be regarded as a stroke of good fortune, but to win four looks like the opposite of 'failure'.
Sharp-tongued, nervy, and apparently hag-ridden from childhood by Catholic guilt, Astley seems to have been loved and understood best by people whose characters were very different from her own. Her husband, Jack, and her son, Ed, both come across in this biography as well-adjusted and robust, and – although there were many marital rows – seemingly more amused by her than affronted or hurt. In her professional life, Astley was supported by such people as the poised and polished Beatrice Davis, her friend and for many years her editor, and the calm, shrewd, warm-hearted Irene Stevens of the Australia Council's Literature Board.
In fact, its steady demonstration of the way that an individual life is shaped in and reflected by its intersections with other lives is the most impressive feature of this well-researched and highly readable book. Astley's relationships with her parents, her husband, her son, her mid-life lover, her neighbours, friends, editors, publishers, colleagues, and fellow writers are all explored and deftly used to show not only how her personality was formed and developed, but also how it was reflected and expressed. This often involves such brief and charming vignettes as the account of Astley's promenade down Toorak Road with publisher Louise Adler in determined search of a brown corduroy suit (which, to Adler's relief, she didn't find: 'Look, Thea, it's not really the year of the corduroy suit!')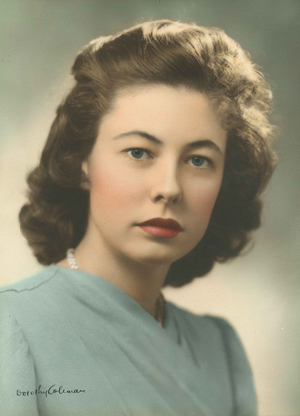 Thea Astley c. 1943-44 (Astley family album, courtesy of Thea's son Ed Gregson)
This and other aspects of the book make it a rich resource for anyone interested in Australian literary history. Astley worked her way through several major publishing houses (and publishers); she is a major figure in the history of the Australian novel, of the Miles Franklin Literary Award, of the Literature Board of the Australia Council, and of the resurgence of women's writing in the 1980s. Although there were inevitable quarrels and fallings-out, she was good friends at least for a time with Hal Porter, Thomas Keneally, Fay Zwicky, and Patrick White, and on friendly terms in later life with Helen Garner and Matthew Condon among others; Lamb quotes Astley's letters to and from these and other literary figures, and their observations of her and hers of them, in such a way as to piece together a broad panorama of Australian literary life in the second half of the twentieth century.
If I have one significant problem with this book, it is Lamb's apparent reluctance to engage in any substantial way with Astley's social and political beliefs and convictions. Not much is said about the active engagement in her fiction with Australian race relations, either about the importance of A Kindness Cup (1974), one of the earliest and most empathetic postwar engagements by a white Australian writer with the horrors of nineteenth-century racial violence, and even less about the treatment in It's Raining in Mango (1987) of race relations and the history of the Stolen Generations.
Moreover, Lamb actively shies away from the feminism of Astley's novels – to say nothing of her world view, as expressed in her justified complaints about the treatment of women in general and herself in particular when it came to marriage, employment, and writing – as in this comment about Astley's relationship with her one-time publisher Louise Adler: 'Astley had never seen herself as part of the sisterhood and though Louise was young enough to be her daughter and part of that generation who talked about feminism, their relationship was never political in that way.' Lamb's avoidance of the subject might be justified by Astley's own reluctance to identify with feminism in any formal way, but it still seems to me to be missing the point: while Astley may have balked at calling herself 'a feminist' as such, most of her observations, beliefs, convictions, and understanding of the world are feminist to the core, whether she wanted to give them the actual label or not. 'Why should there be such a thing as chick-lit?' she asked in her old age. 'What about men writing utter crap, would you call it cock-schlock?'
'This is a biography of a complex and contradictory character, someone whose capacity for inflicting pain both on other people and on herself was balanced by her energy and brio'
In general, though, this is a good literary biography. Its tone is warm and sensible, its content is well-structured and engaging, and it doesn't conflate the subject's novels with her life, except to point out the obvious places where the material is drawn directly from life. It is engaging in a natural way, though without any oversimplification or dumbing down of its observations and interpretations, and some of its turns of phrase are vividly observant: 'jerky forcefulness' and 'mumbling a shambolic apology', for instance, bring Astley vividly to life before the reader's eyes.
Lamb has spent many years working on this book, and while the heft of its research reflects that, there is no sign of the material being overworked or of the biographer being weary. Most impressive of all – given the great gifts and the problematic personality of its subject – it treads with poise and delicacy the high wire of biography, rarely falling off it into either hagiography or denigration. Warts and all are there to be examined, but the beauty spots are also on display.