Barbara Hepworth: Art and life by Eleanor Clayton
Thames & Hudson, $49.99 hb, 288 pp
Biography
Wood and stone
Barbara Hepworth's strength and tenderness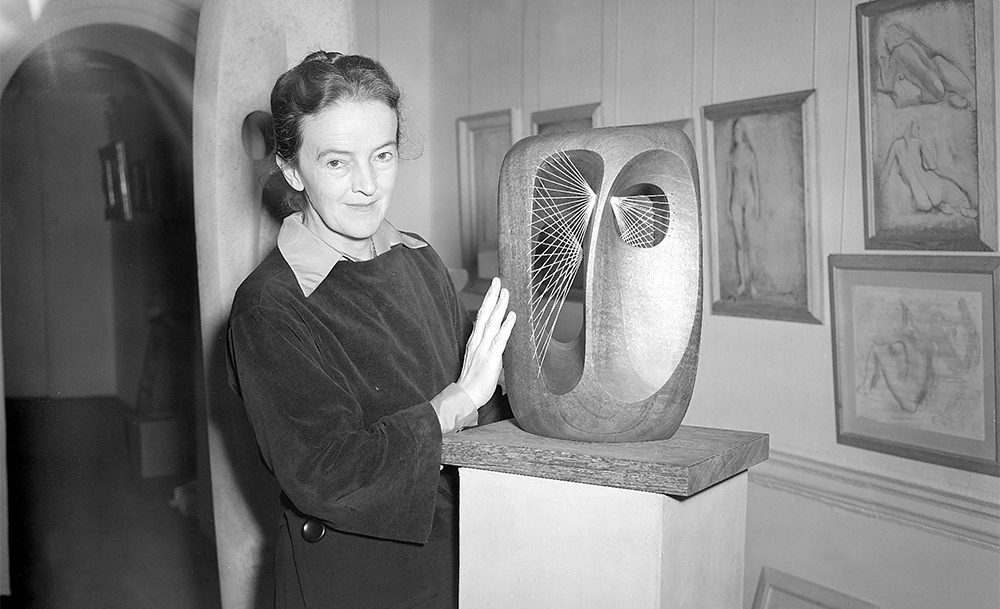 Constantin Brâncuşi famously said that making a work of art is not in itself a difficult thing: the hard part is putting oneself in the necessary state of mind. Eleanor Clayton's new biography of English sculptor Barbara Hepworth is in its own way a celebration of just how devoted Hepworth was to maintaining that elusive state of mind to which Brâncuşi referred. Unlike Sally Festing's Hepworth biography, A Life of Forms (1995), Clayton eschews any attempt to narrate or analyse Hepworth's private feelings or emotional make-up. Instead she narrows her focus most austerely to the practice of the working sculptor, her aesthetic philosophies, and the compelling yet subtle variations of her output.
Born in 1903, Hepworth belongs – with the likes of Alexander Scriabin, the later Yeats, and Piet Mondrian – to that school of metaphysical modernism shaped as much by the spiritual experimentalism of the era as by political or technological concerns. Brought up by Christian Scientist parents in Yorkshire, where her father was a county surveyor, she valued thought over materiality, even as she spent her life wrestling with the expressive possibilities of the supreme materials of wood and stone. For Mondrian, who became friends with Hepworth in the early 1930s, an immersion in Theosophy triggered the dramatic shift from his figurative and rather ultra-Dutch early work to the primary-colour grids that ultimately became a signature of modernist art and design. In Hepworth's case, however, an extreme sensitivity to the given iconographies of the geological landscape consumed her early, resulting in a lifelong absorption in the dialogue between spirit and matter, and a body of work that continually inhabited the liminal zone between abstraction and the figure.
It is a strength of Clayton's book that the progression of Hepworth's sculpture through the decades comes across as an extended metaphor for this acute sense she had of always living in poetic relation to geophysical elements. Well before her celebrated move to St Ives on the Cornish coast in the late 1930s, Hepworth was already grappling with the possibilities of shaping these material elements into three-dimensional similes for human existence. Wood and stone, and more often than not white marble, became her aesthetic guides. It was out of this sense that she shaped a version of the human being as a part of, rather than as adjunct to, life on earth.
Hepworth's rate of production is legendary, and it is remarkable to think of all the decades she spent grappling with tonnage and heft in her various coastal studios. There is no doubt the physical demands of her work required a ruthless and relentless mode of application, as well as strong forearms. Indeed, it was only in those initial days at St Ives, when she was looking after the triplets she had with her second husband, the painter Ben Nicholson, that she took anything that might have resembled a pause from her art. With Nicholson always nicking off to London, Hepworth most certainly had her hands full with 'running a nursery school, double-cropping a tiny garden for food, and trying to feed and protect the children'. She managed some brief drawings at night, but momentarily the chisel, the lathe, and the hammers lay still. Even so, she described the coming of the babies as a great boon to her creative life, marvelling at how 'all the forms flew quickly into their right places in the first carving I did after SRS were born'. SRS was her initialism for the triplets Simon, Rachel, and Sarah, a shorthand that, in its own way, reflects the pressures she was under.
It is implied in the mode of Clayton's account that Hepworth's reputation for emotional austerity was, in the epic scheme of her achievement, a surface issue only. That she channelled into her work a passionate love of nature and a fascination with the gravitational realities of existence is self-evident here. As such, Clayton's decision to demonstrate how the art was the life does the Hepworth oeuvre a great service, decluttering it from preoccupations with personality and second-hand gossip. The carefully calibrated interplay between text and image throughout the volume also serves this cause. The rhythm of text and illustration is wonderfully managed, enabling superbly printed visual examples on sturdy paper stock to clarify much of what is philosophically and aesthetically engaging in the text. For instance, the sculptor's use of multiple tautly strung fishing lines in her sculptures is augmented by Hepworth's own description of how 'the strings were the tension I felt between myself and the sea, the wind or the hills'. Perfectly positioned reproductions of works such as Sculpture with Colour (Deep Blue and Red) and Hepworth's crystalline Drawings for Sculpture also clarify how her remarkable technical facility was all in the service of a strikingly biomorphic imagination.
Hepworth's signature mid-century work distilled a blend of the Cornish sea climate and an intuited inheritance of Mediterranean conditions of geology and light. Back in the 1920s, she had been part of the turning away from casting in bronze in favour of direct carving into wood or stone, a shift pioneered by Brâncuşi and perfectly in step with Western art's spiritual and technological crises. But equally, as the years went by and Hepworth pursued the creation of more exact material equivalences for her intuitive sense of organic scale, she created many monumental sculptures in bronze, such as the famous Winged Figure of 1963, commissioned for the John Lewis Department Store on Oxford Street, London.
Hepworth died in dramatic fashion in 1975, alone in a fire in her studio in St Ives at the age of seventy-two. The welcome reinvestigations of modernism that have occurred in this century, particularly in terms of how abstraction and experimentalism can help elucidate the cultural causes and implications of the ecological crisis, have seen her relevance increase after the neglect she suffered in the years after her death. Added to these neo-modernist layers of the Anthropocene comes the remarkable sense of Hepworth as a feminine hero of unsentimental discipline and profound insight. Naturally enough she resisted categorisation of any kind, once stating that, although she hoped her work would always be constructive, 'I don't want to be called "Contructivist", any more than "Nicholson".' Likewise, and in keeping with her self-effacing style, Hepworth made light of what she was up against as a woman in the male hegemony of twentieth-century British art. A salient point to be taken from this is that she saw her art in a more genuinely transcendent light, a perspective perhaps best exemplified in a letter she wrote to the art critic E.H. Ramsden in 1943: 'I think there's only one standard of sculpture, painting, writing, music,' Hepworth wrote. 'I hate female or male work. The only equilibrium seems to be the fusion of strength and tenderness.'