Interview
An interview with John Kinsella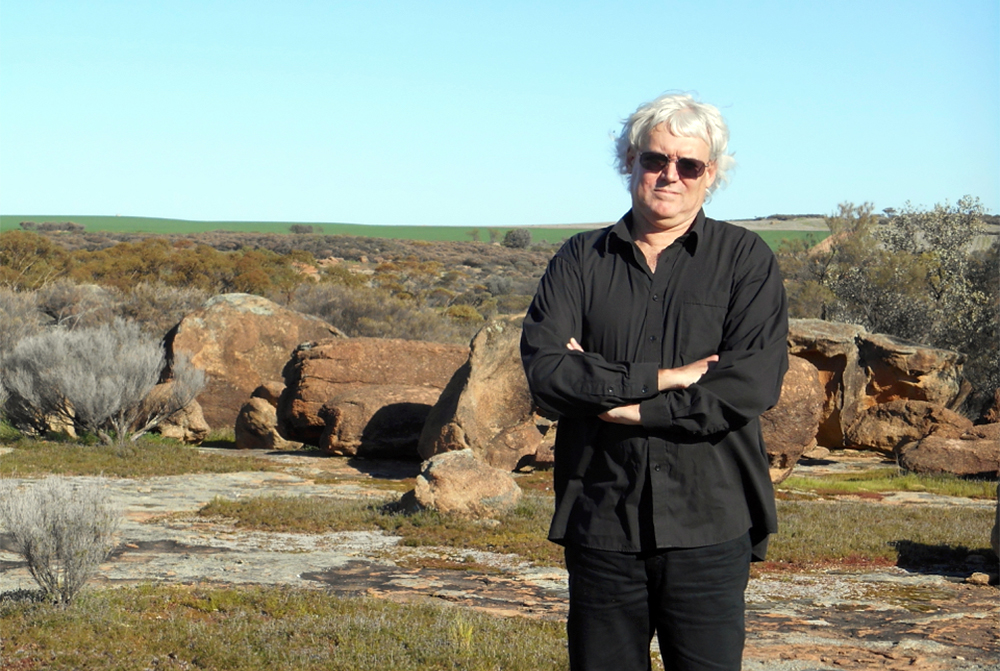 John Kinsella is the author of over forty books. His most recent publications include the novel Lucida Intervalla (UWA Publishing, 2018), Open Door (UWA Publishing, 2018), and Supervivid Depastoralism (Vagabond, 2021). His poetry collections have won a variety of awards, including the Prime Minister's Literary Award for Poetry and the Christopher Brennan Award for Poetry. His volumes of stories include Crow's Breath (Transit Lounge, 2015), Anarchy in the Avon Valley (Liverpool University Press, 2010) and Polysituatedness (Manchester University Press, 2017). He is a Fellow of Churchill College, Cambridge University, and Professor of Literature and Environment at Curtin University. With Tracy Ryan he is the co-editor of The Fremantle Press Anthology of Western Australian Poetry (2017). He lives with his family in the Western Australian wheatbelt.
---
Which poets have most influenced you?
I was making a list of poets I feel indebted to the other day, and it ended up too long to get a grip on! This list is, believe it or not, selective: Blake, Shelley, Wang Wei, Milton, Judith Wright, Dante, Du Fu, Hardy, Akhmatova, Dickinson, Hart Crane, C. J. Brennan, Philip Sidney, Virgil, Wordsworth, Keats, Langston Hughes, Homer, Li Bai, Whitman, Mallarmé, Rimbaud, Baudelaire, Jack Davis, Randolph Stow, Michael Dransfield, Sylvia Plath, Dylan Thomas, J. H. Prynne, Dorothy Hewett, Fay Zwicky, Aimé Césaire – and especially Emily Brontë. I am essentially and necessarily affected by the work of my long-term partner, Tracy Ryan, whose movement between languages has had a profound effect on the way I hear and read poetry.
Are poems chiefly inspired or crafted?
These are inseparable 'qualities'. In fact, the desire to write and the act of writing seem almost fused.
What prompts a new poem?
Exposure to the physical world made figurative through reflection and interaction. I am very driven by ecological and human rights concerns, so that way of considering the world is always active, but being immersed in an 'experience' necessarily prompts a poem.
What circumstances are ideal for writing poetry?
I am very flexible – I often work 'in the field' and quite literally 'see' words on a 'screen' inside my head as they come, and often speak the poems as I am walking or doing things outside. I can work at a typewriter for long stretches!
Roughly how many drafts do you produce before 'finishing' a poem?
It varies vastly and often depends on the 'nature' of the poem. If I am working with 'form', a poem inevitably goes through quite a few drafts that are about sorting technical issues. However, since I visualise and speak poems as they form, there's a whole 'pre-draft' process that takes place. Looking at the typescript of my most recent book of poems, I would say each one went through the 'mental' visualising process, then 'on the page' notes, then a typed version that is then hand-corrected, and then typed into a Word document that invariably goes through changes and versions (from minor to major) over a period of time.
Which poet would you most like to talk to – and why?
Dante – there's no choice. He just compels me and gets me arguing about pretty well everything.
Do you have a favourite Australian poetry collection?
C.J. Brennan's Poems (1913).
What do poets need most: solitude or a coterie?
A few like minds, a few contesting minds, and, for me, a lot of 'nature'.
What have you learned from reviews of your work?
I've had many 'kinds' of reviews over the years. Some I've learnt from, some I've thought about for years, wondering through them how to read my own work; others I've felt were gifts insofar as they lifted from being 'about' my work to being about poetry and all those things around poetry I so value. Others I've felt scorched by without learning anything much, while yet others I have read with interest while feeling they were about another person's writing.
If Plato allowed you to keep one poem or poetry collection in his Republic, what would it be?
Emily Brontë's complete poems.
What is your favourite line of poetry (or couplet)?
'No coward soul is mine / No trembler in the world's storm-troubled sphere' (Emily Brontë).
Is poetry appreciated by the reading public?
Yes and no – often in ways a poet doesn't expect, but also more often not in the ways a poet might hope.