The Winter Road: A story of legacy, land and a killing at Croppa Creek by Kate Holden
Black Inc., $32.99 pb, 336 pp
True Crime
The fences of resolve
Ian Turnbull's vicious sense of entitlement
Landholders are cutting, crushing, scraping, spraying, bulldozing, and burning native woodlands and grasslands. Displaced koalas are shot, their bodies dumped in smouldering stacks. Land values double. In 2012, the Turnbull family of Croppa Creek, in north-west New South Wales, bought a property knowing that clearing would be prohibited. Under the direction of patriarch Ian Turnbull, they started clearing before the contracts were signed. They cleared when they were prosecuted, they cleared the areas ordered to be remediated, they cleared as they awaited decision on a second set of charges. They were clearing on the day Turnbull shot and killed government compliance officer Glen Turner. Against this turmoil, Kate Holden forges a sanctuary for contemplation in The Winter Road, which raises questions about our relationships and responsibilities on this continent.
Combining essay with reportage, and drawing on the work of philosophers and historians, Holden's book transcends true crime. Aside from the prologue, the murder doesn't appear until the middle pages. Holden alternates between narrative and reflection, piecing together the story of Turnbull's desperation to create a personal legacy and to seize by illegal means the fortune he thought he was owed, only to cause devastation, splitting his family and shattering the lives of others. The Winter Road, told with stripped-back eloquence, relies on judicious selection of details and dialogue recorded in official documents such as logbooks, police interviews, and court transcripts. Through similar records, as well as the author's interviews with Glen Turner's family and former colleagues, we learn about the surveyor turned compliance officer for native vegetation laws.
Clearing became a contentious subject after stronger regulations were introduced in the 1990s. The political will to enforce the laws dissipated. The departments responsible were under-resourced, enforcement was rare, and only the worst cases were prosecuted. Holden's reflective passages explore the cultural myths and ideologies that shaped these circumstances. The context is the invasion and settlement of inland Australia: the intersection of ideas that justified violence and dispossession and fed an obsession with transforming ecologies into an agrarian ideal. Those who 'battled the land' were fêted. A frontier mentality persisted. Private property was absolute.
Although the Turnbulls had only started farming recently, they saw themselves as inheritors of this tradition and of the virtuousness it afforded. They amassed properties worth millions in the southern remnants of the Brigalow Belt near Moree, part of what was once a vast dry woodland forest, stretching into Queensland. Only about five per cent is left. Holden recognises the agency of the native plants, observing their power to regenerate and to shelter and support myriad other living creatures, working the land 'as surely as farm labourers'. Successive governments have neglected to educate landholders on the science and benefits of retaining native vegetation on their properties, not just for wildlife but for the long-term prosperity of farming.
A minority of landholders quietly continued to clear, although Turnbull told police 'every farm' was doing it. The Turnbull family claimed they were being persecuted, yet their belligerent and repeated disregard for the law drew the ire of neighbours, regulators, conservation groups, and senior politicians, who implored the Turnbulls to stop clearing endangered woodland communities. Turnbull is said to have ordered more than one hundred koalas to be shot and burned, pre-empting an ecologist's headcount. Then he began making threats to kill compliance officers; he claimed to have dug graves on his property.
Structurally, the murder is the black hole at the centre of the book, its weight pulling everything towards it, tearing things apart, throwing the survivors in chaotic trajectories. All light is sucked away in the moment when Turnbull stalks Turner and his colleague Robert Strange around the ute on a lonely rural road, shooting at them for up to forty harrowing minutes. (After the fatal shot to Turner, he let Strange go.)
From prison, Turnbull likened his violence to dropping a bomb that would force political change. Turner's former colleague Chris Nadolny, on hearing this, called it an act of terrorism. Turnbull had a habit of bullying and blaming others when things went wrong, always seeing himself as the victim. He even blamed Turner for his own murder. 'Turner has got me in jail,' he said.
Turnbull died in prison in 2017, before Holden began writing. She uses free indirect discourse, assuming Turnbull's vernacular to bolster his presence on the page (thus woodlands become 'bloody scrub'). Readers must stick with him, even though I'd had enough of the man who tells his daughter-in-law, 'You have disabled children because you have rotten eggs.' Holden seeks to understand the different positions in the clearing debate; she wants us to comprehend Turnbull as an ordinary person. Many people shared his views and supported his violence. He represents a type: those seething with resentment and victimhood, who believe the system is against them. Identity and privilege are central to the story. Holden might not want to reduce this tale of land and people to a particular moment, but Turnbull could be read alongside the climate deniers who denigrate young women, the white supremacists who plough their cars into pedestrians, the men who say they were 'driven' to killing their partners. The story is connected to those who lash out when fearful that they might lose the status and power they have enjoyed over others.
While readers won't find a metaphor in this careful narrative, Holden writes with more freedom in the reflective sections. Here she can spend half a page tracing a creek on Google Maps, where its meandering 'wobbles the composure of fencelines'. With intellectual openness and generosity, Holden explores a history of environmental governance, from the 'decade of environmentalism' in the 1860s, when settlers and experts were alarmed at the scale of devastation, to questions about our future in the Anthropocene. An idea, she writes, 'may wriggle under the fence of resolve and, once broken into clear ground, make havoc'. Her sensitive approach honours the loss and pain suffered by people and the brigalow forest.
Holden's book will bring public attention to an issue that is fraught and ongoing. Clearing rates have soared since regulations were relaxed a few years ago. Australia is notorious for being one of the worst offenders in the world. In The Winter Road, there is no contrived or uplifting answer, but despite the apocalyptic projections of researchers, Holden gestures towards hope. Perhaps lab-grown meat and vegetables will halt the sixth extinction; perhaps regenerative agriculture will allow ecosystems to flourish. So far, both measures are as divisive as clearing. The consumption of those of us in the city is implicated. Refreshingly, Holden admits there is so much we still don't know.
At the time of the book's completion, the Turnbull family had not carried out the remediation the courts had ordered. They had not paid damages owed to Glen Turner's colleague who was with him on that windy road, nor to his widow and two children. All entitlement, no responsibility. The bulldozers continue to roar.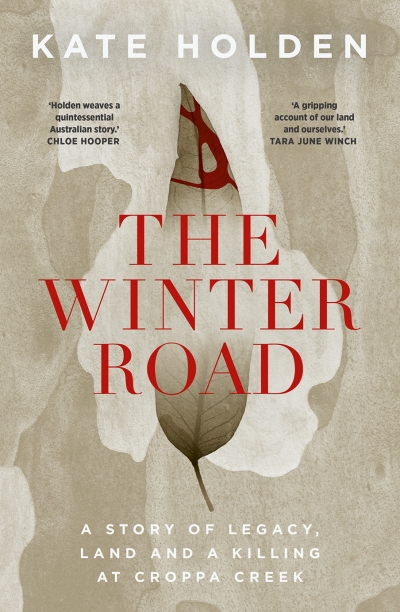 The Winter Road: A story of legacy, land and a killing at Croppa Creek
by Kate Holden
Black Inc., $32.99 pb, 336 pp