The Three Burials of Lotty Kneen: Travels with my grandmother's ashes by Krissy Kneen
Text Publishing, $34.99 pb, 336 pp
Memoir
Dragica and Lotty
Krissy Kneen's remarkable memoir
The Three Burials of Lotty Kneen begins like a fable, the story of a poor family that wins the lotto and moves to a remote Queensland location to make fairy-tale characters for a tourist attraction called Dragonhall. There should be a happy ending, but there isn't.
The family's undisputed matriarch is Lotty Kneen, or Dragica, as she was once known. She says the name means 'dragon', but Dragica, in Slovenian, actually means 'precious'. Nothing Lotty says can be trusted. Lotty is the persona she fashioned for a life in Australia. Hers is a familiar story of 'displacement, migration and struggle', from Slovenia via Alexandria to Australia. What makes it unique is the extent to which Lotty hides the details of her background, and the hold she exerts over her family. Her granddaughter Krissy Kneen's memoir is more than a search for lost family; it is a remarkably honest disclosure of the effects of living with a confabulator, a self-styled healer and tyrant. Kneen likens the grandmother she always called 'Mum' to the witch Baba Yaga of Slavic folklore and to the krivopete: supernatural Slovenian wild women with backward-facing feet, fickle creatures who dispense help and harm in equal measure.
Continue reading for only $2.50 per week. Subscribe and gain full access to Australian Book Review. Already a subscriber? Sign in. If you need assistance, feel free to contact us.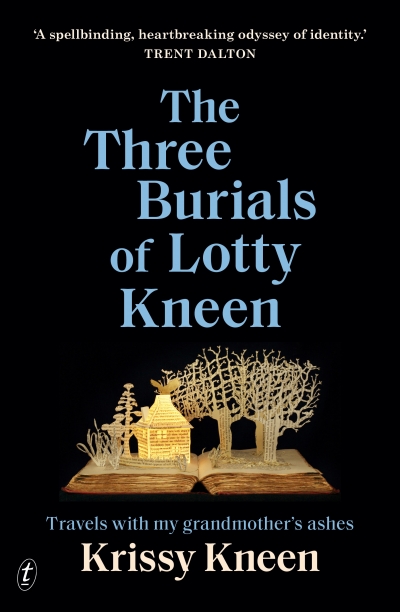 The Three Burials of Lotty Kneen: Travels with my grandmother's ashes
by Krissy Kneen
Text Publishing, $34.99 pb, 336 pp