Killing Sydney: The fight for a city's soul by Elizabeth Farrelly
Picador, $34.99 pb, 376 pp
Society
Lost city
Different expressions of love for Sydney
Poor old Sydney. If it isn't being described as crass and culturally superficial, it's being condemned for allowing developers to obliterate whatever natural beauty it ever had. Is it doomed, will it survive, and if so, what kind of city is it likely to be?
Elizabeth Farrelly is here to provide answers to these and other questions. An architect, former City of Sydney Councillor, and tertiary teacher, she is probably most widely known as the Sydney Morning Herald 's writer on civic architecture. Her new book echoes much of her recent journalism: Sydney is being murdered. Its fabric, she asserts, is being destroyed by self-interested and inadequate governance, corruption, haste, and lack of proper planning.
Continue reading for only $2.50 per week. Subscribe and gain full access to Australian Book Review. Already a subscriber? Sign in. If you need assistance, feel free to contact us.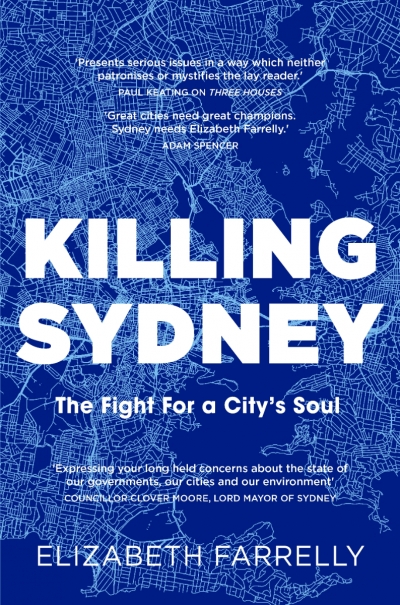 Killing Sydney: The fight for a city's soul
by Elizabeth Farrelly
Picador, $34.99 pb, 376 pp