Unsheltered by Barbara Kingsolver
Faber & Faber, $32.99 pb, 480 pp, 9780571347018
Fiction
Unsheltered
by Barbara Kingsolver
American novelist Barbara Kingsolver is renowned for her ability to infuse her fiction with her politics, in particular a passionate concern for nature and the environment. Prodigal Summer, published in 2000, is a celebration of the relationship between humans and nature; Flight Behaviour, published in 2012, is about climate change. No surprise then that her latest novel, Unsheltered, is set during two periods of scientific upheaval – the 1870s and the present – in which humans are confronted by the undeniable evidence of their own limitations. 'I wanted,' Kingsolver said, 'to look at a paradigm shift, at how people behave at these moments of history when all the rules they trusted to hold true suddenly don't apply anymore.'
There are parallel narratives in Unsheltered, told in alternating chapters. Both are set in the same house in Vineland, New Jersey, which is in a state of total disrepair. In the story set in the present, Willa and Iano, in their mid-fifties, live there with both Iano's sick, irascible father, Nick, and their rebellious twenty-something daughter Tig. Iano, an academic, has recently lost his tenured position and is now a poorly paid junior lecturer. Willa, a journalist, has also recently lost her job. When their son Zeke's partner dies, his newborn baby, Dusty, comes to live with them too.
In the story set in the 1870s, the house is occupied by Thatcher Greenwood, a new science teacher at the local school, his beautiful, petulant wife, Rose, his mother-in-law, Aurelia, and Rose's younger sister, Polly. Rose refuses to leave the house, which was built by her father, despite its condition. Meanwhile, Thatcher's attempt to teach his students about Darwin's theory of evolution is stymied by the headmaster, Cutler, who (like most people in the provincial town, including its founder, Landis) regards Darwin's views as heretical. Thatcher's only comfort lies in his friendship with his neighbour, Mary Treat, a scientist and writer with whom he has a strong rapport. Treat is a real historical figure, as are many other characters who interact with the (fictional) Greenwood family.
The concept of shelter is central to the book. In the most literal sense, Willa's and Thatcher's families are both at risk of becoming unsheltered as their houses collapse around them. Neither family has the shelter of job security – Iano is on a yearly contract, as is Thatcher, whose adherence to Darwin's ideas puts the renewal of his teaching contract in doubt. Kingsolver is concerned also with the shelter that love – romantic, familial, or platonic – can provide. Willa and Iano's love gives them strength; the troubled Tig finally finds peace in her love for her boyfriend, Jorges, and for Dusty; and Thatcher, whose wife is no comfort to him, finds solace in 'the shelter of [Mary's] human arms'.
Equally significant is the metaphorical shelter of long-held beliefs. Both stories are set in a time of historical flux, when people need to adapt, and abandon old ideas, to survive. In the 1870s, Darwin's theories challenged traditional beliefs in the supremacy of humans over animals. Vineland's citizens are 'terrified witless at the prospect of shedding comfortable beliefs and accepting new ones'. Today, as Tig (whose views, like Mary Treat's, reflect Kingsolver's) reminds Willa, people refuse to accept climate change or the fact that the earth's resources are finite. In response to Willa's bewilderment that, despite having done 'everything right in life', she and Iano are almost destitute, she explains that, 'The rules have changed', and the secret to happiness (and survival) is to lower your expectations and consume less.
Kingsolver draws other parallels between the United States in the late nineteenth century and today. The country then, emerging from the Civil War, was deeply divided. Cutler's call for 'a return to fundamentals' to heal the country's wounds sounds familiar, as does Mary's warning that, 'When people fear the loss of what they know, they will follow any tyrant who promises to restore the old order'. Effigies of Darwin swing from the trees as the crowd yells, 'Lock him up'. The megalomaniacal Landis, with his 'ruddy cheeks and an odd flop of hair' bears an uncanny resemblance to the current US president.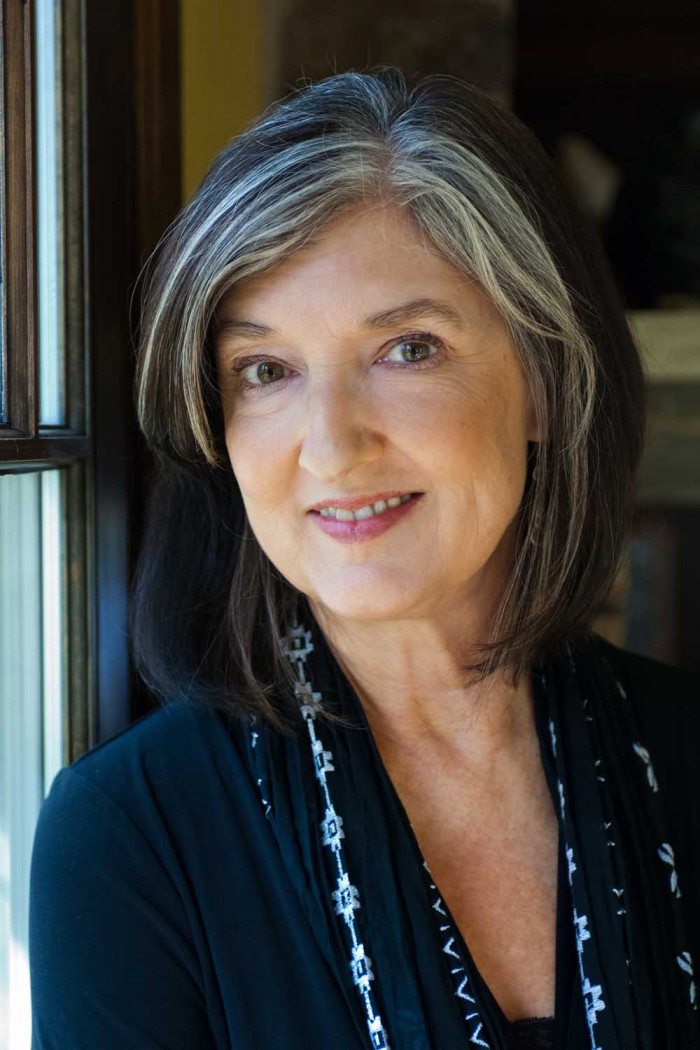 Barbara Kingsolver (photo via Depauw University)Unsheltered is also about what Kingsolver describes as 'the heart-enlargening earthquake of family life'; her portrayal, largely through Willa, of the ups and downs of family life is highly convincing. Willa must contend with the inevitable tensions when different generations live under the same (leaking) roof, with the corrosive impact of sibling rivalry (Zeke and Tig are in constant conflict) and with the impact of a newborn on a family. Despite those challenges, it is clear that Willa derives great satisfaction from her love for her family, and her efforts to protect them.
In Unsheltered, Barbara Kingsolver has once again created a memorable and deeply moving narrative, at the same time exploring enduring themes as well as topical issues such as climate change. The concept of shelter, and what it means to lose it, is critical. Just as those in the nineteenth century were compelled to abandon the false shelter of old ideas in order to see the truth, so, she argues, must we.
'Without shelter,' Mary tells Thatcher, 'we stand in daylight.'