Too Much Lip by Melissa Lucashenko
University of Queensland Press, $29.95 pb, 328 pp, 9780702259968
Fiction
Too Much Lip
by Melissa Lucashenko
A stranger rides into a one-horse town on a shiny new motorbike. Cue Ennio Morricone music. Except it's not a stranger, it's that skinny dark girl Kerry Salter, back to say goodbye to her Pop before he falls off the perch. The first conversation she has is in the Bundjalung language (translated for our benefit) with three cheeky crows. One bites a dead snake in the head and its fangs get wedged onto the bird's beak, fastening it shut. Chances are it'll starve to death, thinks Kerry. 'The eaters and the eaten of Durrongo, having it out at the crossroads.'
That hapless crow is an apt portent for what Kerry encounters in Durrongo in the rest of Melissa Lucashenko's splendid black comedy, where just about everybody bites and gets bitten in a cycle of ancestral woes and injustices, pointless violence, family dysfunction, and general stuff-ups. I'd have sighed and wept a bit throughout if it wasn't so funny.
Lucashenko, born of a European father and a Goorie mother, has produced a string of fine novels (notably Mullumbimby, 2013) and essays, but she has said that Too Much Lip was the most difficult book to write. I'm not surprised: it is consistently unflinching and makes no excuses for anyone, black or white. Lucashenko has also said she had in mind Alan Duff's novel Once Were Warriors (1990) and The Beverley Hillbillies television show (1964–71). Somehow she pulls off this zanily incongruous mix of influences.
One thread of plot sounds familiar: big bad Jim Buckley, mayor of Durrongo, plans to bulldoze the Salters' ancestral land on the river and build a jail, and the family is desperate to stop him. Is this yet another tale of colonial bully boys wanting to destroy a sacred Aboriginal Eden? It's more complicated than that. Way back when, the men with muskets shot Granny Ava as she swam across the river to save herself and her unborn child. She made it, and without her there would be nobody.
Spectres from the troubled past weave in and out of the story, producing staggering surprises for both the characters and the reader. Meanwhile, Kerry struggles to make sense of her maddening family: Pop, the old bastard, the dying patriarch; Pretty Mary, Kerry's mother, trying to hold everything together but inclined to hit the Fruity Lexia when the going gets tough; big brother Kenny, always a hair-trigger away from violence; little brother Black Superman, who thought he'd got away to Sydney but is inexorably drawn back; and saddest of all, Donny, Ken's anorexic teenage son, who escapes into the comfort of war games on his computer. Not to mention a sister who has been missing for decades.
What makes this spark up is Kerry herself, who is not just an observer but an active and frequently aggressive participant, as you'd expect from someone who roars into town on a stolen Harley-Davidson Softail. She's the one with too much lip, she says with regret, but also a defiant pride: 'Give the arseholes a blast, then stand and defend, or else run like hell.' I'm always on Kerry's side, especially when she's stupidly courting danger or burgling the enemy stronghold. But I found it a little hard to take that she would fall so fast for Steve, the handsome whitefella, when she has always been drawn to her own kind – black and female. If Jim Buckley is the stock white baddie, Steve comes dangerously close to being the stock white goodie.
Mind you, Lucashenko has a lot of fun reversing the stereotypes as she gives us a lustful portrayal of Steve's hot bod in language usually reserved for female sex objects. So I can forgive her, especially as most of the characters are caught up in an intricate and horribly sticky web of history, ancient and recent, where it's very hard to lay conclusive blame, even for heinous crimes. You have to go back to the original 'hard men', the invaders and colonisers, and their atrocities – and they too have muddied things with their contribution to the gene pool.
Another astringent pleasure is the blunt and energetic language Lucashenko uses in narrative and dialogue. Much of the story is told in Aboriginal vernacular English and the occasional Bundjalung word that isn't translated, but the meaning is more or less clear. Here's Pop showing his granddaughter how the local Mount Monk is shaped like a fist: 'It's a gunjibal's fist waiting for us mob to step outta line, waiting to smash us down. We livin' in the whiteman's world now. You remember that.'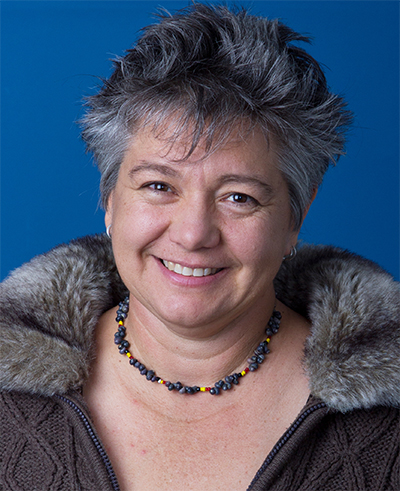 Melissa LucashenkoThere were times when I was so horrified I didn't want to believe what I was reading. Was Lukashenko exaggerating? But she tells us in an afterword that virtually every incidence of violence depicted in the novel has occurred within her extended family at least once.
Somehow Lucashenko wraps up a happy-ish ending from all this evil, hatred, and sorrow. Reconciliation, forgiveness, and understanding are at least on the cards, threats are briskly dispatched, and, paradoxically, the spectacular arrival of the family's totem shark makes the contrivances more believable.
There is some extraordinary Indigenous writing around at present that heralds a new stage in Australian literature, perhaps in world literature. Too Much Lip is a worthy addition to the work of such original and passionate writers as Kim Scott and Alexis Wright. Talking crows, a talking shark: these are the surreal and symbolic bookends to a story that so often feels hopeless, yet is still the crucible of hope.