Fiction
Man Out of Time
by Stephanie Bishop
Stephanie Bishop's third novel, Man Out of Time, her most mature work to date, echoes Virginia Woolf's psychological realism and the claustrophobic intensity of Elizabeth Harrower's The Watch Tower (1966). Indeed, an unkind reviewer might compare Bishop's latest novel to a subtle iteration of domestic noir, where the great threat is the family unit and its overbearing figurehead, although the protagonist in Bishop's world oscillates between wanting to escape her oppressor and feeling deeply wedded to him.
The 'man out of time' in Bishop's story is Stella Gilman's father, Leon, whose mental decline and sectioning in a psychiatric hospital not only limits his ability to function in the world, but has a catastrophic effect on his wife, Frances, and daughter, Stella. We learn of Leon's battles with mental illness in a series of lengthy flashbacks that make up the majority of the novel, while the present-day narration focuses on Frances and Stella's attempt to locate Leon, who has been missing for a fortnight.
The reader never discovers exactly what Leon's office job was other than to 'run numbers', but it was clearly at odds with the man who reads Chaucer, Ovid, and Milton, and gets about in a Panama hat. He channels this sensitivity into his daughter, finding comfort and relief in her childish joy and playfulness, and using their numinous bond as a way to hide from the world. They are knotted together in the worst possible way. The young Stella is smitten with her father and obeys his every whim, while Leon, drunk on their connection and the fantastical realm his imaginative nine-year-old daughter inhabits, lets adult dangers come too close. Sometimes, he takes Stella with him on long road trips to strange, empty museums and rural back lots, arriving home late at night to find Frances fretting in their front yard: 'At some point on one of these drives, her father bought a white kid goat from a farm and brought it back as a pet. Another time they returned home with half-a-dozen chickens clucking in the boot.'
A car crash during one of these outings precipitates Leon's first hospitalisation. It is a tragedy that is deftly handled by Bishop, who has a remarkable ability to move seamlessly between characters' perspectives at the height of tension. After the accident, Stella opens her eyes with the taste of blood in her mouth, asking after her father. The perspective then shifts to Leon's version of events – 'It's okay, he whispered' – but the description of what follows is so outlandish that the reader is not sure whether it's real or a hallucination. The feelings of dissociation and detachment common in mental illnesses are conveyed through Bishop's use of second-person point of view, a mode more commonly seen in advertising copy than literary fiction, but it works beautifully here nevertheless: 'You wake in what looks like a hotel room, the bed narrow and the sheets starched to a scratch.'
Bishop displays a particular gift for narrative exposition through the emotional framework of her characters. Upon reading his brother's autopsy report, Leon takes a sledgehammer to an old cupboard in the backyard, 'so as not to think of the thing he could not but think of – how his brother tied his own hands, whether he put the coin in the gas meter slot before he tied his hands, how he tied his hands by himself, or whether he didn't, whether there was someone else to help him'. After her husband returns from a second spell in hospital, Frances tests her feelings toward him through tentative expressions of affection. 'I love you,' she tells him, not because she feels it keenly but 'to see if she felt the thing she said'. He responds by saying he is sorry about not being able to love her as he should.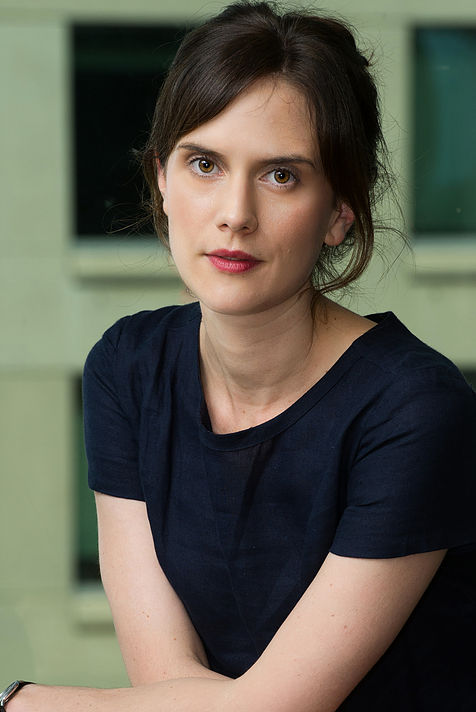 Stephanie Bishop (Photo by Craig Peihopa)As Stella grows up, Leon becomes even more reliant on their bond as a salve for his mental illness. He reminds Stella of the time when he tried to send her shapes from his mind to hers, and confesses that he feels as if they are a single being, their 'two minds a continuum'. As Stella becomes more self-aware as a teenager, she realises she is her father's chief confidante not because of their preternatural connection, but owing to her pliability:
Perhaps, on a scale of misunderstandings, it was simply that she had the fewest marks against her – she did not dare to offer advice, nor correct, or judge or condemn him – and this therefore gave the appearance that she accepted the things he told her, things about the world and his feelings, or his absence of feelings for it, and this acceptance was taken as a form of understanding, a form of endorsement.
Man Out of Time displays a sophisticated understanding of mental illness and its effect on families, but the narrow focus of the storyline, which pivots solely around three characters, can be suffocating and discombobulating at times. There is little relief for the reader in the form of secondary characters, settings, or authority figures, which would have added much needed context and levity to a story heaving with characters' dreams and hallucinations. Most ineffective of all, perhaps, is the alignment of Leon's disappearance with the 9/11 terror attacks, a mawkish parallel that seeks to highlight the horrors of the world and the personal horrors that Frances and Stella must face. Such clunky allegory only serves to numb the reader's response to the novel's tragedies, which is a shame because it tarnishes this otherwise superbly written and thoughtful novel.