Commentary
'The drama of it: Television comedy's new aesthetic' by James McNamara
Since I wrote about the golden age of television for ABR's first film and television issue in 2015, the medium has evolved. Streaming has roared to prominence, with online services like Netflix disrupting television's form and market as dramatically as cable did to broadcast television in the early 2000s. But where the stars of the cable era were dramas – great, brooding epics of American anti-heroes – the foul-mouthed stars of the streaming era are increasingly its comedies, which are delivering some of the most poignant stories on screen.
This is, in key respects, because streaming is changing the way comedies are viewed and written. 'We really feel,' Transparent creator Jill Soloway has said, 'like we're inventing an art form.' In the traditional model, sitcoms aired weekly, favouring episodic stories and characters who didn't change, resetting the show each week. In its purest form, Bart and Lisa will never age, Wile E. Coyote will always chase the Road Runner, and Tom and Jerry will forever try to beat each other to death with frying pans.
Streaming services now release shows a season at a time. According to chief content officer Ted Sarandos, Netflix thinks of a show's first season, not its first episode, as the pilot. This encourages creators writing for streaming services (or aspiring to be picked up by them) to think in longer arcs, encouraging serialised narrative (ongoing stories) in comedy, which in turn facilitates greater character development. Because streaming services cater to increasingly fragmented niche audiences, rather than whole countries, there is more experimentation in form and subject. Add vast commissioning budgets, a hunger for new content, the genre's smaller production costs, and a platform without censors or advertisers, and comedy has the tools to consider richer and wider-ranging stories.
This is not to say that television comedies weren't poignant or serialised before. Blackadder's finale is a beautiful elegy about the folly of war. Scrubs, How I Met Your Mother, and Parks and Recreation have satisfying multi-season character arcs. My point is that streaming has given all this a Bottom-style kick up the arse.
A shift has occurred in romantic comedies in particular. The demise of feel-good date night rom-com movies – where straight white boy meets straight white girl and, after some trials and tribulations, there's a wedding – has been well-documented. As studios cut financing to mid-budget features like rom-coms in favour of blockbuster franchises, television filled the gap, as HBO did with dramas in the late 1990s and 2000s. Love stories that might have been movies in 2000 are now six-part half-hour streaming series. But the longer narrative space of television, combined with the structural freedoms of streaming, have prompted rom-coms to evolve into something very different.
Where rom-coms typically began with a 'meet-cute' and ended with wedding bells, streaming comedies dwell in the messier bits of love before and afterwards. These shows are bleaker, more comfortable exploring the grainy emotional and physical aspects of sex and love. Consequently (with the glaring exception of LGBTQ stories), streaming comedies offer more realistic portrayals of relationships in shows that blur comedy with tragedy, as love so often does.
I want to discuss four comedies that represent this new aesthetic. All began on domestic broadcasters but moved to streaming services Netflix and Amazon, which – in the main – co-produce and distribute the shows as 'original series'. All bar one are British, not because other nations aren't delivering, but because the wry, darker sense of British humour is uniquely well suited to this new tone.
Vince Gilligan described Breaking Bad as 'the in-between moments' you don't see in crime movies. Catastrophe (Amazon), co-created and co-written by, and also starring, Sharon Horgan and Rob Delaney, does something similar to the rom-com, gleefully upending the genre's sweetness to probe the realities of marriage, pregnancy, and parenthood. When 'Rob', an American on business in London, meets 'Sharon', an Irish teacher, in a bar, their 'meet-cute' is a week of sex (in park bathrooms, on pizza on hotel beds) ending in a cheerful goodbye. When Sharon learns she's pregnant, Rob flies back and moves in. Instead of the will-they-won't-they of traditional rom-com, Catastrophe's first season whiplashes near-strangers into a relationship and pregnancy, taking in cervical dysplasia, pregnancy hormones, fears of a Downs syndrome diagnosis, and depicting a new sexual relationship in a way that – as those familiar with Delaney's iconic Twitter feed will appreciate – is majestically vulgar yet also somehow warm and full of heart.
Horgan says she's 'just trying to put the most honest version of what I think onscreen', and that shows. In Catastrophe's later seasons, we see the toenail clippings and morning breath of love, as Rob and Sharon navigate parenthood, post-partum depression, ailing parents, career regrets, infidelity, and Rob's alcoholism, offering an unvarnished look at two people loving each other, being awful to each other, and ultimately trying to survive together. 'It's really hard being married,' Sharon says, 'sometimes I just want to scream.'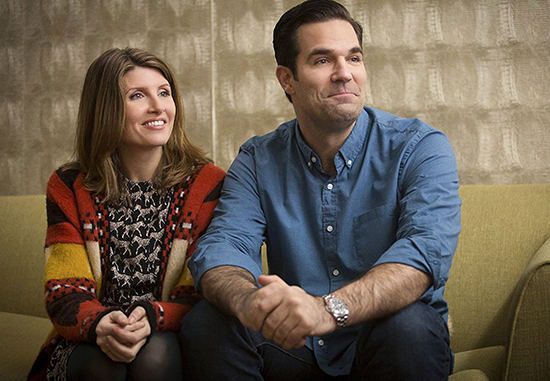 Sharon Hogan and Rob Delaney in Catastrophe (Amazon)
The seriousness of subject is leavened by Rob and Sharon's chemistry: a needling, hilarious, profane bantering intertwined with true affection that reminds me of a swearier (and hornier) Benedick and Beatrice. The comedy is wry and vinegary, situational and character-based, offering a perfect foil for the show's poignancy. Before an amnio-centesis, Sharon confides that she is struggling with 'the nightmare scenario of having a needle stuck into my belly, into my baby's neck, risking miscarriage'. Afterwards, Sharon thanks Rob for being supportive: 'Sorry I sent you out of the room. I would've let you stay, if you weren't audibly crying.' As Megan Garber writes in The Atlantic, 'instead of the shininess and fuzziness of the traditional rom-com, the show offers a grittier – … much more relatable – vision of what romance is all about'.
So does The Letdown (Netflix), the stellar Australian comedy co-created by Alison Bell and Sarah Scheller. Starring Bell as Audrey, a brand new mother, The Letdown examines 'Act 6' of a rom-com: immediate post-pregnancy. Perpetually exhausted, with a group of childless friends who dump her to go clubbing, and a husband (Duncan Fellows) who describes looking after their daughter as 'baby-sitting', Audrey finds reluctant solace in her mum's group. From that anchor-point, The Letdown branches into stories of other members to depict the multivalence of new parenthood: Martha (Leah Vandenberg), a lesbian single mother whose well-meaning sperm donor won't stay away; Sophie (Lucy Durack), who discovers motherhood is more incontinence than Instagram perfection; Ester (Sacha Horler) and Ruben (Leon Ford), who navigate the power-balance of a corporate mum and stay-at-home dad. The humour is refreshingly blunt and the show's view of parenthood is so unflinching the comment I hear most from new mothers is 'hilarious, but so realistic it (literally) hurts'. A bit different from Love Actually.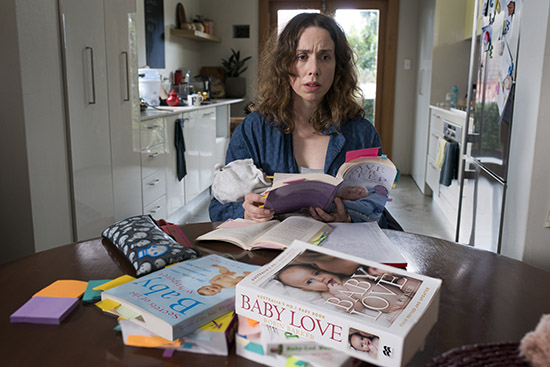 Alison Bell as Audrey in The Letdown (image courtesy of ABC)

Even further from Love Actually are the streaming comedies set before marriage, which treat sex with a frankness not seen in traditional rom-coms. Michaela Coel's Chewing Gum (Netflix), which she created, wrote, and stars in, pursues a similar conceit to coming-of-age sex-comedy American Pie: the humiliations of trying to get laid for the first time. But instead of white high school bros, Chewing Gum is about Tracey, a twenty-four-year-old British-Ghanaian virgin who lives on an East London council estate with her immensely religious mother Joy (Shola Adewusi) and sister Cynthia (Susan Wokoma), and is engaged to a celibate and very closeted gay Christian, Ronald (John Macmillan). Drawing on aspects of Coel's life, Chewing Gum is a fresh take on the virginity comedy, where the deeply sheltered Tracey's ardent but naïve attempts to embrace a secular, hyper-sexualised culture lead to her fellating her boyfriend's nose, nearly suffocating him by sitting on his face (while still wearing pyjamas), and an accidental drug experience that ends with her devil-fearing sister performing an exorcism. Alongside Coel's frank exploration of sex and God ('two most taboo things that I'm the most obsessed with … something that everyone's so private about'), Chewing Gum shares something of Zadie Smith's aesthetic in its vibrant depiction of multicultural life on an estate.
Michaela Coel as Tracey Gordon in Chewing Gum (photograph by Dave King, Netflix)
Like Chewing Gum, Fleabag (Amazon) originated as a one-woman show, but is far bleaker. It follows Fleabag – played by Phoebe Waller-Bridge, who created and wrote the series – after the deaths of her mother and of her friend, Boo (Jenny Rainsford). This is no lip-wobbling drama. Fleabag is a sweary, boozy, red-lipped, chic-dressed twenty-something who processes her grief with glass-shard humour, flashing bright and jagged at the world. A mesmerising chaos-figure, she expresses pain by prodding, piss-taking, revelling in awkward silences, and fearlessly disrupting social situations. Her family – a closed-off Dad (Bill Paterson), teeth-grindingly stressed sister Claire (Sian Clifford), and godmother-too-soon-turned-stepmother (Olivia Colman, soon to play Queen Elizabeth in the Netflix series The Crown) – are birds to her claws: 'Visiting Dad is hell for Claire. I see it more as sport.' Fleabag is like a funnier Who's Afraid of Virginia Woolf?, not least because Fleabag regularly breaks the fourth wall to address camera, throwing smirks and confessions that gleefully beckon the audience on a romp to smash the champagne bottles of her life.
That confessional structure allows Fleabag to be famously frank about sexuality: when her family ask over lunch how she met her current boyfriend, she throws the camera a look and whispers, 'Fucked me up the arse.' But Fleabag's explicitness is always purposeful, never prurient. As she sits on a toilet, in a scene that's a bit Jonathan Swift meets Sylvia Plath, Fleabag turns to camera and reveals: 'I'm not obsessed with sex. I just can't stop thinking about it. The performance of it. The awkwardness of it. The drama of it. The moment you realise someone wants your body …' Then, 'Not so much the feeling of it.' Waller-Bridge explores how Fleabag's need for empty sex to feel wanted and powerful has become her life's destructive nexus, a drug she uses to escape which compounds her pain and loneliness. She also uses sex to ask questions about an age that simultaneously embraces feminism and a porn/Tinder culture: 'I wanted[ed] to write someone who is unapologetic about her confusion.' 'Are there rules' for feminism, Waller-Bridge asks, 'Is there a right way to do this?' In one of Fleabag's poignant flashbacks to Boo, they slump drunk at a table and make up a song: 'Another lunch break, another abortion, another piece of cake, another two – fuck it – twenty cigarettes and we're haaaappy, so haaaaappy to be modern women!'
Waller-Bridge writes black-tar humour – mordant, shocking, savage – which serves a wider dramatic purpose: puncturing every moment of tenderness to show how Fleabag can't confront the horror of her grief and won't let herself heal. Her exquisite tonal control as writer and performer makes this work, shifting from hilarious to heart-crushing in a beat. As every episode circles closer to the truth about Boo's death, Waller-Bridge pulls us into the nocturnal world of Fleabag's psyche, exploring irredeemable moral brokenness spackled over with snark. Seamus Heaney described reading Ted Hughes's Birthday Letters as 'the psychic equivalent of the bends'. Watching Fleabag feels similar – just with better jokes.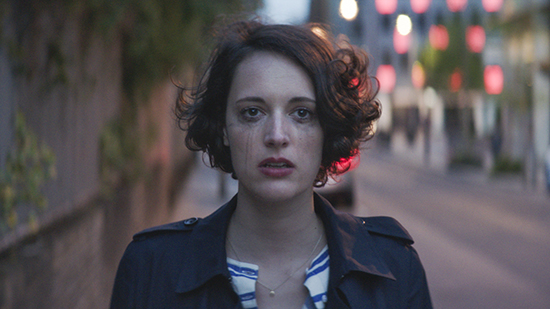 Phoebe Waller-Bridge as Fleabag (photograph copyright Two Brothers Pictures and all3media International)
Where 1990s and 2000s rom-coms aspired to a glossy wedding and life in a dreamy house in Notting Hill, 2018's streaming comedies reflect a different era: where marriage means merging student debts and worrying about how you afford kids in a shifting-sands economy, how you buy a house in an inaccessible market without scream-laughing or selling a kidney. Today's relationship comedies are bleaker because the times are. Happily, streaming lets us put that on screen. The permission to explore the grimier aspects of relationships – to find humour and beauty in them – is key to streaming comedy's bleak realism. So is the fact that stories are being told by a broader range of voices than the straight white male-dominated rom-com movies, with a long-overdue increase in representation of female creators and filmmakers of colour – a trend with a long way still to go. But ultimately that realism has a limit: until we see more LGBTQ relationships on screen, whole sections of our culture's stories are left silent. And without them, we're not seeing love in full colour.