Film
2018 Australian Book Review Film Survey
Gail Jones
Vittorio De Sica's Bicycle Thieves (1948) is the tale of a poor man (Antonio) and his son (Bruno) living in postwar Rome. Antonio, searching for his stolen bicycle, moves in restless anxiety around city locations. Scenes recall de Chirico, Antonioni, and Pavese, but at its centre are the desperate, irresistible faces of the father and son. Men with movie posters ride bicycles holding ladders; a truck driver who finds movies boring veers through cinematic rain; father and son mop their faces with the same wretched handkerchief; a near drowning; an epileptic fit; restraint; tenderness. The ending: see it and weep.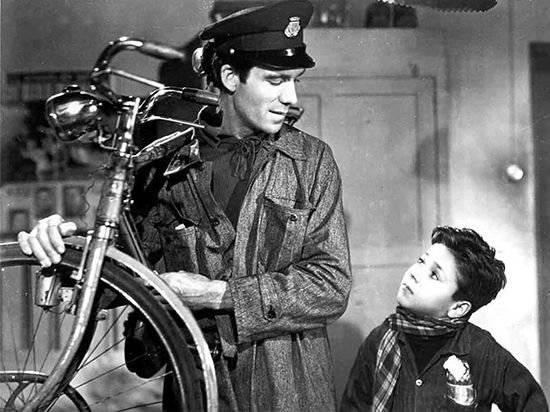 Lamberto Maggiorani and Enzo Staiola in Ladri di Biciclette (Bicycle Thieves), 1948 (Produzioni De Sica)
Dion Kagan
The passionate cultivation of unforgettable women characters becomes a manifesto in Pedro Almodóvar's All About My Mother (1999): an intimate homage to drag, performance, and female melodrama. High camp mixed with high sincerity, this is Almodóvar's signature ensemble portrait of women on the verge, women navigating unendurable worlds. The quintessential work of queer matrocentric desire.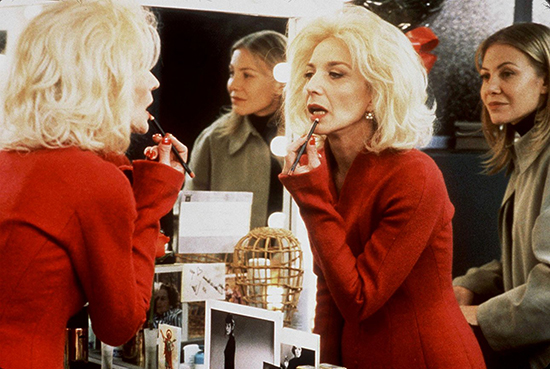 Marisa Paredes and Cecilia Roth in All About My Mother, 1999 (Sony Pictures Classic)
Lauren Carroll Harris
Of all the films Paul Thomas Anderson has directed, The Master (2012) is his favourite, and mine. In it, shell-shocked, alcoholic war veteran Freddie Quell (Joaquin Phoenix) gravitates to the charismatic founder of a therapeutic cult, Lancaster Dodd (Philip Seymour Hoffman). Though many expected a Scientology exposé, Anderson thought about his story in relation to the idea that the best time to start a cult is after a war. Indeed, The Master exquisitely captures a world at a crossroads and a life in flux. It is alive with symbolism and alert to the psychology of obsession and dependence.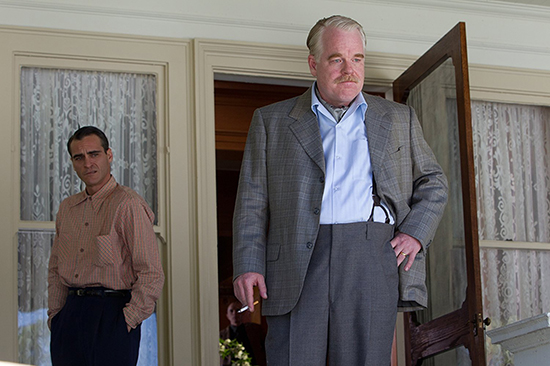 Joaquin Phoenix and Philip Seymour Hoffman in The Master, 2012 (The Weinstein Company)

Alice Addison
An Angel at My Table (d. Jane Campion, 1990) tells the story of the writer Janet Frame from childhood to her literary success. Recalling the film, I think first of colours – the green of New Zealand and the vivid orange of Frame's distinctive red hair. The film contains the twin pleasures of its subject's writing and that of Laura Jones, the screenwriter, who collects a series of moments in a life – some harrowing, some hopeful, all human – and weaves them together to create something wondrous and wholly life-affirming.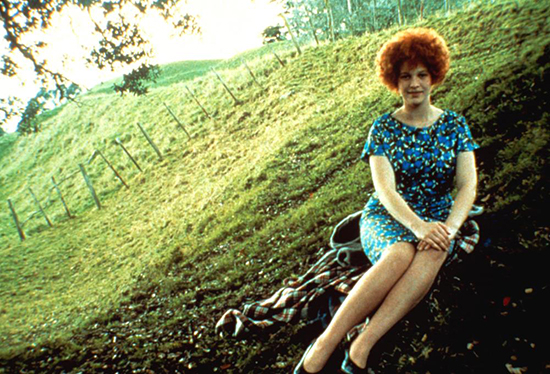 Kerry Fox as Janet Frame in An Angel at My Table, 1990 (Hibiscus Films)
Anwen Crawford
Practically everyone with access to a television has seen The Wizard of Oz (d. Victor Fleming, 1939), probably when they were too young to conceive of film (or television) as anything more or less than images set in motion by an unseen power. Who put this girl and her dog and the witch and a scarecrow inside a box that I am watching in my house? No number of viewings could resolve the mystery. Last year I saw the ruby slippers at the National Museum of American History. I practically cried. Judy Garland's feet were narrow. She flashes through my mind.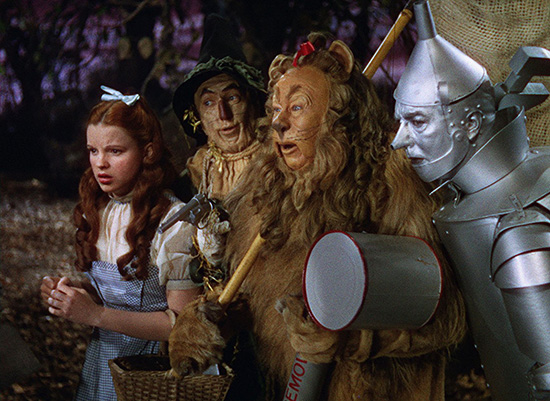 Judy Garland Ray Bolger Jack Haley Bert Lahr in The Wizard of Oz, 1939 (Warner Home Video)
Emile Sherman
There's nothing like a Coen Brothers film, and the one I keep returning to is The Big Lebowski (1998). It's not the story itself, which, like many of their other films, is a little hokey, although enjoyably so. It's the worlds they create, that particular tone, that music. Above all else, it's those characters. The genius of The Big Lebowski, and of the best of the Coen Brothers' work, is the way the filmmakers ride that fine line, creating archetypal characters that feel at once mythic but equally human. Balancing on this line is impossibly hard. Too archetypal, and you move into caricature, and we lose connection. Too human, and you lose the epic resonance and the bounce. The Big Lebowski gets it all right.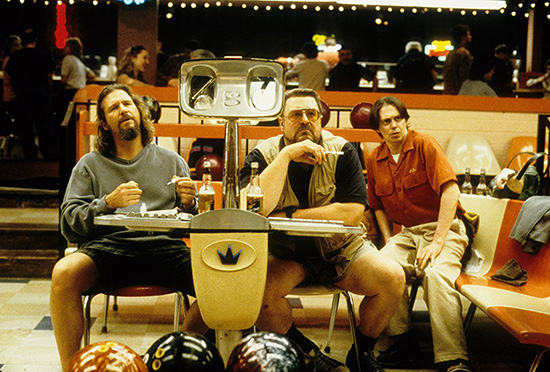 Jeff Bridges, John Goodman, and Steve Buscemi in The Big Lebowski, 1998 (Gramercy Pictures)
Philippa Hawker
During my first year of high school, my English teacher showed our class a print of Chris Marker's La Jetée (1962). Less than half an hour long, it consists of black-and-white stills and a single moving image, a voiceover narration, and layers of sound and music. It is, among other things, a story of time travel, memory, obsession, and inevitability, a work about science, nature, surveillance, the human face, the everyday. I didn't see it again for years, but I carried it within me and could recall it in an almost tactile way. It feels new every time I watch it.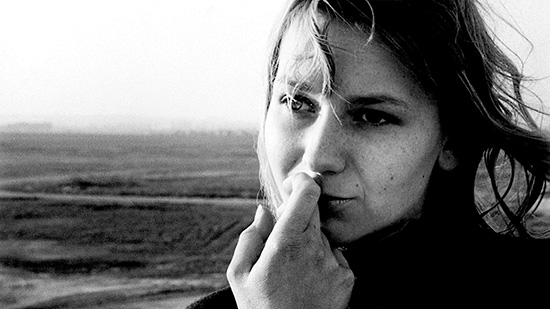 Hélène Chatelain in La Jetée, 1962 (Argos Films)
Stephen Romei
It was directed by a Canadian and starred two Englishmen. It was panned by critics on its release in 1971, degraded in its VHS format, and then almost lost forever, with the original film and sound version rescued en route to the tip in 2004. Yet Wake in Fright, based on Kenneth Cook's 1961 novel, directed by Ted Kotcheff, shot in Broken Hill, and starring Gary Bond as a bonded schoolteacher and Donald Pleasance as a mad, alcoholic, menacing doctor, is the greatest Australian film yet to be made, an unflinching examination of life in the outback, where everyone is an outsider, even the two-upping, roo-shooting insiders played by Chips Rafferty and Jack Thompson. When the educated teacher says the locals are stupid, the doctor pulls him up. Their lives are a living hell, he observes. 'You want them to sing opera as well?'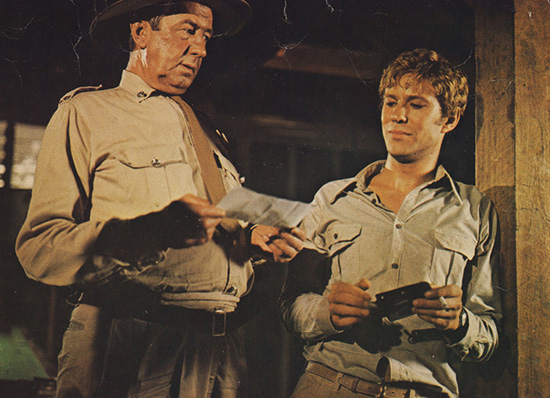 Chips Rafferty and Gary Bond in Wake In Fright, 1971 (NLT Productions/Group W Films)
Desley Deacon
The psychological western Pursued (d. Raoul Walsh, 1947) is a fascinating product of the 1940s – mystery, trauma, repressed memories, flashbacks, voiceovers – moodily shot by James Wong Howe in the brooding landscape of New Mexico. With Judith Anderson as a frontier woman whose adultery sparks a series of tragedies that haunt her family, and a young Robert Mitchum as her adopted son, it is both tough and intimate, with Mitchum and his estranged brother sweetly singing 'Londonderry Air', and a no-nonsense Anderson toting a shotgun to save Mitchum from a hanging.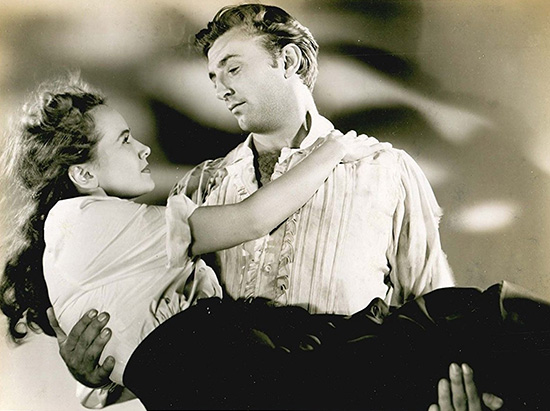 Teresa Wright and Robert Mitchum in Pursued, 1947 (United States Pictures/Warner Bros)
Kylie du Fresne
I'd opt for Desperately Seeking Susan (d. Susan Seidelman, 1985). There was something prescient in its energy, storytelling, and soundtrack, announcing that it knew 'cool' before it happened. You can see that vibe through so much of the casting: hip NYC musos John Lurie and Arto Lindsay, as well as Laurie Metcalf, John Turturro, and Giancarlo Esposito. But the script's classic screwball elements with two strong female roles for Rosanna Arquette and Madonna seduced me at the age of twelve in that magical way that movies have. I wasn't aware then the film was written, directed, and produced by women. More than thirty years later, this alone makes the film exceptional and such an example for the industry.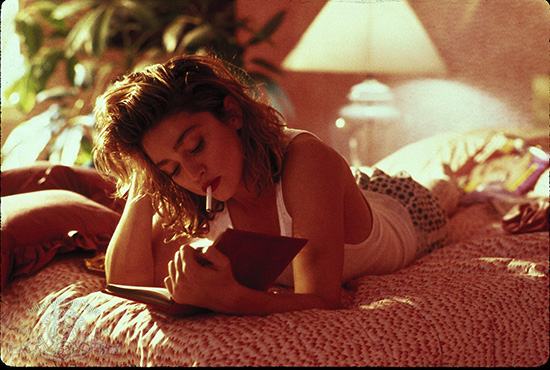 Madonna in Desperately Seeking Susan, 1985 (Orion Pictures)
Felicity Chaplin
From its monumental prologue set to Wagner to the spectacle of its apocalyptic ending, Melancholia (d. Lars von Trier, 2011) extends the definition of art house cinema in the digital era. The film is great for its careful use of digital technology, sublime imagery, allegorical treatment of its subject, blend of bleakness and comedy, unsettling atmosphere, and inspired casting. Charlotte Gainsbourg and Kirsten Dunst give subtle yet audacious performances, supported by such greats as John Hurt, Charlotte Rampling, and Stellan Skarsgård. Best described as an 'art house disaster movie', Melancholia intellectualises the 'pleasure in annihilation' disaster movies tap into, without the deus ex machina of the Hollywood ending.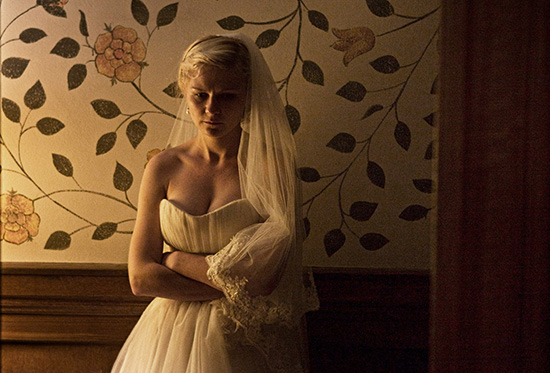 Kirsten Dunst in Melancholia, 2011 (Zentropa Entertainments)
Brian McFarlane
'Let's go home, Debbie' may not, out of context, seem like the most profound line, but, uttered by Ethan Edwards (John Wayne) as he picks up the niece years ago abducted by Indians, it pulls together so much of what makes The Searchers (1956) such a great film. Ethan's racism has made him equivocal about rescuing her from her 'contaminated' years as a squaw, and it also reminds us that home – and Ethan's lack of it – is one of the film's underlying motifs. Home, in John Ford's complexly stunning western, is a frail defence against a majestic but daunting landscape.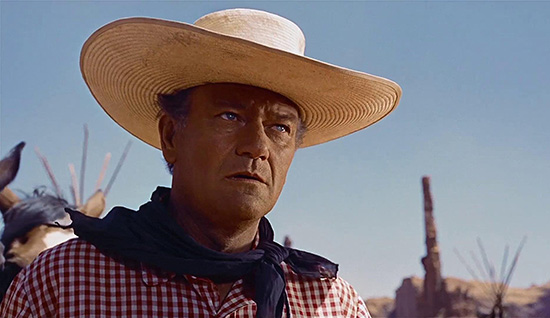 John Wayne in The Searchers, 1956 (C.V. Whitney Pictures)
James McNamara
I first saw Baz Luhrmann's Romeo + Juliet (1996) as a teenager, when some friends and I shuffled to the movies and went in the wrong door. Afterwards, I acted all sullen 'yeah yeah' cool, but inside it was like Baz had poured sherbet on my brain and cranked the music up to eleven. The kinetic modern setting, the smash and fizz and dazzle of his aesthetic, perfectly captured the rage of feeling in Shakespeare's text, and brought R&J roaring gloriously to life for a new generation, inspiring my love of Shakespeare and a career in television. I love it so.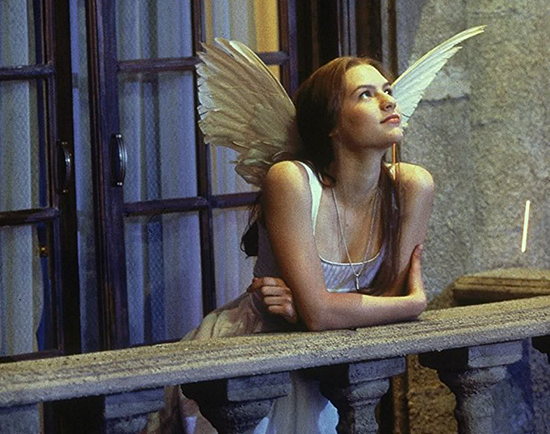 Claire Daines in Romeo + Juliet, 1996 (Bazmark Productions)
Jake Wilson
Fans have been debating recently whether David Lynch's magnum opus, Twin Peaks should be considered a film (1992) or a television show (1990, 2017). Self-evidently it's both – a single story extending over two seasons of network television, the harrowing 'prequel' feature, Fire Walk With Me, and the long-awaited follow-up mini-series shown on cable last year. What began as a quirky soap opera has by now evolved into a masterpiece without precedent on the big or small screen, both a bona-fide religious epic and a liberating vision of what the world might look like if we gave up demanding that things make sense.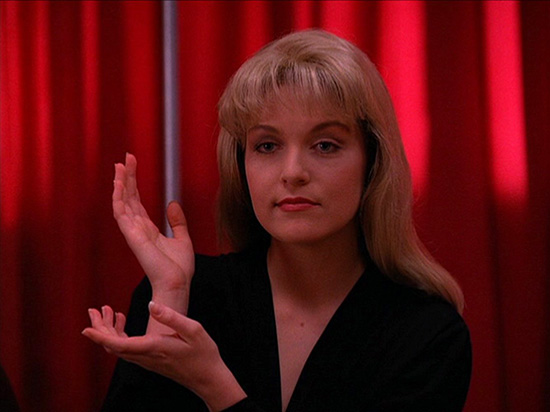 Sheryl Lee in Twin Peaks, 1990 (Lynch/Frost Productions)
Craig Pearce
When I first stumbled across Wake In Fright on late-night television, I was young enough to be terrified by its nightmarishly familiar portrayal of Australian masculinity – and old enough to thrill to its savage brilliance. I sat mesmerised and appalled. I didn't know much of that world, but the film's grotesque intensity spoke truth to me that night. Most know that this great masterpiece was lost and then found and resurrected. When a few years ago I finally saw it projected on a big screen, it was still all true.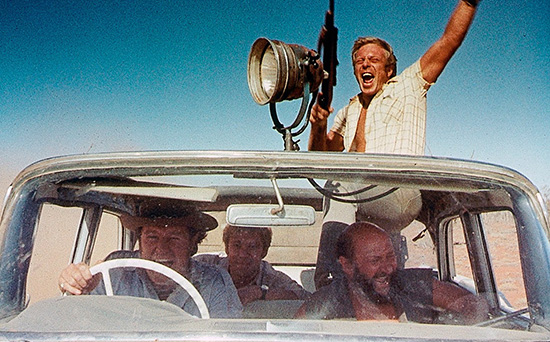 Peter Whittle, Gary Bond, Jack Thompson, and Donald Pleasence in Wake In Fright, 1971 (NLT Productions and Group W Films)
Nick Prescott
By the time David Lynch released Lost Highway in 1997, he had educated his viewers in the predilections of a deeply idiosyncratic auteur. Blue Velvet (1986) suggested to us, and Wild at Heart (1990) confirmed for us, the fact that Lynch was far more interested in the allure of mystery than in anything as mundane as a linear, traditional 'solution'. Lost Highway represents the pinnacle of Lynch's cinema: the film's fever-dream intensity keeps its viewers perfectly off-balance throughout, and delivers them a work replete with the power of the most compelling and disturbing of dreams.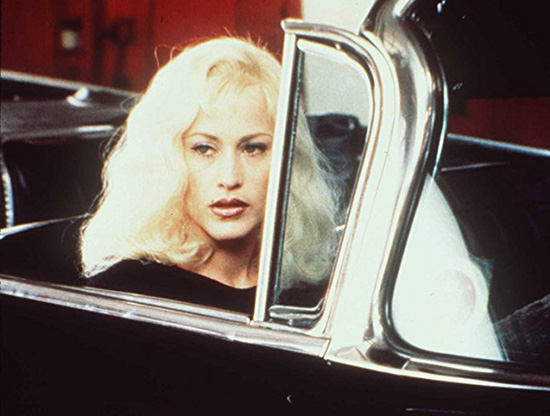 Patricia Arquette in Lost Highway, 1997 (Ciby 2000 and Asymmetrical Productions)
Peter Rose
As a boy of ten I happened upon Laurel and Hardy's silent film Big Business (d. James W. Horne, 1929), a work of singular perfection in eighteen minutes. All of life seemed to be there: bluster, farce, commercialism, amour-propre, violence. When Laurel and Hardy call on James Finlayson to flog him a Christmas tree, all hell breaks loose. Tempers fray and Finlayson's house is soon destroyed while he dementedly wrecks the tree salesmen's car. Even an innocent piano is demolished amid this weird suburban havoc. My lifelong love of ruination was strangely seeded, plus my reverence for these two comic geniuses.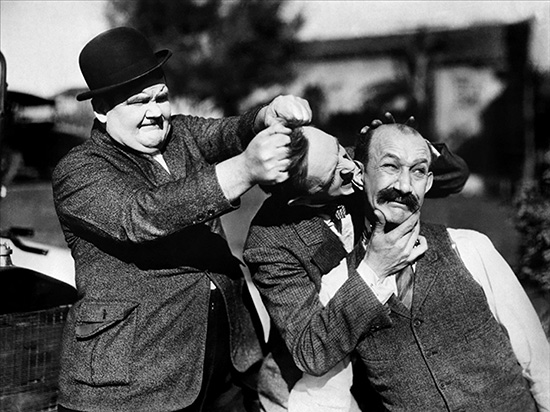 Oliver Hardy, Stan Laurel, and James Finlayson in Big Business, 1929 (MGM)