A Sand Archive by Gregory Day
Picador, $29.99 pb, 302 pp, 9781760552145
Fiction
A Sand Archive
by Gregory Day
'And so I patch it together … I take the liberty of seeking not only an explanation but a connection between what at first might appear to be disparate ingredients.' The narrator of Gregory Day's new novel, A Sand Archive, takes many liberties. Enigmatic in various ways, apparently solitary, nameless, and ungendered, this character is nevertheless full of fascinated admiration and affection for an older man who is virtually a stranger, and candid about the feelings and impulses that compel the creation of an intimate account of his life and career. The patchwork is composed of clues found in an obscure publication titled The Great Ocean Road: Dune stabilisation and other engineering difficulties by FB Herschell, along with an archive in 'the small prime ministerial library at the university on the edge of the water' in Geelong.
I will admit that this novel sent me, from time to time, to atlases, library catalogues, and Wikipedia. It is absolutely anchored in its place and time, as befits a novel about a civil engineer employed by the Victorian Country Roads Board in Geelong in the second half of the twentieth century. To foster the illusion of historical plausibility, there are illustrations dotted through the pages – grainy greyscale photos of sand dunes, car factories, and, tantalisingly, scraps of manuscript from Francis Herschell's 'diary'. But he is not in the author catalogue of the State Library of Victoria and no book with exactly that title exists. Gregory Day's novel is, like the narrator's construction of Herschell's biography, built from a powerful mixture of established historical circumstance and imagination.
A road that is built on sand dunes is both an engineering problem to be solved and a potent metaphor for the human predicament. In A Sand Archive, the young Herschell – familiarly called 'FB' in the novel – travels to France in 1968 to meet the experts and report on the suitability of a species of grass to solve the problems of the Great Ocean Road, which periodically collapsed.
In the exultation and chaos of Paris in May 1968, FB meets Mathilde, a student from the very coastal area of France he is about to visit. Their affair is brief and intense, constrained not by convention or family disapproval, but by Mathilde's sense of the historical moment, which makes her 'return to the fray,' away from her undoubtedly strong attraction to the shy young civil engineer from Australia. FB's encounter with a passionate French woman becomes his defining moment. He never marries, spending his life in Geelong wrangling with his unimaginative and suspicious boss in the CRB, quoting Hélène Cixous to the seagulls, frequenting 'the bookshop in James Street, Geelong' where one day he meets the narrator. He writes his book, an obscure volume in which the narrator finds 'no schmaltz, no spin, only knowledge, technique, experience, and, every now and again, an unexpected glimmer of poetry'.
Poetry glimmers in the novel, too. Often enough I found myself gasping with delighted surprise at an apt and original phrase. Paris in 1968 is alive with 'a festivity of discontent'. When FB is with Mathilde, everything felt 'both electric and ambiguous'. At his moment of plenitude, 'this quickening convergence of his heart and mind' in France, he wonders if he is 'suddenly homesick for the astringent and slightly defensive version of existence which he led in Australia'. This is a beautiful description of the life of an intellectual in the provincial Australia of this period, when the life of the mind tended to be regarded with suspicion. The narrator writes, 'Perhaps for my generation in Australia it has been easier to live the examined life, easier at least to find friends who would be excited by Proust's theatrophone, or Marguerite Duras's honesty, or the creative experiments of Georges Perec and Ouvroir de littérature potentielle (Oulipo).' But we are warned against pitying FB as 'a single man shut away with his intellectual obsessions in a quiet house on a quiet street in a small regional city'. The narrator emphasises that this is not the man he met only briefly in person but got to know through the written word, in manuscript and print. 'My feeling upon meeting him was that he was a man who had fully digested the absurdity of human endeavours, in the sense that we as humans so repeatedly get things wrong.' He could live with knowing that his great contribution to Victorian road safety was doomed to be condemned by later generations as environmental vandalism: 'that even as we attempt to rectify our old mistakes we are destined to make new ones'. The introduction of European marram grass to stabilise sand dunes in Australia is perhaps not a mistake on the scale of the introduction of rabbits or cane toads, but the grass is nevertheless now regarded as an invasive species.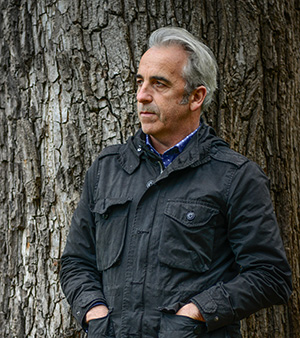 Gregory Day (photograph by Reg Ryan)This novel about sand and engineering is also, of course, a novel of ideas and passions; a novel about writing a book about sand, engineering, ideas, and passions. 'Can I presume?' wonders the narrator. For the biographer, inevitably the question arises as to 'whether the FB I have created, or re-created, in these pages bears any real resemblance to the man who actually lived'. For the novelist, there are other questions. This is an ambitious, multilayered novel, a novel for intellectuals, for bibliophiles; a book to contemplate, to burrow into, to enjoy with 'a thinking heart'.