Fiction
The Death of Noah Glass
by Gail Jones
Noah Glass is dead, his fully clothed body discovered floating face down in the swimming pool of his Sydney apartment block, early one morning. Born in Perth in 1946, father of two adult children, widower, Christian, art historian, and specialist in the painting of fifteenth-century artist Piero della Francesca, Noah has just returned from a trip to Palermo. There he celebrated his sixty-seventh birthday, experienced intimations of mortality, fell precipitately in love, and agreed, for the sake of the beloved, to commit a crime. Even before the funeral, the police are in touch with Noah's son: a valuable work of art has been stolen and Noah is implicated in its disappearance.
Everything that happens in this novel either leads up to or spins out from the moment of his death, and in the complex but skilfully managed narrative chronology the points of view of the three main characters are followed in parallel. We learn Noah's life story and the means by which he arrived at the moment of his death – 'his concluded life was now a neat story running backwards' – but we also follow his adult offspring, Martin and Evie, as they process the meaning of his death and negotiate the days and weeks and months that follow it.
Gail Jones's new novel, her seventh, returns to a field she has explored before, particularly in Sixty Lights (2004): the power of the visual image and the complexity of its relationship with time. This idea is explored through the epiphanic moment at which Noah, at this point an ambitious but lonely young Australian in London, looks at a 500-year-old painting by Piero della Francesca and sees his future in it: 'he found his vocation in the National Gallery. He saw at last a painting whose singular majesty moved him, and was reminded why art history was worth pursuing.'
In this painting of the Nativity, Noah sees a fully human baby Jesus, a Joseph who sits apart 'with his foot on his knee, like a bloke looking for a thorn', and a singing magpie on the roof of the stable: 'The mundane and the divine, he told himself, in seamless coalition.' This is the beginning of a theory of art and time that he continues to develop throughout his life, prompted again later by other Piero della Francesca paintings:
… the audacity of the painting would exist in imagining a man exceeding time … Might the death of a son issue in a temporal fold of some kind, so that the human and the divine were radically continuous? … It was easy to argue that the famous panels on the Legend of the True Cross declared the loops of time – repetition, surely, must be a kind of temporal mystery – but every painting, Noah believed, worked on a variation of this principle.
The novel opens not immediately with Noah's death, as might be expected, but rather with a story about a cross-country skier accidentally killed and buried for decades in the snow before a thaw uncovers his remains and his two sons, now in their late seventies, gaze upon the body of their forty-two-year-old father. It is an announcement of the two main themes that will run through the book: non-linear time, and fatherhood.
The novel's domestic-realist mode balances these ideas about folds and loops of time against the linear chronology of daily life as lived in the body, with its bent towards entropy and its inescapable causality. The characters have ideas to express and a mystery to solve, but they also carry luggage, see colours, have sex, get drunk, watch old movies, go swimming in the ocean, and fondle the cat, and all of these activities are represented in the clear and loving detail of Jones's beautiful style. But the allusions to temporality recur throughout the characters' daily lives like a leitmotif: in the tortures of jetlag and the puzzle of time zones, in the word 'abide', in the time-skip of Skype, and in 'the long now of grieving'.
The densely layered material detail typical of domestic realism does not interfere with the fact that this is also a novel of ideas in which Jones solves the problem of exposition by creating characters whose conversations and interior states are convincing vehicles for information and lines of argument: educated, articulate characters for whom thought, grounded in a rich field of cultural reference, is second nature.
And, wildly unlikely as it may seem for the work of so cerebral and intellectual a novelist, there is a third genre to be considered here: the theft of a valuable artwork and the subsequent smuggling of that artwork across the world, done under extreme pressure from the Mafia, which then takes extreme steps to discourage any investigation while the reader is treated to a slow reveal, can only be described as a thriller. I never thought to find myself using the word 'heist' in connection with a novel by Gail Jones, but the world is full of surprises. The ending, however, is a neat subversion of the thriller genre, and anyone who finds this plot unconvincingly melodramatic might consider an item that appeared in The Guardian on 24 February 2018 describing the discovery, in the luggage compartment of a bus at a highway rest stop on the outskirts of Paris, of a Degas painting stolen nine years ago from a museum in Marseille.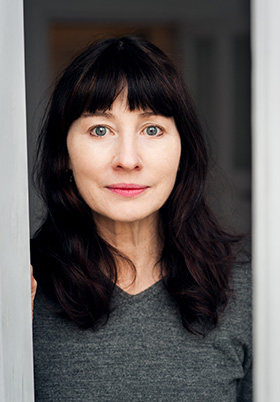 Like Jones's novel Five Bells (2011), this book is a love letter to Sydney. One virtuoso passage describing what it feels like for Evie, a Melburnian introvert, to find herself suddenly in the harbour city is a mosaic of noisy, shiny adjectives and verbs: buzzy, dense, electric, glittered, hoot, massive, rang, savage, streaming. Here as elsewhere, in all this dense wealth of connotation, implication, and allusion, every word and phrase is carefully chosen and nothing is wasted. Jones's hard-working style makes for a richly imagined – and imaginable – story, including the looping narratives of each character's inner life, and the depth and detail of their conversational and emotional exchanges. At its most extreme, the language can occasionally seem overwrought and over-thought, but mostly it comes across as swooningly lyrical, carrying the reader along in the wake of its beauty:
He was unable to say how being a father moved and engaged him, how Martin and Evie, even in times of estrangement, were his centred world. No hypothetical eternities, but their actual now. And the memory of them as children, dressing, undressing, pulling garments on and off their vulnerable bodies, the incandescent light falling like seawater over their small bent backs.