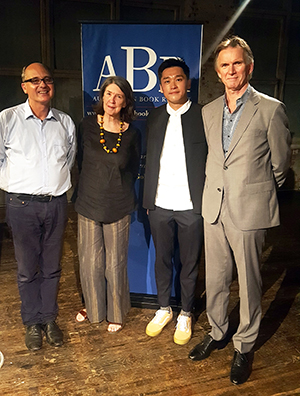 John Hawke, Morag Fraser, Nicholas Wong, and Peter RoseNicholas Wong is the winner of the 2018 Peter Porter Poetry Prize, now worth a total of $8,500. This is Australia's premier prize for an original poem. Louis Klee, the 2017 winner, made the announcement at a special event at fortyfivedownstairs on Monday, 19 March. Nicholas Wong, who flew from Hong Kong to attend the Porter ceremony, receives $5,000. His winning poem is titled '101, Taipei'.
This year's judges – John Hawke, Bill Manhire, Jen Webb – shortlisted poems by five poets – Eileen Chong, Katherine Healy, LK Holt, Tracey Slaughter, and Nicholas Wong. They were chosen from a record field of almost 1,000 poems. Tracey Slaughter's poem 'breather' was placed second. She receives $2,000 – the other three shortlisted poets $500 each.
The shortlisted poems were published in the March issue of Australian Book Review.
About the shortlisted poets
Nicholas Wong (Winner) is the author of Crevasse (Kaya Press, 2015), winner of the Lambda Literary Award in Gay Poetry. He is also the recipient of the Hong Kong Young Artist Award in Literary Arts in 2017. Wong has contributed writing to the radio composition project 'One of the Two Stories, Or Both' at Manchester International Festival 2017, and the final exhibition of Robert H.N. Ho Family Foundation Chinese Art Initiative at Solomon R. Guggenheim Museum, which will open in May 2018. He is the Vice President of PEN Hong Kong, and teaches at the Education University of Hong Kong.
Tracey Slaughter (Runner up) is a poet and short story writer from Cambridge, New Zealand. Her work has received numerous awards, including the international Bridport Prize (2014), shortlistings for the Manchester Prize in both Poetry (2014) and Fiction (2015), and two Katherine Mansfield Awards. Her latest work, the short story collection deleted scenes for lovers (Victoria University Press) was published to critical acclaim in 2016, and was longlisted for the Ockham NZ Book Awards. She is currently putting the finishing touches to a poetry collection entitled 'conventional weapons'. She teaches at the University of Waikato, where she edits the literary journal Mayhem.
Eileen Chong is a Sydney poet who was born in Singapore of Chinese descent. She speaks English, Singlish, Mandarin, and Hokkien, but only writes in English. Chong took a Master of Letters at the University of Sydney and was a recipient of an Australian Postgraduate Award for a Doctorate in Creative Arts at Western Sydney University. She eventually left her academic studies to write poetry full-time. Her poetry collections are Burning Rice (2012), Peony (2014), and Painting Red Orchids (2016), all from Pitt Street Poetry.
Katherine Healy is a writer living in the Adelaide Hills. She has worked in education, community health promotion, and counselling. Katherine has published creative non-fiction, short fiction, and poetry. She gained her Master of Letters in Creative Writing from Central Queensland University and credits the rural city of Rockhampton for reawakening her poetic impulse. Katherine is a member of Writers' SA. She has a poetry collection and a novel as a works-in-progress.
LK Holt lives in Melbourne, where she was born in 1982. Her first collection of poems, Man Wolf Man, won the 2009 Kenneth Slessor Prize in the NSW Premier's Awards. Patience, Mutiny shared the 2011 Grace Leven Prize for Poetry. Her most recent collection Keeps was longlisted for the 2015 Australian Literature Society Gold Medal. Her forthcoming collection, System Garden, will be published by Vagabond Press later this year.
---
Click here for more information about past winners and to read their poems.
We look forward to offering the Porter Prize again in 2019.
We gratefully acknowledge the long-standing support of Ms Morag Fraser AM, and the support of ABR Patrons. The print is donated by Mr Ivan Durrant in honour of Georges Mora.