Fiction
Border Districts
by Gerald Murnane
'I always dreamed that I would read a book that would be absolutely everything that I've wanted, and because I didn't find that book, I wrote it myself. I don't mean one particular book. I mean my collected works.'
Gerald Murnane (2015 interview)
There is a whiff of mythology about Gerald Murnane. He is quietly infamous for who he isn't: for the things he's never done (travel by aeroplane); the things he'll never do (live outside of Victoria, wear sunglasses); the things he'll never do again (watch movies or a Shakespeare play); the books he won't read (contemporary fiction); the books he won't write (interrogations of national identity); and the literary prizes he hasn't won (almost all of them – much to critical incredulity). Australians often struggle with strangeness: we do not easily surrender to the unconventional, the wilfully eccentric, or the unapologetically clever. It's hard to know what to do with a writer who is all three.
As its blurb explains, Border Districts has been 'conceived as Gerald Murnane's last work of fiction'. Conceived is a slippery word: it seems to offer the weakly flickering hope that more fiction might follow, despite the author's initial resolve, but – more likely – it reflects the defining quality of Murnane's fiction: intention. Murnane has a deliberate mind. If Border Districts has been conceived as his last fiction, it will have a particular role to play – a culmination, a closing.
An unnamed man is writing a report 'for his files'. Like his author, the man is writing in the blurred, liminal space between fiction and non-fiction: 'I am not writing a work of fiction, but a report of seemingly fictional matters.' Like his author, the man has moved from the city to a remote border town, the last place he intends to live (Murnane is now based in Goroke, on the edge of Victoria's Wimmera plains). As the man explains with measured directness: 'I moved to this district near the border so that I could spend most of my time alone and so that I could live according to several rules that I had for long wanted to live by.' It is a premise with echoes of Thoreau's ascetic isolation ('I went to the woods because I wished to live deliberately'), but without his marrow-sucking outwardness.
Murnane has spent more than forty years interrogating and re-interrogating a recurring set of potent images that unite, unlock, and anchor his memories: a dark-haired woman, the swirled centres of childhood marbles, morning light through coloured window panes, the vividness of jockeys' silks, a spectral pattern of 'stems and leaves and petals'. In Border Districts, he returns to this kaleidoscopic inspiration, but with a sense of calm finality. 'Here, near the border,' he explains, 'I am even more inclined than of old to complete a pattern in my mind and then go on writing until I learn the meaning for me of such an image.' There's a deceptive simplicity about this endeavour; it is simultaneously concrete and ethereal, haphazard and cyclical.
When J.M. Coetzee insightfully profiled Murnane for The New York Review of Books in 2012, he observed: 'Whether the connections between images lie implicit in the images themselves or are created by an active, shaping intelligence ... [and] whether that energy is always to be trusted – these are questions that do not interest him.' In this last book, Murnane again deflects these questions, and their implications. Murnane has never been a theorist or a theologian; he is a cartographer of the inner 'homeland-of-the-mind'.
Murnane divides readers. He can seem bloodless and cerebral, overly complex and obscure. Such criticisms are valid, but inevitable to Murnane's enterprise. Like Woolf, Proust, and – more recently – Karl Ove Knausgaard, Murnane's fiction maps the terrain of a particular mind. Murnane's fictional minds are like the old-fashioned marbles his child-self favours, they do 'not readily give their contents away'. If this neural landscape feels too alien, so too will its narrative and allegorical logic. His project is not wilfully exclusionary, but neither is it actively inclusionary.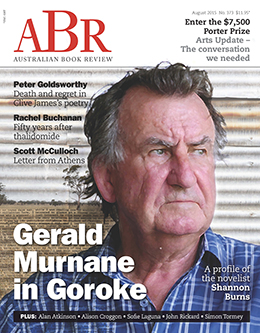 Issue no. 373, August 2015, of Australian Book ReviewDevotees are drawn in by Murnane's dispassionate contemplation, and his willingness to inhabit the borderlands between conjecture and reality, memory and imagination, writer and written, life and death, love-letter and elegy: 'Even in my youth,' he writes, 'I seem to have been seeking evidence that the mind is a place best viewed from the borderlands.' In Australian literature, Murnane is sui generis: Border Districts is – quite simply – a book for those who love Murnane.
Border Districts is a quieter, gentler book than its forebears, weighted, but not haunted, by Murnane's Catholic upbringing and its echoes. It's also a synesthetic book, heady with colour: 'I consider myself a student of colours and shades and hues and tints. Crimson lake, burnt umber, ultramarine ... I was too clumsy a child to paint with my moistened brush the scenery that I would have liked to bring into being.' There is nothing clumsy about Border Districts. In its final pages, the narrator's calm contemplation is jolted by a radio interview with woman on the other side of the border, a writer, a fellow seeker of answers. He imagines sharing his report with her, crossing the border and placing the pages in her hands. It is sublime writing – a plea for connection; an aching, transcendent coda.
The seventy-eight-year-old Nobel Prize contender writes like a clockmaker: every sentence is a finely tooled cog, every book an exquisite machine. With Border Districts, his fictional clockwork is complete; if you put your ear to the pages you can almost hear them ticking.