Yes we can!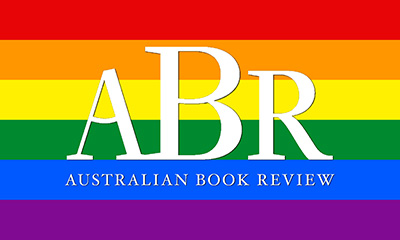 Confirmation of the legality of the marriage equality postal survey by the High Court of Australia prompted us to invite a number of leading writers, artists, directors, scholars, lawyers, and public figures to sign an Open Letter encouraging Australians to vote Yes. The response was positive and prompt.
What can be too easily overlooked or obscured here is the simplicity of the Yes case. All the LGBT community and its myriad supporters are seeking is the same right that obtains for heterosexuals: the freedom to marry if they so choose. No more, no less. Ed.
Urgent times
Few advanced, wealthy, secular societies have found this issue so fraught. Soon, happily, this matter will be behind us, and government and citizens will be able to get on on with the important issues confronting this society, especially climate change, the urgency of which is attested to by several contributors to our Environment issue.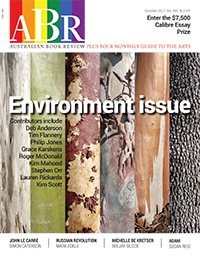 Eucalypt Australia has supported this third annual Environment issue. Together with the ABR Patrons, Eucalypt Australia has funded Adelaide writer Stephen Orr's ABR Eucalypt Fellowship. His essay is titled 'Ambassadors from Another Time'. We review a number of books on climate change, sustainability, and environmentalism. We also invited some noted writers and environmentalists to nominate the book that has had the biggest influence on them from an environmental point of view.
Special thanks to our guest editor, Professor Tom Griffiths, and to Philip Jones of the South Australian Museum, a recent ABR Fellow, who curated the photo essay.
Calibre Essay Prize
For the twelfth year in a row, we seek entries in the Calibre Essay Prize – the country's premier prize for an unpublished non-fiction essay. The Prize is worth a total of $7,500, of which the winner receives $5,000 and the runner-up $2,500. Both essays will appear in ABR. Once again, Calibre is open to anyone writing in English around the world.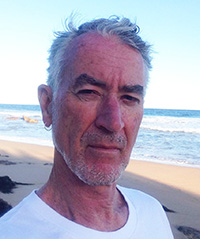 Michael Adams won the 2017 Calibre Essay Prize for 'Salt Blood', which appeared in the June-July issue of ABRThe judges on this occasion are novelist/essayist Andrea Goldsmith, NewSouth publisher Phillipa McGuinness, and ABR Editor Peter Rose.
We recommend the quick, inexpensive online entry system. Guidelines and the entry form are available on our website. Entries will close on 15 January 2018. All previous Calibre-winning essays are available online, including Michael Adams's celebrated 'Salt Blood', which won the 2017 Calibre Essay Prize.
We thank Colin Golvan QC (Chair of ABR) and the ABR Patrons for enabling us to present Calibre in this lucrative form.
John Ashbery (1927–2017)
John Ashbery, a revered figure in American poetry, died on 3 September, weeks after his ninetieth birthday. His oeuvre was huge, soulful, teasing, technically brilliant, and profoundly witty. W.H. Auden chose Ashbery's first collection, Some Trees (1956) as the winner of the Yale Younger Poets Prize. Sixty years later, he published Commotion of the Birds.
To coincide with his ninetieth birthday, Farrar, Straus & Giroux published Karin Roffman's The Songs We Know Best: John Ashbery's early life. Publishers always claim that biographies are transformative, and in this case it's true. Karin Roffman had access to the early diaries and correspondence – and to the poet himself. Now we know how beguilingly and persistently autobiographical many of the poems are.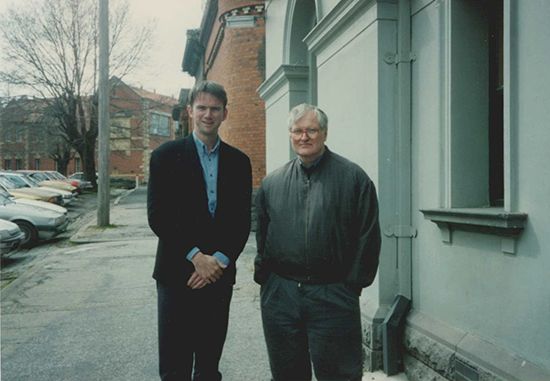 Peter Rose and John Ashbery, 1992
Ashbery's renown in Australia was enduring, and his influence extensive. In its early years, the Melbourne Writers' Festival often featured major world poets, and John Ashbery's visit in 1992 was a highlight. He gave superb readings in Melbourne and Sydney. Our Editor recalls interviewing the poet at the Malthouse Theatre – not the easiest assignment, for Ashbery was a famously sceptical, though affable, interviewee. Next day, MWF took Ashbery and other guests to a rather chilly Ballarat. On the bus, Ashbery offered to entertain his colleagues (August Kleinzahler among them) with Gracie Fields tunes. It was a memorable week for those who loved the poetry and were charmed by the man himself.
To celebrate John Ashbery's life and poetry, a number of poets will read at Collected Works Bookshop on Friday, 20 October (6 for 6.30 pm). The readers are Gig Ryan, Michael Farrell, Judith Bishop, John Hawke, Ann Vickery, Kris Hemensley, David Dick, and Peter Rose. This is a free event.
Vale Agnes Nieuwenhuizen
ABR was saddened to learn that Agnes Niuewenhuizen, who was a tireless advocate for YA literature and young readers, died last week. Agnes established the Youth Literature Program and later the Centre for Youth Literature at the State Library of Victoria in 1991. After her retirement in 2005 she focused on reviewing adult fiction, memoirs, and works on reading, as well as the occasional YA book. She was also an ABR contributor.
Free gift subscription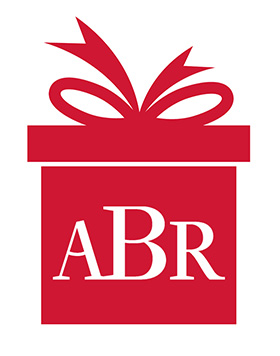 New and renewing subscribers have until 31 December to give a friend a six-month subscription to ABR (print or online). You can qualify for this special offer by renewing your current ABR subscription – even before it is due to lapse. Renew for two years and give away two free subs, etc. Why not introduce a young reader or writer to ABR?
All you have to do is fill in the back of the flysheet that accompanies the print issue, or contact us on (03) 9699 8822 or This email address is being protected from spambots. You need JavaScript enabled to view it. (quoting your subscriber number please). We will contact the nominated recipient (thus we will need the recipient's email address). Please note that online-only subscribers are entitled to direct online subscriptions. Terms and conditions apply.
Trust Brio
Relatively new publisher on the block Xoum – formerly in Sydney, now based in Melbourne – has changed its name to Brio Books and has been reissuing some fine Australian titles, including Gail Bell's The Poison Principle (2001) and Gavin Souter's Sydney Observed (1965). There is a new suite of five books by Robert Dessaix, including the inimitable A Mother's Disgrace (1994), which ends with those dangerous words: 'I have told you the truth. Now trust me.'