Fiction
The Choke
by Sofie Laguna
The Choke is full of holes. I mean that literally, which is also to say (since we are talking about a novel) symbolically. It contains any number of insinuating references to wounds, ditches, gaps, and voids. The primary implication of these can be grasped if one recalls that 'nothing' was Elizabethan slang for female genitalia. Sofie Laguna's narrator, a ten-year-old girl named Justine Lee, who has a nervous habit of thrusting her tongue in and out of the gap created by her missing teeth, is constantly being reminded that she has 'no thing'. In the masculine world of knives and guns she inhabits, the secondary status this lack bestows upon her is reinforced in all kinds of subtle and not-so-subtle ways, often with an element of innuendo and menace. On the very first page, one of her two older brothers threatens to shoot her with his slingshot in the 'hole' of her gummy mouth if she smiles. Shortly after a scene in which she is attacked by an aggressive rooster named Cockyboy, which slashes her face, the idea that her femaleness is not simply a deficiency but a form of mutilation is made explicit when Jamie, the teenaged scion of the rival Worrley family, attacks her on the way to school, having first taunted her by grabbing at her skirt and calling out 'show us your scar'.
The novel is set in the early 1970s in a fictional flyspeck town named Nullabri (another negation), located somewhere on the Victorian side of the Murray River. The basic elements of the plot are familiar tropes of hardscrabble rural realism. Justine is a lonely and sensitive child who lives in poverty with her alcoholic grandfather, a war veteran traumatised by his experiences as a prisoner on the Burma Railway. Her mother is long gone; her father is a violent criminal who visits only occasionally. She is failing at school because of her undiagnosed dyslexia. Her only real friend is another social outcast, a disabled classmate named Michael Hooper. The limited and generally unhappy nature of her existence is underscored by the fact that Nullabri is a cultural wasteland: Justine's only windows to the wider world are the old John Wayne films her Pop likes to watch on his snowy rabbit-eared television.
Laguna works these tropes for emotional and sometimes melodramatic effect. The Choke is interested in the combination of oppression and neglect that exposes Justine to the worst aspects of the adult world, yet at the same time leaves her in a state of ignorance, which in turn makes her confused and vulnerable. The Murray flows through the novel as an ambiguous symbol of her predicament. The title of The Choke refers to a point where the river narrows. The term evokes the intimidating atmosphere of violence – and specifically sexual violence – that pervades the novel and ultimately determines the course of Justine's life. But the 'choke' is also depicted as a sustaining place of natural beauty and solace, where she can retreat into her imagination and try to piece together some kind of understanding of her troubling experiences.
Laguna's style and the general tenor of her fiction are at times reminiscent of Tim Winton or Gillian Mears, and, more distantly, Sonya Hartnett, who, like Laguna, has over the course of her career written for both children and adults, while maintaining a thematic focus on the travails of childhood. But The Choke, despite the obvious worthiness of its subject matter, lacks the the vitality and the key animating ingredients which set those writers apart. It has neither the genuinely impassioned quality of Mears, nor the psychological depth that gives Hartnett's dark vision of childhood its integrity. It is for the most part soundly written, but without that William-Faulkner-meets-Steele-Rudd quality that characterises Winton at his most lapidary, or anything approaching his vivid sense of a natural world touched with sublimity.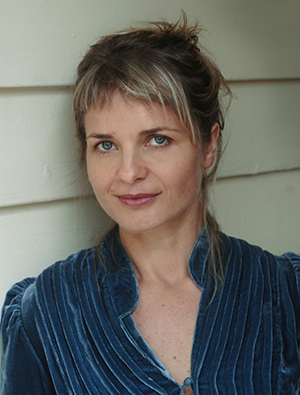 Sofie Laguna (photograph by Brigid Arnott)It is possible to write about regional settings in ways that are not clichéd – Carrie Tiffany's Mateship with Birds (2012) comes to mind – but The Choke makes little effort to rise above its received tropes. It is content to perpetuate the rather tired notion that rural Australia is a site of poverty, backwardness, alcoholic indolence, and dysfunction. Its three principal adult male characters are hard-drinking, working-class, and violent. The only supportive characters Justine encounters are her lesbian aunt Rita, who has escaped her lowly origins by becoming a nurse and moving to the city, and her friend Michael, who has an obligatory heart of gold, and whose family provides the novel with its ideal of bourgeois respectability. The Hoopers decamp to Sydney once they have provided Justine with a glimpse of an alien world in which people read books, treat each other with kindness and respect, and enjoy the occasional bubble bath.
In The Choke's short second section, which moves the action forward three years, Laguna contrives an effective dramatic climax which celebrates the enduring power of the maternal instinct, in defiance of the masculine principles of domination and violence that have pervaded the novel. Something can come of nothing after all. It is hard not to notice, however, that this moral triumph is achieved by quarantining the novel's coarseness and violence within a disreputable underclass and establishing a set of structuring oppositions that ultimately make its uplifting message seem like something of a fait accompli.