Fiction
House of Names
by Colm Tóibín
House of Names is a grim book, as any retelling of Aeschylus's Oresteia is bound to be. It is a tale to harrow up your soul, to make your two eyes start from their spheres – or at least, it is until ten pages before the end, when Elektra cracks the book's first joke and the tone becomes a touch mellower.
Nothing is more à la mode in contemporary letters than retelling old stories: from first-time novelists to literary luminaries such as Margaret Atwood and Jeanette Winterson, writers across the globe are busy plundering the classics in search of great plots to refashion and breathe new life into. Why do we do it? Whether resetting the story closer to home or just hanging a reworded version of it on the original skeleton, what are we hoping to do? Rescue an archetypal story from oblivion? View contemporary society or recent history afresh through a classic prism? Are we losing faith in our ability to invent meaningful fictions? For instance, in House of Names, has Tóibín got his eye on the Irish Troubles? Or is he casting light on a much broader theme, central to the Oresteia: how to establish a civilised society once the old gods have begun to fall silent? The myriad answers to this question furnish our newspapers with their headlines every day.
Tóibín goes about the task of reworking Aeschylus with his accustomed flair. In the dazzling opening chapter, Clytemnestra recounts her husband's sacrifice of their daughter Iphigenia to Artemis to secure fair winds for his departure with his troops to Troy. The prose is not just ornate, but at times positively ambrosial. As a rule, only playwrights permit themselves this kind of departure from the way people actually speak and write, and, indeed, this work often reads more like a performance piece than a novel. It is not quite Racine or Corneille, although it's arguably more affecting. As in Greek theatre, not only the setting but also the faces and costumes of the participants in the drama are left to our imagination.
Even at this early point in the narrative, there are hints that some of the characters are beginning to wonder why the virgin goddess would demand an innocent young girl's life in return for agreeing to change the direction of the winds. Is making the wind blow from the south instead of the north so very much to ask? Once you question sacrifice, you're staring into the abyss.
The traditional gods are not exactly dead in Argos (or our world), but nowhere in evidence, except in set expressions. 'I live alone,' Clytemnestra confides in us, 'in the shivering, solitary knowledge that the time of the gods has passed.' All she has left, like so many of us, is 'the leftover language of prayer ... What had once been powerful and added meaning to everything was now desolate, strange ... Now our words are trapped in time, they are filled with limits, they are mere distractions, they are as fleeting and monotonous as breath.'
The fading of divine lawmakers who care leaves the Greeks (and us) with a problem: what are we to do about the tyrants who will pop up to replace them? What is there now to break the chain of sin and vengeance? In the Greek trilogy, on his return from Troy, King Agamemnon's wife and her lover in turn kill him (and, for good measure, his concubine), thereby outraging their son Orestes, who, with his sister's connivance and after a lot of dithering, kills his mother. What can be done to bring light into the darkness enveloping not just the House of Atreus, but the whole city and even lands beyond?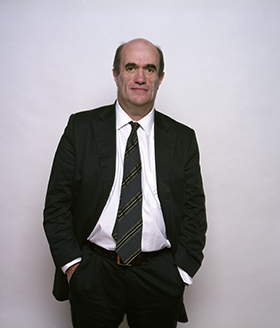 Colm TóibínFor Aeschylus, the answer lies in just laws: not gods, but democracy. From his vantage point in the mid-fifth century BCE, only in a state governed justly can the trail of vengeance be halted. In Tóibín's novel, this advance towards reason and justice (for men) in the later pages is simply not theatrical enough to keep us riveted to our seats after the operatic opening. Orestes and his sister Elektra now come across as too ordinary to be swept up by it, too like us. To be plausible they need to grow in Argive soil. Once their ancient Greek identity starts to wear thin, so does our engagement with their fate.
For example, on a less dramatic level, while the totally invented episodes where the boy Orestes is kidnapped and then escapes with two other boys to live for some years in an isolated farmhouse are grippingly told, his growing sexual bond with one of these boys, Leander, seems rooted in a sexuality alien to the Greeks, if not to Tóibín. So do the ambisexual night excursions of Clytemnestra's lover around the sleeping palace. These sorts of homosexual couplings between equals no doubt happened, but not typically, and not in Greek tragedy. Ancient Greeks weren't gay. If this sort of modern sensibility is inserted into an ancient story, there will be consequences: some things are just not going to make sense. Orestes turns into someone it's hard to recognise as either Greek, neoclassical, Shakespearean, or, for that matter, truly modern. It's like Clytemnestra calling a middle-aged man 'hysterical' (which she does).
However, the delight in reading a great master of the English language remains. There is no doubt that Colm Tóibín has brought something disturbingly, intoxicatingly to life. Exactly what, though, it's not easy to put your finger on.