Advances
News from the Editor's Desk - March 2017
Porter Prize
We received almost 1,000 entries in this year's Peter Porter Poetry Prize – by far our biggest field to date. Entries came from twenty-two countries. The judges – Ali Alizadeh, Jill Jones, Felicity Plunkett – have now shortlisted seven poems. The shortlisted poets are Ronald Dzerigian (USA), Louis Klee (Victoria), Anthony Lawrence (NSW), Damen O'Brien (Queensland), Michael Lee Phillips (USA), Jen Saunders (NSW), and Jessie Tu (NSW).
The winner (who will receive $5,000 plus an Arthur Boyd print) will be named at the Porter Prize ceremony on Thursday, 23 March (6 pm) at the Collected Works Bookshop in Melbourne (see below). First, though, a number of friends and admirers of Peter Porter will read some of his poems, and the shortlisted poets will read their poems. These are always great occasions for poetry (and Porter) aficionados, and everyone is welcome. Email: This email address is being protected from spambots. You need JavaScript enabled to view it.
More poetry gigs
To celebrate the second edition of States of Poetry (South Australia), state editor Peter Goldsworthy will introduce his new cohort of poets during Adelaide Writers' Week. The six featured poets this year are Steve Brock, Cath Kenneally, Jules Leigh Koch, Louise Nicholas, Jan Owen, and Dominic Symes. The session will take place on 6 March at 5 pm, at the Pioneer Women's Memorial Garden, Adelaide. For more information, visit the Adelaide Writers' Week website.
Single poems from each writer appear in our mini-anthology.
The April issue will feature a mini-anthology of poems from the Tasmanian edition of States of Poetry. Peter Rose and state editor Sarah Day will host a reading from the six poets included in this year's anthology: Adrienne Eberhard, Graeme Hetherington, Karen Knight, Louise Oxley, Tim Thorne, and Jane Williams. The event will take place at the Hobart Book Shop, 22 Salamanca Square at 5.30 pm on Thursday, 6 April. Email: This email address is being protected from spambots. You need JavaScript enabled to view it..
Trumping the media
'Journalism is on the back foot,' writes Diana Bagnall at the start of her review of an anthology of writings about the 1960s from The New Yorker. Sad to report, it's an understatement, given recent developments. We all know the fate of countless journalists around the world in recent years: the arrests, the intimidation, the derision, the assassinations, especially in Russia (so close to Donald Trump's commercial heart). In his first days as US president, Trump demeaned the office by pursuing his maniacal attacks on the media, beginning with a pathetic and fraudulent attempt to 'correct' attendance figures at his inauguration.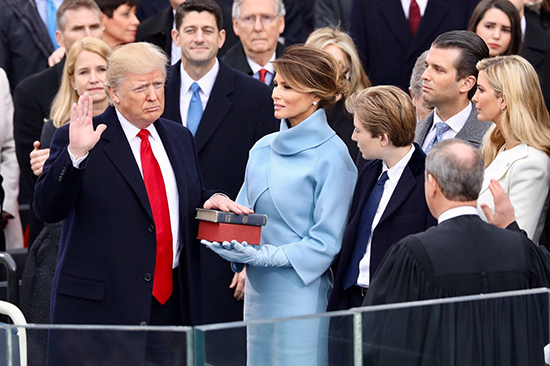 President Donald Trump being sworn in on 20 January 2017 (Wikimedia Commons)
So much was left to the thinking press during the recent ignoble election campaign: one thinks in particular of the New York Times's exposé about Trump's startling business incompetence and his record-breaking financial reliance on US taxpayers. Now it seems that the Times and every questioning journalist will pay a high price for their audacity. Trump, puffed up with amour-propre, resembles a drunk at a party who won't brook any opposition or criticism. Now he – bizarre though it still seems – runs the United States. What price logic, perseverance, intelligent doubt? What future for investigative journalism? Will it be safe or even legal to practise or publish dissent?
And how, to paraphrase Diana Bagnall, did it come to this? The Obama administration, in some respects, paved the way. Barack Obama was no great friend of the fourth estate, despite his cosy relations with admiring editors such as David Remnick of The New Yorker. For some, Obama was the most controlling and secretive president since the paranoiac Richard Nixon. Menacing too. Time and time again reporters were stymied or threatened with prosecution. No other administration has denied so many Freedom of Information requests. Notoriously, the Obama regime threatened New York Times reporter James Risen with jail for his refusal to name a source. Risen has dubbed Obama 'the greatest enemy of press freedom in a generation'.
Jerkish plot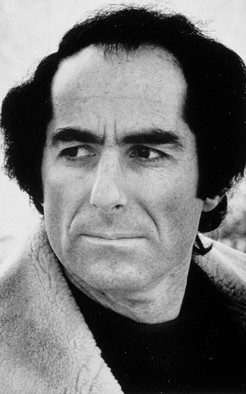 Philip Roth (Wikimedia Commons)In our previous issue, Advances wondered, with eerie retrospective prescience (to coin a phrase to rival 'alternative facts'), if Philip Roth – that rara avis, a retired novelist – would emerge from literary exile to update his ahistorical novel The Plot Against America (2004), in which Charles Lindbergh, the isolationist and Nazi-inspired aviator, defeats Franklin Delano Roosevelt in the 1940 presidential election and introduces anti-Semitic measures against young 'Philip Roth' and other Jewish characters in the novel. Other publications have followed suit, including The New Yorker, which interviewed the author for its January 30 edition.
Philip Roth, retired though he is and responding via email, still gave them good copy. 'Lindbergh, despite his Nazi sympathies and racist proclivities ... had character and he had substance ... Trump is just a con artist,' he wrote. 'I found much that was alarming about being a citizen during the tenures of Richard Nixon and George W. Bush. But ... neither was anything like as humanly impoverished as Trump is: ignorant of government, of history, of science, of philosophy, of art, incapable of expressing or recognizing subtlety or nuance, destitute of all decency, and wielding a vocabulary of seventy-seven words that is better called Jerkish than English'.
MoMA takes a stand
The Museum of Modern Art in New York has responded impressively to Trump's obnoxious executive order banning travel to the United States for citizens of seven Muslim nations. MoMA promptly removed some of the jewels in its crown (including Picasso's Card player) to make way for contemporary art from Iran, Iraq, and Sudan. Each work is accompanied by a statement: 'This is one of several such artworks ... installed ... to affirm the ideas of welcome and freedom as vital to this Museum, as they are to the United States.' Jason Farago in the New York Times writes: 'This welcome new voice ... is not how MoMA has spoken in the past – but, then again, this is not how presidents have spoken in the past, either.'
It will be interesting to see if any Australian galleries follow MoMA's example and send a similarly ringing message to our super-ally.
Story time!
Since it began in 2010, the ABR Elizabeth Jolley Short Story Prize has attracted thousands of new entries and grown in stature both here and overseas. Now international, the Jolley Prize is worth a total of $12,500 (thanks to the remarkable generosity of Ian Dickson, our Acmeist Patron). Earlier this year, The Writers' Academy from Penguin Random House in the United Kingdom listed it as one of the world's 'Best Writing Competitions'.
ABR's commitment to short fiction doesn't end with the Jolley Prize. We publish new short stories on our website as part of ABR Fiction, and we welcome submissions from new and established writers. Unlike Jolley Prize entries (2,000 to 5,000 words), the stories can be any length – though not Tolstoyan please. They must not have been previously published. We pay a minimum of $400 for stories published in ABR Fiction on our website. Please visit the 'Submissions' page there for more information.
Meanwhile, the 2017 Jolley Prize is open until April 10.
Kris Hemensley's entourage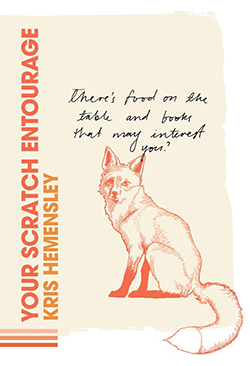 More Cordite Books have appeared, and one of them is especially welcome: Your Scratch Entourage, Kris Hemensley's first collection in many years. Hemensley, who turned seventy in 2016, published countless books in the 1960s, 1970s, and 1980s, but was then overtaken by – well, books. For many years he and Loretta Hemensley have run Collected Works, that gem of a bookshop in the smudgy old labyrinthine Nicholas Building on Swanston Street opposite St Paul's Cathedral. Hemensley has done more for the circulation and appreciation of poetry in Melbourne – this country – than most. Collected Works is the first place to go to for poetry in Melbourne. How needed it is too, given the dearth of poetry sections in most general bookshops (Kahlil Gibran and Elizabeth Barrett Browning and Rod McKuen do not, alone, constitute a decent poetry library). Sydneysiders will be familiar with Kinokuniya's fantastic poetry section. But is there anything this vast bookshop doesn't stock. (Kinokuniya is situated in The Galeries at 500 George Street.)
So it is good to have this new collection from Kris Hemensley. The poet himself, who introduces it in a witty Preface, recalls 'a year-long conversation with prospective publisher K MacCarter about singularity, locality, expatriation, eased by occasional tots of the Japanese good stuff during which I sometimes recast him as a Jonathan Williams, dual squire of Dentdale, Cumbria, and Scaly Mountain, North Carolina, notwithstanding the Minnesota Lutheran he owned up to be'.
Poetry galore
Yet more poetry. After all, it is our annual poetry issue. Despite jeremiads of yore, Advances can't remember a time when so much new poetry was published in Australia. UWA Publishing has weighed in with six more titles in its UWAP Poetry Series. They are Rallying (Quinn Eades), Flute of Milk (Susan Fealy), A Personal History of Vision (Luke Fischer), Charlie Twirl (Alan Gould), Dark Convicts (Judy Johnson), and Snake Like Charms (Amanda Joy). The latter includes 'Tailings', which won the 2016 Peter Porter Poetry Prize. Published in February, these paperback collections cost $22.95 each.
Dorothy Hewett Award
The winner of this year's Dorothy Hewett Award is Melbourne-based writer Odette Kelada for Drawing Sybylla, a short novel 'depicting Australian women writers'. The judges, Lucy Dougan, James Ley, and Terri-ann White, described it as 'an intense reading experience'. In addition to a publishing contract with UWA Publishing, Odette Kelada receives $10,000 from Copyright Agency Limited Cultural Fund.
Two shortlisted writers, Carolyn Abbs (WA) and Ann-Marie Priest (QLD), were both highly commended and each receive a publishing contract and cash prize.
Monash Undergraduate Prize for Creative Writing
Entries are now open for the Monash Undergraduate Prize for Creative Writing (presented by Monash University in partnership with the Emerging Writers' Festival). The prize, now in its sixth year, is open to students from Australia and New Zealand who are enrolled in an undergraduate or honours degree. The judges are Julie Koh, Khalid Warsame,and Rebecca Do Rozario. Entries are open until midnight on April 12 and the winner receives $4,000.
R&R in Brisbane
In the wake of Bob Dylan's Nobel Prize for Literature, and Bruce Springsteen's 'thoughtful' and 'absorbing' autobiography Born to Run (reviewed by Varun Ghosh in this issue), we can assume that the boundaries between music and writing have well and truly dissolved. The Rock & Roll Writers' Festival in Brisbane this year (1–2 April) will explore this fusion in a series of talks. Speakers include Tim Rogers, Brentley Frazer, Kirsty Eagar, and Peggy Frew.
In true rock and roll fashion, the festival will hit the road 'for one show only' in Melbourne on 9 April. Visit their website for more details.