Biography
The Unknown Judith Wright
by Georgina Arnott
Literary biographers and their intended subjects at times agree and at times disagree about the stories they think should be told. J.D. Salinger and Vladimir Nabokov – the one, fastidious about his privacy, the other, insistent on his version of history – famously took their biographers to court and emerged victorious. Such tussles are settled at times more quietly, through compromise, withholding of copyright, or spoiling tactics of some other kind. Doris Lessing, on learning that no fewer than five different writers were preparing to tell the story of her life, sat down to write a two-volume auto- biography which would serve, so she thought, as a gazumping record of a life about which she knew she knew more than any of her would-be chroniclers. But once she got going she found that her views and opinions had changed disconcertingly over the years, the perspectives of youth giving way to those of old age. Biography, she reflected, was an unstable art, subject always to flux, contingency, and the restless, revisionist movement of time. Her biographers might tell one kind of story about her – or five different kinds – but she too had multiple tales to tell.
Judith Wright, like Lessing, thought deeply about the conflicting pressures of public and private life, about the shifting angles of vision that time allowed, and the various possible moments for personal disclosure. Conscious of the distress that her long and widely known relationship with philosopher Jack McKinney had given to his family, Wright took pains to keep secret her later partnership after McKinney's death with the even more publicly visible figure of H.C. Coombs. At one stage she burned two decades' worth of letters she had received from Coombs, then soon regretted the loss. She resolved to keep later letters from him, and agreed with Coombs to their ultimate deposit in the National Library, along with her letters to him, with embargoed access for three years after their deaths. She showed similar vigilance and similar hesitation over Half a Lifetime, the much revised, long withheld, still unfinished manuscript published with her permission in 1999, a year before her death. 'Autobiography is not what I want to write', the book begins, as if through gritted teeth, offering to the public a portion of her life but (as the title suggests) not the whole.
So what of the other half? Tantalised by gaps in the biographical record, Georgina Arnott has set out to discover the 'unknown' Judith Wright: those parts of her own and her family's history that the poet herself had either forgotten – she often complained of bad memory – or had knowingly decided not to reveal. Arnott focuses on the first twenty-one years of Wright's life, a period for which no diaries, letters, poems, or papers relating to her time as a student are to be found in the NLA's otherwise extensive Judith Wright archives. Those who have written about these early years, Arnott suggests, have been largely content to repeat the events that Wright herself saw fit to describe. Veronica Brady's South of My Days, for example, published in 1998, presents a version of Wright's family history suspiciously close, Arnott thinks, to that given in the then still-unpublished manuscript of Half a Lifetime, to which Wright had granted Brady early access, and in Wright's two published accounts of the lives of her pioneering great-great-grandparents in the New England district, George and Margaret Wyndham: The Generations of Men (1959) and The Cry for the Dead (1981).
In the twenty-two years separating those two titles, Wright had learned more about the wider effects on local Aboriginal communities of the pastoral invasion of New England, and The Cry for the Dead offers a markedly different perspective from that given in The Generations of Men. But either out of respect for her family or lack of full historical knowledge, Wright does not speak in either book about the Wyndhams's possible role in the forcible clearance of Aboriginal people in the region, and 'never surrendered her respect' for these early members of her family. Violent clashes were still occurring between pastoralists and surviving members of the Wonnarua people in this region until about 1830, as Arnott's researches show. 'SHOOT THEM DEAD, if you can', advised George Wyndham's friend, the Singleton magistrate, Robert Scott. George Wyndham himself, Arnott suggests, may have shared Scott's views, and possibly used those very tactics. (Cut off their big toes, said George of these troublesome natives, then they won't waste time climbing trees and chasing possums when they should be busily working for you.)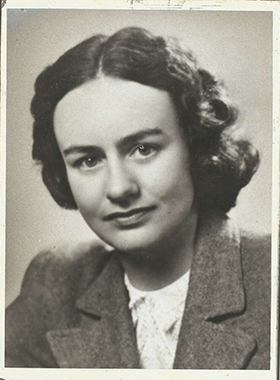 Judith Wright (Australian News and Information Bureau/National Library of Australia)Arnott documents other hitherto neglected corners of the early biographical record. She sketches the life of Wright's independent, strong-minded grandmother, May, who managed huge holdings in Queensland and New England after her husband's death. She assesses the influence of Judith's conservative father, Phillip, and of her sickly mother, Ethel, a model of all Judith wished not to be. She describes Judith's not always happy schooldays in New England and the excitements she encountered on her move, as a young woman, from the country to the city. She describes in a little detail the influential figures she encountered at Sydney University, including Camilla Wedgwood, independent-minded anthropologist and Principal of Women's College, and A.P. Elkin and W.E.H. Stanner, early movers in the field of Aboriginal studies; along with other university luminaries of whom Wright had a somewhat more mixed opinion, including the philosopher John Anderson, whose greatest influence on Wright, Arnott believes, 'was to heighten her suspicion of communism'; publisher and editor Clem Christesen, about whom she harboured similar doubts; Challis Professor of History Stephen Roberts, to whose work Wright was (perhaps surprisingly) not yet attracted.
Arnott looks also at the influence on Wright of her mentors in the Sydney Department of English, which at that time offered no courses on contemporary authors and (in Wright's later recollection) 'had no truck with Australian writing' – though University librarian H.M. Green was independently offering some lectures on Australian literature. There were teachers whom Wright admired, such as Arthur Waldock, who 'looked like Hamlet' and lectured somewhat histrionically on Shakespeare. But to qualify for honours Wright was obliged to take a course on English 'before Shakespeare' which consisted solely of sixty lectures on Beowulf, with sixty more lectures on the same text promised to intending honours students in the second year – an offer that Wright, fatigued by the hero's adventures by the end of her first year, was ready to let slip.
The Unknown Judith Wright, described by its author as a 'category-defying' book, works best as a study in social history: in tracing the pastoral settlement in New England, the growth of 'agrarian politics' in the region, the attractions of 'modern' life in pre-war Sydney, and the general fervour of 1930s Australian academic life. In its final chapters, the book moves on to more sensitive ground, as – in the classic death-struggle that life writing offers – the biographer seeks to reveal what her subject had sought in her lifetime to conceal.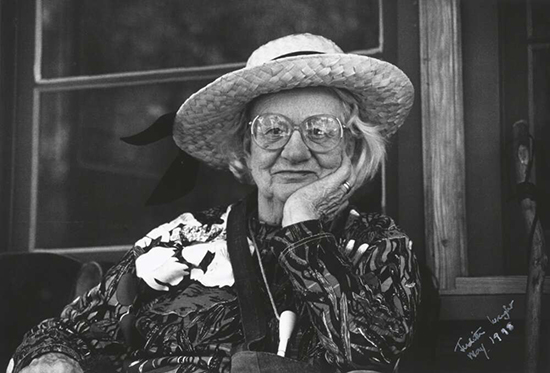 Judith Wright (photograph by Terry Milligan/National Library of Australia)
Arnott looks at eleven poems published at Sydney University under pseudonyms between 1934 and 1936: material which, she believes, 'allows us to hear, directly, thrillingly, the feisty voice of a young Judith Wright and forces us to reconsider the woman we thought we knew'. If these poems are indeed by Judith Wright – and a plausible case for her authorship of many is advanced – then the voice (it needs also to be said) is not always feisty, and is one that Wright herself – while confessing in general terms to have written 'schoolgirl' verses in her early years and verses of which she was 'now very ashamed' while at university – wished never to identify as her own, either at the time or in later life. One particular signature she would not reveal, she declared, even if 'wild horses are harnessed to me'. Readers of Arnott's book may at times feel similarly torn, between admiration for the author's diligence and sympathy for the shrewdly self-shielding poet.