Commentary
'Bobbin Up by Dorothy Hewett' by Nicholas Jose
'Bobbin Up was written in 1958 during eight weeks of the coldest Sydney winter on record', recalled Dorothy Hewett in her introduction to the Virago Modern Classics reprint of her first novel in 1985. Encouraged by Frank Hardy, Hewett wrote it for the Mary Gilmore Award for fiction, to a tight deadline. After being rescued from a cupboard by one of the judges, it won second prize. Published by the leftist Australasian Book Society in 1959, the first edition was a success and the 3,000 copies sold out quickly. But it was not available again until Seven Seas in East Berlin published an English export edition along with its German translation, Die Mädchen von Sydney, in 1965, with a print run of 10,000 copies, from which other Eastern bloc translations followed.
This fascinating information comes from Australian Literature in the German Democratic Republic: Reading through the Iron Curtain, edited by Nicole Moore and Christina Spittel and just published (Anthem Press, 2016). The inclusion of Bobbin Up in Virago's influential list in 1985 then introduced the book to new audiences in a context of rediscovered international Anglophone women's writing. In 1999, a fortieth-anniversary edition appeared, edited by Ian Syson and published by the Vulgar Press in Melbourne. I reviewed Bobbin Up for The Age Monthly Review when the Virago edition came out, concluding enthusiastically: 'May it never again go out print!' Alas, in vain. It's hard to find now, even second-hand. 'And yet ... and yet ...', so the author mulls over her early work.
I wrote it on the end of the laminex kitchen table, working into the early hours of the morning after the children were in bed, warming my hands over the electric stove, because we had run out of money and coal ... I found myself for the first time for years facing a typewriter with time to spare in between putting a catalogue to bed ... I started writing again.
Nine years earlier, Dorothy Hewett had arrived in Sydney from Western Australia and found work at the Alexandria Spinning Mills, experience she turns to. Like her, Beth in chapters two and three has come from Perth with her lover. Like her, Nell in chapters eleven and twelve, given the fullest portrait in a vividly individuated cast, is an author – of another 'Bobbin Up', this one the roneo'ed 'Communist Party leaflet, written for and about the Jumbuck Mills for the Jumbuck workers', which brings the women out on strike. With its punchy opening, 'There's a name for a man who lives off women', that 'Bobbin Up' was 'definitely a best seller, outselling even True Romance'.
Bobbin Up can be read as a social realist or naturalist novel, as Stephen Knight shows in a fine essay called 'Bobbin Up and the Working-class Novel'. But it's other things too, and never simply any one of them: autobiographical, feminist, modernist, experimental; steeped in popular culture and a sense of the city; lyrical and dramatic. Nick Enright made a musical of it for NIDA students in 1993. Knight recognises the work's formal innovation: 'the characters coexist, like threads of a larger pattern, not being organised in tiers of importance as is usual in the novel'. Susan Sheridan notices how Hewett describes 'proletarian life with a verve and sensuality far removed from the sober worker heroism that was the preferred mode of socialist realism ... the prose has the rhythmic and imagistic power of poetry'. Moving freely across genres, borrowing, reinventing, Hewett's radical artistry splices shifting tones and textures together. The author was apologetic in 1985: 'Sometimes sentimental, sometimes didactic, sometimes clumsy and overwritten Bobbin Up was the work of a still young writer struggling to find her own style and voice.' Here I prefer to trust the tale rather than the teller. At thirty-six, Hewett knows what she is doing as a writer, and this mix is her discovery. 'Clumsy and overwritten'? No, the style is responsive to a new, emerging vision.
Sheridan quotes Hewett's letter to Meanjin editor Clem Christesen in May 1958: 'Last year I started seriously writing again ... So now I am making my second run ...' That was Bobbin Up, and a run that would carry her through successive new starts in plays, poems, memoirs, and more fiction in a career without parallel in Australian literature. Her kaleidoscopic autobiography Wild Card (1990) charts a trajectory from 1923 to 1958 that ends with Bobbin Up, where the two works converge at an angle. Hewett associates the commission to write Wild Card with meeting Carmen Callil in London when Virago was reprinting Bobbin Up. 'Tell us about yourself,' urged Callil, the expatriate Australian publisher. With its antipodean input, Virago Modern Classics reprinted many key Australian and New Zealand works, including Miles Franklin, Henry Handel Richardson, Christina Stead, and Sylvia Ashton-Warner in the first fifty titles. The cover of Virago's Bobbin Up shows a beautiful watercolour by the New Zealand artist Rita Angus of her sister-in-law Timmy, painted in 1952. The book was in good company.
Hewett apparently told her daughter Kate Lilley not to read Bobbin Up because it was 'no good'. But Kate enjoyed it, in the Virago edition, and in time the author herself became less critical. Hewett's relationship with her own novel is inseparable from its politics, which, in Nell, the closest to an authorial stand-in, can look naïve. There is an interesting authorial distance that relates to Hewett's own changing relationship with radical and working-class politics. 'I lived and worked and gave birth and wrote amongst them [the people of South Sydney]', Hewett explained in 1999: 'Bobbin Up is the lasting memorial of that encounter.'
She sounds elegiac, but there is more to Hewett's language when she contemplates her creation: 'I find it returning like a doppelganger ... does it still tap some nerve of recognition ... have they risen up with some odd, compulsive life of their own, that silent majority I worked beside thirty-five years ago?' Her language responds to the irrepressible vitality that a reader feels on every page. The women stick their bobbins up the ruthless male bosses, and Bobbin Up just keeps bobbing up. 'That sense of surfacing, of emergence, a marginal positive [where women have the numbers],' Knight calls it, 'wrily suggested in the title itself.' Or, in Hewett's words, 'I ... gave birth and wrote', and what she gave birth to with this enduring book includes herself as a writer.
'Shirl was nineteen years old, four months gone and just starting to show, bumping through Newtown on the back of a second-hand Norton.'  The theme of emergence is there from the opening sentence. A sequence of loosely linked chapters takes us into the lives of the women from Jumbuck Mills as they move between home and work, the family, the past, the pressing present, and a future of dream or despair. They are seen coupled – with a man, a mother, a child, a sister – and standing alone. Shirl's emergence, her bump, is also an emergency. She needs to get Jack to the registry office, concealing an earlier relationship with another man who was smashed up on his bike and left her pregnant, with a baby born terminally deformed. Shirl's mother sees the scheming in her daughter's seeming spontaneity: 'You're hard ... Hard as nails.' The clock is ticking. For Shirl, whom 'no one had ever wanted to protect before', as she feels Jack might, the only option is to press forward. 'Don't ever look back. If you look back you might turn into a pillar of salt.'
Feelings of nurture conflict with other exigencies throughout the book, from the beach, where conception takes place, to the women's hospital. Beth is rapturously pregnant, showering with her man in 'rainbowing' spray and 'the great white globe of her belly'. She has a 'blue crepe-de-chine maternity frock'. But pregnancy is what Dawnie fears and Gwennie curses. The sexuality of Hewett's characters – their physicality, desire, and self-image – is a shaping force.
In a powerful pair of contrasting chapter-portraits at the heart of the book, sixteen-year-old Patty dreams excitedly of being a singer while twenty-eight-year-old Maisie is near-destroyed by a dream of social betterment. After singing in a local club, Patty resists the temptation to ride home with a passing 'bodgie' and goes home to sleep 'as lonesome as the white, scarred face of the moon', her isolation part of the cost of what she longs for. Her older sister Jeanie, protective of Patty, remembers the deprivation and humiliation of their childhood as 'Commo kids'. Her husband Alec works overtime and they're saving hard for a new house. But Jeanie still has to rely on her mother Peggy to mind the kids, and Peggy, for all her loyalty to her activist past, hopes that her daughter will achieve her bourgeois dream, as maternal feelings well up with the tears from the onions she is slicing.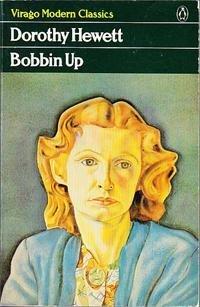 Bobbin Up (Virago Modern Classics)The action of Bobbin Up takes place as the Soviet satellite Sputnik passes over Sydney in the small hours of the morning in October 1957, a 'man-made star, a pathfinder', watched with wonder by all the world, at once cheesy and memorable as a time marker. As Tom and Peggy McGuire watch from their backyard by the railway line, Peggy reveals that she is pregnant again, with 'a change of life baby', sixteen years after she had Patty. 'Can't keep a good militant down,' jokes Tom, 'We'll call him Sputnik.' A new world of technological advancement, mass communications, Cold War, and consumerism – a continuing emergency – is at hand. This prompts reflection from Tom as he drifts off to sleep beside his wife. In fact he never joined the Party, though he and others had 'seen the need to change the world, and, in doing so, had begun the long, painful, bitter process of changing themselves'. The success of Sputnik, in which Tom feels a part, shows him that 'all men only existed in relationship to other men'. And all women in relationship to other women, we might want to add.
The buoyancy of this chapter is remarkable, not least because of its insistence on time's passage, across the night, from youth to age, from expectation to loss, as Hewett's camera pans. That opening sentence recurs, like a knell. 'Four months gone and just starting to show, Shirl roared up King Street on the back of a second-hand Norton.' The recursion tips the weight onto time that is now a pressure as much as a space of becoming: 'four months gone'. Hewett is never better than in her kinaesthetic evocation of mutability, an eternal double of celebration and lament. She cannot write illumination without its shadow, joy without sorrow, nor disappointment without a glimpse of renewal:
Generations merged into each other and time lost its meaning. The struggle to live out your days blurred your dreams. Powerless, you watched them sliding away like the sunlight on the roofs of trains, never to come back again, lost forever ... lost ... lost ... only to be born again in the hearts of the little girls leaning over the railway fence chucking orange peel onto the rails.
This concertina of time, from the moment of writing back to the days in the mills nearly a decade earlier, spirals further back into Australia's violent past, as people's stories rise up like ghosts. ''E's still got the marks of the "cat" on 'is back' is said of one Woollahra old-timer, in a reminder that convict floggings continued in Australia well into the twentieth century.
Patty's hope is balanced by Maisie's despair, beaten by her husband, rejecting of her children. Maisie's mother sees her grown daughter as 'the Frankenstein she'd created, this monster that strode the earth like dung, staring at her out of the vicious wreckage of her own life'. The spectre is evoked with 'terrible compassion' and understood as the fatal expression of a brutalising, exploitative social system. Yet there is hope. Maisie's children are 'beautiful', 'healthy', 'guileless as angels'.
The focus on Nell and her husband Stan offers the most sustained analysis of the struggle to reconcile individualism, commitment, and collective action. Even as Nell succeeds in getting 'Bobbin Up' through the branch, Stan is heroic in not wanting to damage the union on account of a personal defeat. The sequence ends with a collage of Stan's life as he sings his pain with Whitmanesque grandeur for all of them, alone on the back step with his ukulele as Sputnik sails on.
Nicole Moore illuminates Hewett's work with a quotation from Julia Kristeva on the relationship between desire and meaning, where body and word join to assure a kind of life 'which is only because it imagines'. Through language a transforming fantasy remakes the individual body, connecting it to the world's flesh. In Bobbin Up, what Moore calls 'a collective, yet corporeal, affect ... a particularly gendered, feminine model' makes a strong debut, showing the generative body in a world where it is connected vitally to, immersed in, the collective.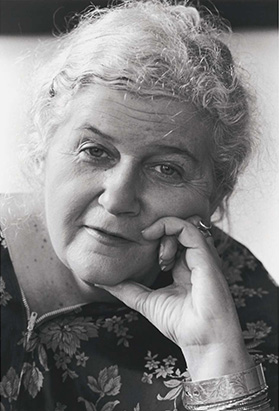 Dorothy Hewett (photograph by Robert McFarlane, National Library of Australia)For Australian literature, Dorothy Hewett's work is generative and liberating, like the magically renewing pudding that Nell introduces to her children at bedtime. If the job for life that workers want is also a sentence, 'for the term of your natural life' as Dawnie's boyfriend thinks, Dawnie herself, with 'the pale, wispy Australian sky fragile as hope above her head' (my italics) suggests something different – bigger-hearted, freer, more open, better. That is the possibility that Hewett's art yearns after and embodies. It is exciting to experience an author discovering herself. I'm reminded of the exhilaration George Herbert expresses in his poem 'The Flower' (published in 1633), when he feels himself writing again: 'I live and write; / I once more smell the dew and rain, / And relish versing ... '  It is exciting to see the novel reinvent itself too, as it always must, always new, always novel, especially in an Australian context, where coming into being, experimentally, is a continuous necessity. In that respect, Bobbin Up sits with Christina Stead's Seven Poor Men of Sydney (1934) and Helen Garner's Monkey Grip (1977).
Hewett's first play, This Old Man Comes Rolling Home (eventually performed in Sydney in 1968), emerges from the same milieu and period as Bobbin Up. In a production I saw in Adelaide at the Bakehouse Theatre in 2013, the tension between live progressive politics and a fondly recreated lost world made for an intriguing theatrical experience. Bobbin Up, with its chorus of rich vernacular voices, its songs and dances, its interior monologues, rhetorical apostrophes, and staged confrontations, is a rehearsal for the dramatic potential that would burst forth in Hewett's later theatrical triumphs, in The Chapel Perilous (1972), for example, or The Man from Mukinupin (1979). I remember the Sydney Theatre Company's production of The Man from Mukinupin in 1981, directed by Rodney Fisher, with Noni Hazlehurst, Colin Friels, John Gaden, and Ruth Cracknell in the cast, and in 1983 Fields of Heaven, on which Hewett again worked with Fisher, starring Heather Mitchell.
I met Dorothy and Merv Lilley around that time and we had some great talks. That was one reason I was happy to discover Bobbin Up when Virago reprinted it and I was asked to review it. I was in China at the time, and that is part of the context. The mid-1980s was a time when Chinese writers were at last able to move away from writing about factory workers and when Shen Rong's best-selling novel At Middle Age (1980) was praised for its frankness about the multiple burdens women were asked to bear in keeping up their half of the sky. I wrote that Bobbin Up allows us 'to conceive what it might have been like to believe in' a communist revolution. No doubt I was thinking of Chinese friends and colleagues who were reviewing their own ideological positions in the aftermath of Mao. I knew that Dorothy had been to China from the Soviet Union, clandestinely, in 1952, as she would later record in Wild Card. She stayed at the Peking Hotel. 'China is good for us,' she writes, meaning personally. 'Hope revives.' Again, the sense of emergence catches her imagination, of possibility, revolutionary or otherwise, 'where the ancient and the new converge for one extraordinary moment in human history'.
I reviewed Bobbin Up alongside collections of stories by John Morrison and Helen Garner, This Freedom and Postcards from Surfers (both 1985). Not a bad line-up: there are connections between all three writers. Yet the perfect spareness of Garner's great story 'The Life of Art', which appears in Postcards, could not be more of a contrast with the rich, raw amplitude of Hewett's 'art of life' in Bobbin Up. To adapt the words of the song that runs as a refrain through the novel and that was a hit at the time of writing, whether sung by thirteen-year-old Laurie London at Abbey Road or Nina Simone in Atlantic City, or Dorothy Hewett in her kitchen in Sydney, 'She's got the whole world in her hands.'