Advances
News from the Editor's Desk - September 2016
Jolley Prize
ABR's 2016 Elizabeth Jolley Short Story Prize ceremony was held at the Melbourne Writers Festival on 27 August. The event was compèred by ABR Deputy Editor, Amy Baillieu, with opening remarks from poet and author Maxine Beneba Clarke, who delivered a stirring keynote speech at the festival's opening night.
We are delighted to announce that Josephine Rowe won this year's Jolley Prize for her story 'Glisk'. Ian Dickson announced Josephine as the overall winner. Anthony Lawrence placed second for his story 'Ash' and Jonathan Tel came third for his story 'The Water Calligrapher's Women'. Subscribers can read all three shortlisted stories in the August 2016 Fiction issue. We would like to congratulate all three shortlisted entrants and thank all those who entered their stories.
We look forward to interviewing this year's Jolley Prize winner on our podcast. Meanwhile, Cate Kennedy's story 'Window' – one of three commended by the judges – will appear in our October issue.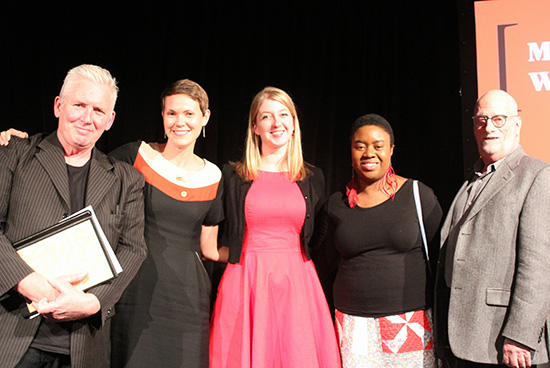 (Left to right) Anthony Lawrence, Josephine Rowe, Amy Baillieu, Maxine Beneba Clarke, and Ian Dickson
ABR in the USA
Our first cultural tour of the United States begins on 15 September, led by Peter Rose and Christopher Menz. One highlight is the opening-night celebration of Australian literature at the Australian Embassy in Washington, DC, where Peter Rose will be joined by Geraldine Brooks and Anna Funder. Over the course of sixteen days the party will then visit Boston, New Haven, and New York, taking in writers' homes, libraries, museums, and live performances. Everyone is looking forward to attending a separate event at the McNally Jackson bookshop in Manhattan, when Helen Garner – fresh from receiving her Windham-Campbell Prize for non-fiction in New Haven – will be in conversation with Ben Lerner (Tuesday, 27 September). Garner's biographer, Bernadette Brennan, a tour guest, will be in the audience. She has just completed the critical biography, which Text will publish in 2017.
This is a turning point for the magazine – the first time ABR has gone on the road – and there will be much to report in our pages and in Arts Update on our return.
Westerly eastward
In late July our colleague Catherine Noske, Editor of Westerly, spent a week with ABR as part of her Professional Development grant from the Australia Council. Catherine, who became Editor of the biannual journal in early 2015, was keen to observe the completion, and subsequent digitisation, of our magazine (both of which occur in-house). She attended staff meetings and had separate conversations about all aspects of the business, including publishing, production, marketing, podcasting, and cultural philanthropy. It was great to have Catherine with us, and we enjoyed hearing about her plans for Westerly, one of Australia's oldest literary journals.
Westerly 61.1 is now available. At almost 300 pages, it is one of the longest issues ever published. This one is devoted to indigenous themes and writing. Stephen Kinnane, the guest editor, has commissioned work from writers such as Kevin Brophy, Alison Whittaker, Kim Scott, and Graham Akhurst. Beautifully illustrated, this is a rich and engaging issue. To subscribe or purchase a copy go to Westerly's website: https://westerlymag.com.au/
Opening for a volunteer
ABR is seeking a volunteer to assist with administration and accounting for approximately one day a week. Training and supervision will be provided. Tasks include: data entry and database management, subscriptions and magazine sales processing, customer support and other office administration duties. Ours is a small, busy, congenial office. We are looking for someone with great communication skills, sound accounting experience, and high attention to detail. Please contact Business Manager, Grace Chang on This email address is being protected from spambots. You need JavaScript enabled to view it. to register your interest.