Fiction
Shylock Is My Name
by by Howard Jacobson
Shylock Is My Name is the second novel to appear in Hogarth Press's Shakespeare Project. In this series, eight well-known novelists have each been commissioned to retell one of Shakespeare's plays for a modern audience. Jeanette Winterson launched the project with The Gap of  Time, her take on The Winter's Tale; the third in the series, the thoroughly enjoyable Vinegar Girl, a reworking of The Taming of the Shrew by Anne Tyler, was published in July. The brief for the project specifies a modern rendering of the plays, in much the same way that Shakespeare borrowed from Plutarch. This is in contrast with drawing on the plays as inspiration, in the manner, for example, of West Side Story.
Shakespeare's plays abound in incredible narrative twists and coincidences, with an abundance of female-to-male cross-dressings (so much more interesting in Shakespeare's time, when the girls were played by boys dressed up as girls who then dressed up as boys). The Merchant of Venice, the play on which Jacobson's novel rests, is no exception. The absurdities of the original play demand a deft imagination and a raft of novel-writing skills for a satisfying retelling. Jacobson's offering succeeds only partially.
It is often forgotten that The Merchant of Venice is considered a comedy (although not by this reviewer). The cultural capital that has adhered to Shylock, together with the play's themes of revenge (exacting 'the pound of flesh') and mercilessness ('The character of mercy is not strained'), nudge it in popular thought towards tragedy. Jacobson remains true to the comedic under-pinnings, with several laugh-aloud moments in his novel.
The Merchant of Venice is a play that polarises opinion. Is it anti-Semitic? Is it Portia's play or Shylock's? The devoted Shakespearean Harold Bloom regards the play as deeply anti-Semitic and Portia as the central character. Jacobson takes the opposing view on both accounts. Shylock and his contemporary incarnation, the wealthy British Jew and art collector Simon Strulovsky, dominate Jacobson's tale, while his Portia/Plurabelle is confined to a cardboard cut-out, minor role.
In Jacobson's retelling, Strulovsky meets Shylock in a Manchester graveyard. (This is akin to a connection with a deeper self occurring outside the therapy room.) Both men have troublesome, ungrateful daughters, and Jacobson has given them beloved wives: Shylock's Leah, who predeceases him and with whom he talks constantly; and Strulovsky's Kay, felled by a major stroke two years earlier and now requiring round-the-clock care. Strulovsky invites Shylock to his home, and there Shylock remains for the duration of the novel, engaging Strulovsky in many rather static, talking-head discussions that shed light on the original play but create longueurs in the novel.
The primary difference between the two men is that Shylock has gained in wisdom in four hundred years, patience too. He presents much more sympathetically than Shakespeare's Shylock, but then there's nothing like a dose of self-knowledge coupled with love and yearning for a dead spouse to make a character more attractive. Shylock's asides to his absent wife, his incorporating her into his daily life, are affecting and deeply humanising. The hard-hearted, uncompromising, unchristian Jew of Shakespeare's play has been banished from Jacobson's Shylock – to the extent that even Plurabelle is won over by him in a way her progenitor, Portia, never could be.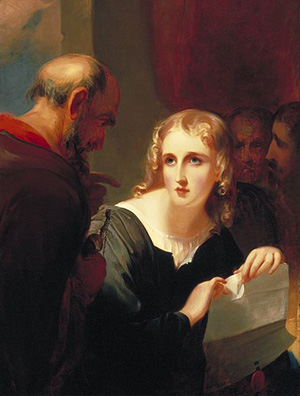 Portia and Shylock (1835), Thomas Sully (1783–1872), oil on canvas (Folger Shakespeare Library, Wikimedia Commons)Shakespeare's Shylock is as much undone by his daughter, Jessica, as he is by the Venetian Christians. Indeed, for me, Jessica has always been the main villain in the play. In one of the more compelling narrative threads of Jacobson's novel, the complex relationship between Strulovsky and his daughter, Beatrice, is explored. (Beatrice? This daughter who ostensibly brings so little joy: clearly a not-insignificant choice of name.) Strulovsky is revealed as a father who loves and protects his daughter a little too much. And so, perhaps, for Shylock and Jessica.
It is Jacobson's interrogation of the perplexities in Shakespeare's play wherein the interest of this book lies. For those who have wondered why Shylock does not relent, why he does not find in himself that quality of mercy required to dismiss Antonio's bond, and why such a toxic relationship has developed between him and his daughter Jessica, Jacobson supplies some possible answers through the Shylock/Strulovsky dialogues. And those shocking words of Shylock, almost the last he utters in the play: 'I am content,' he says. But how can he be? Everything has been taken from him. Jacobson's novel addresses this conundrum cleverly – not through narrative, but again through one of the Shylock–Strulovsky dialogues.
These long discussions between Shylock and Strulovsky, while they illuminate the difficulties of the play and will be of interest to Shakespeare's fans, do not satisfy novelistically. I cannot imagine why readers unfamiliar with the play would bother. Then there are issues of plot and characterisation. Rather than the pound of flesh of the Shylock–Antonio bond, Jacobson's version settles for a foreskin, for circumcision. Within the comic aspects of Jacobson's novel there is a sharp irony here with a satisfying twist at the end, but for those who do not know the play, plot devices such as this simply tip into absurdity. And with the exception of Shylock/Strulovsky, none of the characters are well fleshed out, some like Beatrice's lover, are nothing more than stereotypes. (The Bard can get away with stereotypes and archetypes and convoluted and absurd plots, but a modern can not.)
The strength of Jacobson's retelling of The Merchant of Venice is in its seeking to explain this problematic play, not in his having written a gripping novel.