Fiction
The Last Days of Ava Langdon
by Mark O'Flynn
Poet and novelist Mark O'Flynn lives in the same street in the Blue Mountains in which Eve Langley's derelict shack still stands. Perhaps her ghost drifts along the well-worn path from Leura to the Katoomba post office that she regularly traversed, in men's attire, pith helmet on head, machete in hand, to post off her latest manuscript to her bemused editor at Angus & Robertson, the poet Douglas Stewart.
O'Flynn tells us that he first became interested in Langley while researching her life for a play about an imagined meeting between her and her Blue Mountains contemporary, the novelist Eleanor Dark. Obviously, her shade must have continued to haunt him. More than a dozen years later, he brings us – suitably, considering Eve's own constant shape-shifting – a parallel personality called Ava Langdon.
Eve Langley was one of the most interesting, and probably the oddest, of Australian writers. She was born into poverty as Ethel Jane Langley in rural Forbes in 1904. In her mid-twenties, after pursuing several menial occupations, she and her younger sister Lillian May (known as June) dressed as boys – 'Steve' and 'Blue' – and travelled the Gippsland countryside as itinerant pea- and hop-pickers. By the early 1930s she and her family had left for New Zealand, where she began to publish poetry in small magazines. In 1937, at thirty-three, she married Hilary Clark, an art student a dozen years her junior, with whom she had a daughter and two sons. The relationship was fraught and antagonistic, her children were said to be neglected, and by 1942 Clark had felt the need to have her committed to an Auckland mental hospital. She was released seven years later, and the couple divorced in 1952.
Langley's celebrated semi-autobiographical novel, The Pea-Pickers (1942), had documented her wandering years and explored the nagging conflict she felt about the confinements of her female identity and her desire for sexual and artistic freedom. In 1954, the same year that she changed her name by deed poll to Oscar Wilde, whom she considered her alter ego, she published a further novel, White Topee, but further literary success eluded her. After another half dozen years spent erratically rambling the world, she finally settled near Katoomba where, with the financial help of Douglas Stewart (who occasionally also bailed her out of jail), she lived alone amid an assortment of cats and dolls, composing novels and painting, drinking sherry, and constructing 'strange wire parcels' as her mind increasingly unravelled.
By now her writing had become an obsessive tic, inscribed on hoarded brown paper and cereal packets, or typed, single-spaced and with an exhausted typewriter ribbon, on reams of pink paper. Langley sent ten 'books', each of 400 unpublishable pages, to Stewart at Angus & Robertson: these now languish in the Mitchell Library in Sydney. When Langley's body was discovered in her hut in early July 1974, Stewart's daughter Meg learned, she had been dead for more than a month, her face gnawed by rats.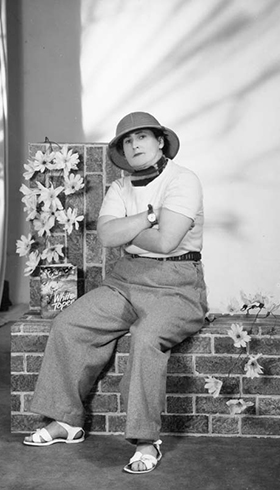 Eve Langley (Alexander Turnbull Library)O'Flynn lightly sketches in a back-story that parallels some of these events, but this is not a biographical novel. Previous authors Lucy Frost (Wilde Eve, 1999) and Joy L. Thwaite (The Importance of Being Eve Langley,1989) have tried to meet the challenge of editing her manuscripts and coming to terms with her life. But because little is known of her last years, O'Flynn has instead used his poetic skills fictionally to recreate a day and a night in June 1974, made especially vivid by a visit from Langley's long lost son (in real life christened Karl Marx; here called Vladimir Ilyich, or 'Itchy').
O'Flynn is good on the minutiae of a life reduced to its most elemental state: the surreptitious scavenging; the need to keep a fire alight in a cold mountain cabin; to negotiate a co-existence (for now) with the rats, to ration the last of the breakfast Weeties; to defrost a clean but frozen singlet from the outside clothesline to honour her epic advance on the post office, bearing in a calico bag her most important parcel. O'Flynn is sensitive to the close communion with nature and detail of those who travel only on foot, and who have plenty of time to travel. He delights in wordplay, and in the delicate negotiations needed to deal with the world of 'normal' people – the name-calling schoolboy, the distracted but not unkind young waitress in the local teashop, the righteous clergyman – and the effort needed to keep the recalcitrant threads of life in order. He gives the younger Steve – here called 'Dave' – a poet's voice:
Give me a glass of poison of the true vintage
Peppered with piss and aloe and tomato sauce,
I'll toss it down with a cyclopean grimace
And the lilies will sprout from my dainty corpse.
The pure, cool bloom of raw despair
Flies from me like an undisputed fact
And I am found. All hope is here
In the lancing of truth's blind cataract.
No one will ever unravel or even guess at the last thoughts of the real Eve Langley – the manuscripts in the State Library of New South Wales have defeated most researchers – but this sympathetic tribute provides some quiet pleasures.