Israel
Trouble in the Tribe: The American Jewish conflict over Israel
by Dov Waxman
Two Jews, three opinions. Jews nod their heads in agreement when they hear those words, just as they chuckle knowingly at the story of the two Jews stranded on a desert island who build three synagogues – one for each of them and one that neither would visit on principle.
Sometimes those differences of opinion can assume an unpleasant character. Since Trouble in the Tribe was published earlier this year, Dov Waxman, a professor of Political Science, International Affairs, and Israel Studies at Northeastern University and the co-director of its Middle East Center, has been the target of abusive attacks and scathing criticism from right-wing American Jews. Ironically, the hostile reactions to Waxman's book only serve to demonstrate the escalating polarisation over Israel within the American Jewish community that he describes. Waxman was shocked, however, at the Manichaean world view of his critics for whom any perspective or analysis that conflicts with their own is denigrated and dismissed out of hand. Some detractors even resorted to ad hominem attacks, accusing him of being a self-hating Jew, a traitor, or simply an idiot.
In Trouble in the Tribe, Waxman argues that an historic transformation is occurring in the American Jewish relationship with Israel: the age of unconditional support for Israel is over, the pro-Israel consensus that once united American Jews has eroded, and Israel has become a source of growing division and conflict. With these changes there has been a fundamental shift in American Jews' attitude toward Israel; increasing numbers are less willing to unquestioningly support Israel and more willing to publicly criticise its government. Some see this as a positive sign of a more confident community, but others as a negative phenomenon – that a divided community is bad for Israel.
Many American Jews are deeply worried about Israel's ability to remain a Jewish and democratic state if it continues to rule over Palestinians in the West Bank and East Jerusalem. They want Israel to stop its expansion of Jewish settlements and resume serious peace talks with the Palestinians aimed at achieving a two-state solution to the conflict, but with security for Israel guaranteed. The current Israeli government, the most right-wing in the country's history, is a cause of much consternation amongst expanding numbers of American Jews. Its policies have galvanised debate and ire at the frightening prospect of Israel becoming progressively more right-wing and isolated in the international community. These American Jews believe that dissent does not weaken Israel, and that discussing Israel's real challenges is the only way to resolve them.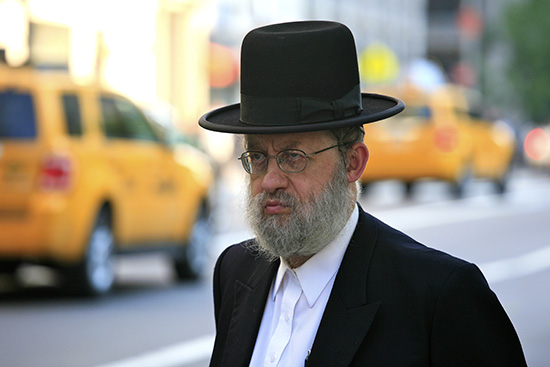 An Haredi Orthodox Jewish man in New York (photograph by Alex Proimos, Flickr)
However, Waxman maintains that American Jewish disagreement about Israel is not just a reaction to events in Israel and Palestine; it reflects broader shifts in the American Jewish community in demography and culture. Younger American Jews frequently come from intermarried families, a background that is less hospitable to the older generation's routine veneration for Israel. At university they learn to value diversity and, excluding the Orthodox, are more secular. And the more secular and cosmopolitan American Jews are, the less attached they are to Israel, more so as Israel becomes more religious and nationalistic.
Younger American Jews are also more critical of Israel because they know it better than their parents, who cling to the image of a heroic Israel which defeated the Arab states in a lightning victory in 1967. Since 1999, more than 500,000 have flown to Israel on Birthright trips paid for by wealthy American Jews and the Israeli government in the hope that American Jews would stay Jewish. But those trips have also inspired disillusionment: the young people encounter a complicated country with an occupation of Palestinian territories, periodic clashes with Gaza, and an extreme right-wing government. Paradoxically, the attempt to engage them has produced the base for left-wing groups such as J Street, Jewish Voice for Peace, and Open Hillel, which emphasise concerns about social justice, human rights, and the environment. Although more young American Jews are engaged with Israel, they are also increasingly critical of the direction the society is taking.
What then of the power of the legendary pro-Israel lobby in the United States? Waxman suggests that it is not the monolith it is often made out to be. It is divided between left-wing, right-wing, and more centrist groups, so much so that it might be more accurate to refer to three distinct Israel lobbies rather than just one. These divisions are not new; they have been fracturing for some time. The increasing divisions over the Israeli-Palestinian conflict, especially the Oslo peace process, have spilled into the pro-Israel lobby. Just as the wider American Jewish consensus over Israel has eroded, so has the unity of the lobby.
This means that no single group speaks on behalf of American Jews on the subject of Israel and the Israeli-Palestinian conflict, even though AIPAC (American Israel Public Affairs Committee) and the Conference of Presidents of Major Jewish American Organizations continue to assume this role. Waxman claims that a majority of American Jews would welcome a more activist and assertive US policy toward the conflict, one that might help to bring about peace. But with Jewish leaders and institutions less and less able to claim that they represent Jewish opinion on Israel, it is unlikely to eventuate.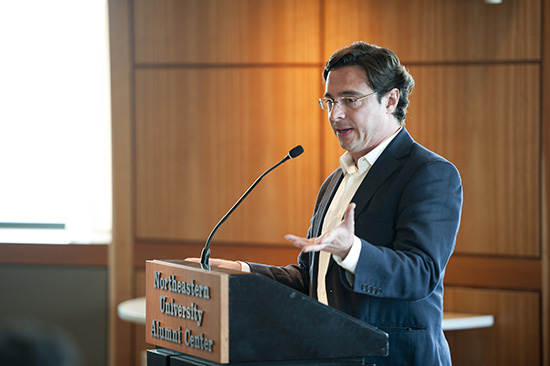 Dov Waxman (photograph by Northeastern Humanities Center, Flickr)
The ascendancy of Orthodox Jews is another aspect of the American Jewish community that Waxman explores. Orthodox and non-Orthodox Jews are increasingly divided by religion and politics. Given current social and demographic trends, this wide divide is expected to expand. The data show that, as a whole, American Jewry is simultaneously becoming more secular and more religious – in other words, a process of polarisation is taking place. One future scenario is that the Amer-ican Jewish community will slowly split into two. But, even more likely, writes Waxman, is that over time the community will just become more Orthodox and the reason is simple: Orthodox Jews have more children.
This potential demographic change could have major long-term political implications for American Jewry and for Israel. American Jewish politics would shift to the right as Orthodox Jews gradually come to outnumber non-Orthodox. The American Jewish community could be slowly transformed from 'a bastion of progressive social values and Jewish religious pluralism to a redoubt of ultra-Orthodoxy'. Demography isn't destiny, but it seems safe to say that the predominantly secular liberal American Jewish community of today is endangered.
In making his argument that Israel has become a divisive issue among American Jews, Waxman draws on an array of articles, books, PEW public opinion surveys of American Jews, and interviews with American Jewish leaders and activists. Some readers might not like Waxman's overuse of summaries as it makes for repetition. Some readers might think there is nothing particularly new in the book, since it relies heavily on secondary sources. However, I appreciated Waxman's scholarly exploration of two main themes: the impact of shifts in demography and culture on the American Jewish debate about Israel, and the impact of the conflict over Israel on Jewish communities, Jewish organisations, and the pro-Israel lobby.
It would be interesting to know if there is similar trouble in the tribe in Australia, but there is no comparable recent study of the Australian Jewish community. Some insights will become available when Professor Andrew Markus of Monash University's Australian Centre for Jewish Civilisation publishes the findings of his second Australian Jewish Population Study, Gen16, which is a follow-up to Gen08, published in 2008.
Without doubt, Trouble in the Tribe will continue to ignite heated conversations amongst Jews in the United States and beyond. It is to be hoped these conversations will be based on the complex reality of the American Jewish community rather than one-dimensional fantasies. Let us also hope they do not degenerate into accusation and acrimony.