Young Adult Fiction
Ruth Starke reviews four recent Young Adult novels
Summer Skin (Allen & Unwin, $19.99 pb, 347 pp, 978192526-6924) by Kirsty Eagar, a raunchy romance for older readers, is set in the halls of residence of a Queensland university during O-Week. Jess Gordon – nickname Flash – has devised a little game for the freshers, a payback for what her friend Farren endured the previous year when she was secretly filmed and Skyped having sex with a boy from Knights, an élitist all-male college.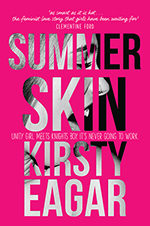 The game for the Unity girls is to lure a Knights boy back to their room, tie him up, and, after giving him a 'creative makeover', post the photographic evidence on Instagram, the winner to get a Knights jersey. It is the stealing of this jersey that occupies Jess for the opening chapters and puts her on a collision course with Mitch Crawford, the handsome and arrogant rugby champ who has his own reason for wanting that stolen jersey. A 'meet cute' then, followed by Jess and the freshers of Unity proving that they are just as adept as the boys at inflicting humiliation amplified by social media.

Subscribe to ABR
for as little as
$10 a month
to read the rest of this article.If you are already a subscriber, click 'Sign In' in the top left-hand corner of the screen. If you require assistance,
contact us
or consult the
Frequently Asked Questions
page.