Advances
News from the Editor's Desk - May 2016
ABR'S NEW PARTNERSHIP WITH MONASH UNIVERSITY
Australian Book Review is delighted to announce a major new partnership with Monash University.
This alliance between ABR and the internationally renowned Group of Eight university augurs well for students, scholars, writers, and readers. The magazine will be active on campus, leading workshops, commissioning new writers (academics and students), and presenting collaborative events.
Australian Book Review was founded in 1961, the year in which Monash University's began to accept students at its Clayton campus. This alliance complements ABR's close ties with the higher education sector.
Professor Rae Frances, Dean of Arts at Monash University, welcomed the new agreement: 'Monash University is very excited about our partnership with one of Australia's leading cultural magazines. We share ABR's commitment to excellence and originality and a belief in the critical importance of the Arts. Together we can provide wonderful opportunities for our staff and students and make a major contribution to the country's cultural life.'
Peter Rose, Editor of ABR, commented: 'This partnership with one of Australia's great universities is a terrific development for ABR. Although the magazine is rather smaller, to say the least, many of our goals and creative programs chime with those of the University – an international outlook, an enduring commitment to scholarship, and ideas aplenty. ABR looks forward to a massive injection of new talent and energy from our colleagues at Monash.'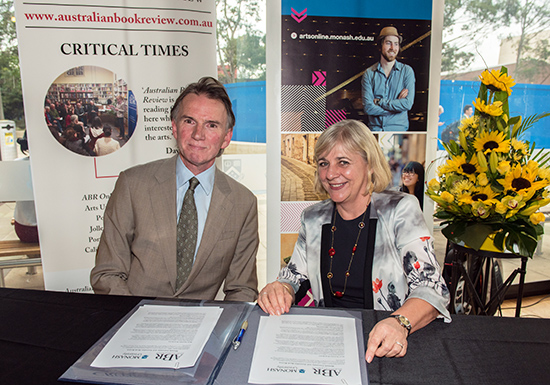 Peter Rose (ABR Editor) and Professor Rae Frances (Dean of Arts) at the signing of the agreement between Australian Book Review and Monash University, 27 April 2016 (photograph by David Sheehy)
GEORDIE WILLIAMSON TO PICADOR
ABR reader surveys (more of which anon) reveal that Geordie Williamson is one of our most popular and respected contributors. Geordie, who published his first review in ABR back in 2001, is a past winner of the Pascall Prize and the influential chief critic of The Australian. He also edited The Best Australian Essays 2015 (Black Inc.). He is the author of The Burning Library: Our Great Novelists Lost and Found (Text, 2011) and a forthcoming history of his Scottish family, Lairds of Rapa Nui
Geordie Williamson, in a real boost for Australian publishing, has been appointed publisher of Pan Macmillan's Picador imprint. He begins work this month. He told Advances: 'For me at least, the role of Picador publisher is something like being hired as chief taster at the chocolate factory. It has an illustrious history as an imprint both here and overseas, and hopefully - given the depth of talent coming through the ranks of contemporary writing in Australia - one with an illustrious future, too. I feel excited about the task ahead.'
JOLLEY HARVEST
When the ABR Elizabeth Jolley Short Story Prize closed in mid-April we had received about 1,350 entries, our biggest field to date – not surprising, given that total prize money has increased from $8,000 to $12,500, thanks to the generosity of ABR Patron Ian Dickson.
Pleasingly, thirty per cent of entries came from overseas: writers in a total of thirty-eight countries entered the Jolley.
Now our three judges – Amy Baillieu, Maxine Beneba Clarke, and David Whish-Wilson – will be kept busy reading all these stories and shortlisting three of them. The shortlist will appear in our August issue, and a special guest will name the overall winner at a special ceremony on Saturday, 27 August, at the Melbourne Writers Festival.
SHORTS@45
ABR always enjoys partnering with fortyfivedownstairs, that admirable, valiant not-for-profit theatre and gallery at (yes) 45 Flinders Lane, Melbourne. This year, with fortyfivedownstairs and Hill of Content Bookshop, ABR will co-present three 'Shorts@45' in which major and emerging writers will read from their new fiction or non-fiction releases. First up are Arnold Zable and Rod Jones on Monday, 6 June. These are ticketed events. To book please call fortyfivedownstairs (not ABR) on (03) 9662 9966 or visit their website.
GIVEAWAYS GALORE
Why is bad singing so funny? Is it vaudeville or a case of Schadenfreude? Curiously, we have two new films about the egregious soprano par excellence, Florence Foster Jenkins (who died soon after giving a disastrous recital in Carnegie Hall in 1944). The first – Marguerite, directed by Xavier Giannoli – screened during the recent French Film Festival and is not to be missed. Arts Update hasn't laughed so hard since it read public defences of Tony Abbott's intervention in the Prime Minister's Literary Awards in 2014. Now, directed by Stephen Frears, the great Meryl Streep plays the grande dame in Florence Foster Jenkins. Arts Update regular Ian Dickson's review will appear on its release in early May.
Courtesy of Entertainment One, we have ten double passes for new or renewing print or online subscribers to Florence Foster Jenkins. We also have ten double passes to Mia Madre (Palace Films), directed by Nanni Moretti, which also opens on May 5.
SURVEY TIME
We love hearing from readers as to what they like about Australian Book Review – whom they enjoy reading; what they would like to see more (or less) of. Please complete our reader survey and help us to go on improving the magazine. The survey takes about five minutes to complete. Feel free to skip any questions. The survey is totally anonymous – unless you want to be in the running for one of two five-year complimentary subscriptions to ABR Online (in which case we will need your name and email address).
PAST MATTERS AT MONTSALVAT
Celebrate Australian indigenous culture and literature at the Past Matters festival (May 6-7). Montsalvat and the Nillumbik Reconciliation Group again invite you to join a gathering of some of Australia's best writers and thinkers as they explore Australia's indigenous past and give voice to its present. Speakers include Alexis Wright, Alex Miller, Jack Waterford, Tom Griffiths, Campbell Thomson, and Neika Lehman.
In the opening night event, presented in conjunction with Australian Book Review, Miles Franklin Award-winner Alexis Wright will be in conversation with Jack Waterford, former Editor and Editor-at-large of The Canberra Times, onetime Freedom Rider, and one of Australia's finest journalist-commentators on indigenous affairs. They will be joined by poet and land-rights activist-lawyer, Campbell Thomson (shortlisted in the 2016 Peter Porter Prize) and a panel of writers and journalists.
GIDEON HAIGH IN DUNOLLY
Bendigo Writers Festival and Victoria Law Foundation present 'An Afternoon with Gideon Haigh' in the Court House at Dunolly Historic Precinct on Sunday 22 May, 2016. Join Haigh as he discusses his new book, Certain Admissions, which tells the story of the scandalous 1959 Melbourne murder trial of the dashing but erratic John Kerr.