There was a moment around the time of the release of the final Harry Potter novel when I began to suspect the hype had become a self-fulfilling prophecy. It wasn't an event because of the book any more, it was an event because everybody knew it was an event.
I have to confess to feeling a little bit the same about the build-up to the new Jonathan Franzen. First there was the breathless pre-release buzz and early, embargo-busting reviews in the Washington Post and the New York Times. Then there were the interviews, replete with the inevitable outrage-inducing quotes. Finally – anti-climactically perhaps – there is the book itself.
None of which is to say the book itself is a disappointment, although despite its considerable if intermittent energy and ambition (and occasional moments of exhilarating silliness) it is probably the least consistently successful of the three novels that have made Franzen famous. But it is difficult to avoid a sense of exhaustion about the whole circus, or a suspicion that peak-Franzen is behind us. And, more deeply, it underlines the challenge of discussing the work of a writer whose fiction is now so deeply enmeshed with his public persona that many readers are no longer interested in distinguishing one from the other.
Perhaps not surprisingly, Purity doesn't stray far from the Franzen formula. There is the one-word title, the ideal the novel's disparate cast will alternately strive for and fail to attain. There is the peripatetic setting, the shifting perspectives that set up the interplay between the metropolitan centre of New York and the provinces (Denver this time, with detours to Texas and the Weathermen-haunted streets of California) and the obligatory offshore locations (Bolivia and East Germany). And there is the glorious, Franzenian sprawl and capaciousness, the sense the novel seeks to capture something essential about the multiplicity of our historical moment.
The thread that weaves these elements together is Pip Tyler, a twenty-something graduate weighed down by student debt, a dead-end job, and a pathologically obsessive recluse of a mother locked away in a cabin in the woods. For Pip – or Purity, to use the name that appears on her driver's licence – the future looks bleak, at least until she encounters a group of Germans who have set up camp in her kitchen, a meeting that leads to her accepting a position interning for Andreas Wolf, the charismatic and world-famous face behind the WikiLeaks-like Sunlight Project.
Andreas, whom one might take to be a thinly disguised version of Julian Assange, were it not for the fact the real Assange is name-checked several times (as Andreas remarks at one point, 'the reason we're still thriving and WikiLeaks is going under is that people think Assange is an autistic megalomaniac sex creep'), is a global superstar, a man whose legendary good looks, unimpeachable integrity, and history of embarrassing the powerful have made him a household name.
'It is difficult to avoid a sense of exhaustion about the whole circus, or a suspicion that peak-Franzen is behind us'
Unsurprisingly, though, all is not what it seems, and not just because Andreas is assiduous in his efforts to preserve the good name and image of himself and the project. For – somewhat problematically for a man whose raison d'être is transparency – Andreas is haunted by his own secrets, the biggest of which concerns an act of violence committed during his pre-Internet life in communist East Germany.
After a sojourn at the Project's compound in backwoods Bolivia, Pip is dispatched to America, charged with installing spy software on the networks of the Denver Independent, an investigative news site headed by Tom Aberant, one of the only four people who know Andreas's secret.
Appropriately for a novel that invokes Dickens's masterpiece both implicitly and explicitly – upon meeting Pip one character says, 'I like your name. I have great expectations of you' – Purity's plot also boasts an unclaimed fortune, a missing heir, and mysterious father figures (there is also a rather less convincing Hamlet subplot involving Andreas). Yet despite – or perhaps because of – its Dickensian sprawl and comedic flourishes, it is difficult not to hear the gears grinding from time to time. For a writer capable of genuine psychological complexity, Franzen has a taste for the easy oppositions that underpin a much broader kind of comedy, a tendency most starkly visible in the character of Andreas, a man publicly dedicated to complete information transparency, who is driven by his need to protect his own secrets.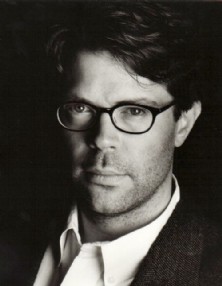 Jonathan Franzen
Nor does it help that the first two sections, centring on Pip's first encounters with Andreas and Andreas's childhood in East Germany, are the book's weakest by far, marred not just by Franzen's shaky grasp of Pip's sense of self and some uncomfortably glib and self-serving politics – I won't be the only one made uncomfortable by the claim that the biggest failing of communism was its 'ridiculousness' – but by the oddly under-imagined textures of his version of East Germany; that a book that purports to interrogate the objectification of women features not one but two truly monstrous mothers.
At this point it will come as no surprise to anybody that Franzen reserves a special fury for his female characters, portraying them as harpies and madwomen and even rehearsing various acts of sexual and physical assault against them (there's an awful lot of talk about 'prey' and 'predator' in Purity). Although at least some of this is clearly intended as a bleak satire of male sexuality (and some, such as Tom's ex-wife's demanding he sit down to go to the toilet, is more parodic than vitriolic), there is little doubt these sections make for uncomfortable reading at times.
Yet focusing on these aspects runs the risk of blinding us to what is really interesting about the novel as a whole. Franzen has long made a point of his concerns about the invidious effects of the Internet, a position that has seen him ridiculed by many as a Luddite and a reactionary. In Purity, this concern is front and centre, captured not just in Franzen's mockery of Andreas's opportunism and hypocrisy, but in his various asides about the culture of easy outrage the Internet and social media facilitate (although, revealingly, the offender in this latter case is characterised as 'some angry young woman in Oakland').
'For a writer capable of genuine psychological complexity, Franzen has a taste for the easy oppositions that underpin a much broader kind of comedy'
Superficially at least, Purity wants to equate the totalitarianism of East Germany with the Internet's ubiquity, suggesting that just as communism pervaded every aspect of life, distorting our thinking, demanding the right to 'define every term of your existence', the Internet imposes a similar hegemony by making our every action public.
Exactly how seriously we should take this argument is an open question: I'm not convinced anybody who spent time in a Stasi prison is likely to be convinced that Facebook is an equivalent tyranny, but I am not persuaded Franzen is either. What isn't is the fact that underlying it is another, less easily dismissed argument about the degree to which the fantasies of perfectibility embodied in the technocratic dreams of the Internet and communism disguise something much darker and more malignant, a fear not just of death, but of embodiment, physicality, our very humanness, an argument as visible in the shit-spattered death of Tom's mother in the book's latter half, as it is in the novel's savage contempt for the apparatchiks of both systems, the 'TED Talks … utopianly titled books' and 'smarmy syrup of convenient conviction and personal surrender that [Andreas] remembered well from the Republic'.
These passages – and indeed the focused fury of the language that lends them their power – are the real heart of Purity, a reminder not just of Franzen's gifts as a novelist, but of the degree to which his awkward, oppositional attitudes to contemporary culture are still capable of surprising and discomfiting us.