It is tempting to draw parallels between Anton Corbijn's Life and the director's own personal history, in particular his series of striking 1979 black-and-white photographs of UK band Joy Division. The Dutch photographer, upon hearing the band's first album, Unknown Pleasures, was convinced something great was in the offing, and set out for England intent on capturing the band with his camera. His iconic photos of Ian Curtis, who took his own life the following year, have come to define the singer for a later generation.
Life recounts the true story of American photographer Dennis Stock's meeting and brief friendship with James Dean. At the outset of the film, Stock attends a Hollywood party thrown by director Nicholas Ray. Stock is introduced to the young Natalie Wood, who has been cast in Ray's next film Rebel Without a Cause. By the pool, Stock comes upon the solitary figure of James Dean, then being considered by Ray for the lead role. Sensing something raw and un-Hollywood about the taciturn actor, Stock subsequently convinces his boss at the Magnum Agency, wonderfully played by a gruff and put-upon Joel Edgerton, to finance a series of photo-portraits of Dean for Life Magazine.
This quintessentially American story boasts a number of Australian connections. Aside from an Australian co-production credit, and Edgerton's brief cameo, the script has been written by novelist and poet Luke Davies, whose previous screen writing credits include Candy, based on his 1997 novel, and starring Heath Ledger and Abbie Cornish. Davies' script for Life manages to be literary without drawing undue attention to itself.
For a film about an actor who later came to define youth rebellion, Life is surprisingly gentle in the way it unfolds. It is almost as if the film takes its cues from the rhythmic patter and mumblings of Dean himself, played sympathetically here by Dane DeHaan. The film covers the brief time span prior to the release of Elia Kazan's East of Eden (1955), which would forge Dean's reputation, and before his star turn in Rebel Without a Cause (1955). Stock is the child of working parents; Dean the product of a Quaker upbringing in Fairmount, Indiana. Despite their obvious differences, the two are drawn to each other by their outsider status.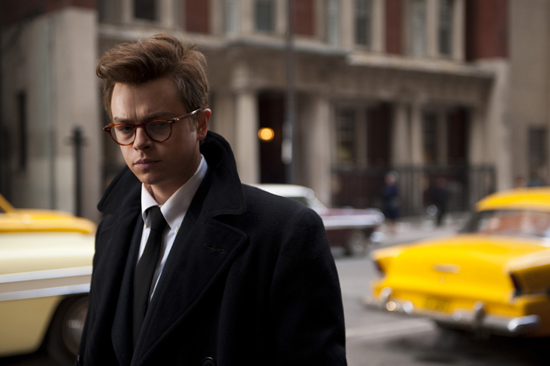 Dane DeHaan as James Dean in Life
As could be expected from photographer Corbijn, the film is beautifully framed and lit, full of wood-panelled interiors, classic cars, rainy streets, and snow-covered fields. The story begins in Hollywood before moving to New York, and then to the stark landscapes of Indiana. Initially, the Dean plays hard to get, and Stock's pursuit of him is like a flirtatious courtship. It is on a rainy day, like any other, in Times Square, that Stock snaps the legendary photo of a solitary Dean, hunched over, walking in the rain.
It is only when Stock accompanies Dean to his hometown that the actor's mask falls away and he is able to capture a relaxed Dean, in the presence of his family. There is a poignant scene, as they pack to leave, when the actor takes a moment to absorb the flat and empty landscape before him. It is as if he registers the passing of a still and silent world, before his return to Hollywood and the eruption of celebrity that would dominate his final months.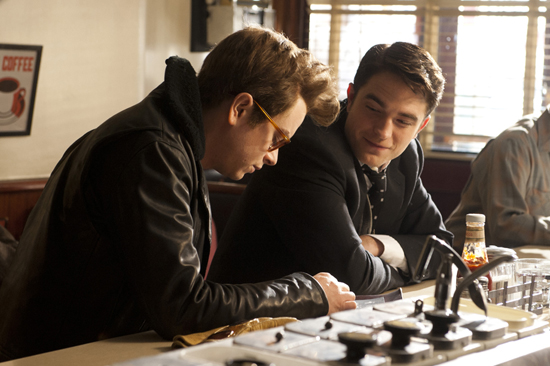 Dane DeHaan as James Dean and Robert Pattinson as Dennis Stock in Life
Robert Pattinson plays Dennis Stock with a studied hesitance and awkwardness. Like fellow Twilight star Kristen Stewart, who delivered such a fine performance opposite Juliette Binoche in Olivier Assayas's The Clouds of Sils Maria (2014), Pattinson's recent shift to less mainstream fare will undoubtedly assist his transition from teen idol to serious actor. While Dane DeHaan's role as Dean requires more mimicry than method, he turns in a believable performance, capturing the complex mix of arrogance, shyness, and moodiness that Dean exhibited. Both actors, however, are almost overshadowed by Ben Kingsley's brief appearance as the irascible studio head Jack Warner, who is driven to distraction by Dean's refusal to play by Hollywood's rules.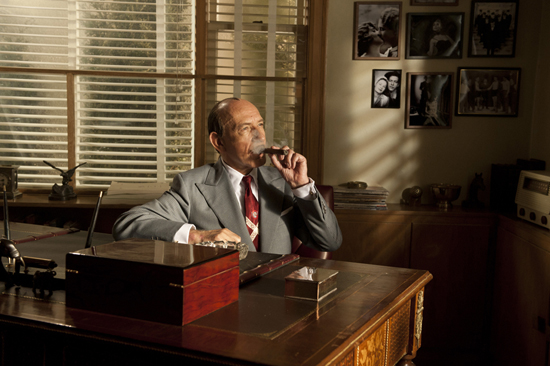 Ben Kingsley as Jack Warner in Life
Ironically, the brief meeting between Stock and Dean – at least in Corbijn's version – allows Stock to re-connect with his life and find a sense of purpose. Dean, on the other hand, returns to Hollywood, as enigmatic as ever, to meet his fate.
While Life fails to match the intensity of Corbijn's directorial début, Control (2007), it nevertheless resonates well beyond its closing credits. At the film's end, we see Dennis Stock's actual portraits of Dean as featured in Life magazine in 1955. It is a reminder, should we need it, of the extent to which Corbijn has constructed his narrative around the original series of photographs. If anything, the images confirm that no living actor could hope to fully evoke Dean's singular presence and fragility. The film's final voice-over, a poem by James Whitcomb Riley, gently repeats the refrain 'We must get home'. Within seven months of the incidents recounted in Corbijn's film, James Dean would be dead, aged twenty-four. He never visited his home state of Indiana again.
Life (CTC), directed by Anton Corbijn, scripted by Luke Davies is in cinemas from 10 September 2015. Life is distributed in Australia by Transmission Films.