Fiction
Peripheral Vision
by Paddy O'Reilly
Just as there are ways of writing short story collections, there are also ways of reading them. I used to be a rummager, picking through collections, seeking out the title piece, dipping in here and there to ascertain the feel of the stories, then reading the book from start to finish. Conscious now of the architecture of collections, of the fact that the author has probably wrestled with the order of the stories, I start at the beginning. Besides, there is no title story in Peripheral Vision, though it is an apt title which captures much of the subtlety of Paddy O'Reilly's handling of the form.
Some short story collections strike the reader as being consistent, thematic, or held together by technical devices such as a persistent present-tense voice. Peripheral Vision instead offers a genuine grab-bag in which voices, themes, and approaches never become predictable. Of the eighteen stories here, twelve have been published before. O'Reilly's are stories that often catch you unawares and sometimes stories like these – perversely – work best for only having been read the once. But these reveal more and more upon rereading.
O'Reilly is particularly good with tension and suppressed violence. This is powerfully expressed in 'The Salesman', deservedly published several times already, including in The Best Australian Stories 2010. This story describes the condescending treatment of an Indian migrant salesman visiting a household of bogans. Yet the reader does not feel she is being given a lesson in cultural or racial superiority. The ending is uncertain: we never know who the real victim is, and questions shimmer like the heat that suffuses the setting of this story. Victims and victimisation are prominent in these stories, but the moral lessons are much more complex and murky. Similarly, in 'One Good Thing', the creeping sense that a girl has been abused by her own brother is confirmed at one dramatic point in the story when her friend the narrator is also violated. However, in a reunion twenty years later, the narrator is so disarmed by her friend's different memory of the past that she sees two quite separate people, a glamorous confident 'princess' and the delicate frightened girl of their past. Who is the victim now, the person who cannot remember or the one who cannot forget?
The characters that populate these stories are from diverse places and backgrounds: a migrant from the Philippines misled into expecting a better life in Australia; a homeless man preferring the delights of the 'Merri motel' and resisting the help of a social worker; two young women holidaying on the cheap in Cairns, one of them burdened with a secret; a man taking a cure for insomnia at a French spa village. One gloriously speculative story delivers characters from the animal kingdom itself, representing rebellious adolescents as feral dogs. And speaking of animals, a tender story unfolds in 'Something to Take Care Of', where a grandfather trains horses as a way of healing a fractured family.
'O'Reilly is particularly good with tension and suppressed violence'
Trams are a particular source of incidents and characters – eccentrics, oddballs, misfits, but also ordinary people. In 'The City Circle', the narrator is so 'medium' as to be anonymous: 'I was a medium-sized commuter on my way to a medium-sized job in a medium-sized city that I know too well.' Consequently, he has made a life for himself by observing other commuters and fantasising about them. In 'The Word', Anna, a teenager riding on a crowded tram, is threatened by a hobo who claims to be the Lord Jesus Christ, yet also empowered: once safely home in her bedroom, she chants a hitherto forbidden word again and again. In both stories the peripheral vision of the narrative means that much more lies just outside the line of gaze. Thus the reader glimpses the unstable past of the person for whom everyone riding on a tram is 'someone heading for a breakdown'; or the fact that Anna is uncertain about sex, about her boyfriend, and about herself.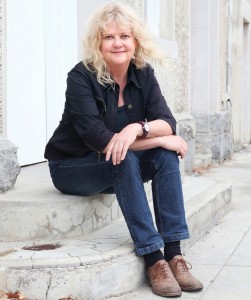 Paddy O'Reilly
The essence of O'Reilly's skills as a story writer are displayed in the penultimate story, 'Territory', which contains such an unexpected punch it could have come last in the collection. Thematically, it might be a little heavy-handed, but technically it hardly misses a beat, beginning almost innocently by introducing a group of young women out on their regular Friday night drinks. The narrative voice is bland, matter of fact; the group is 'a mixed-up crowd, sometimes mistaken as a hens' night or a victorious hockey club, out on one of those occasions when different girls come together to celebrate'. But they are not celebrating. As the real purpose of the occasion slowly emerges, tiny details from the start of the story begin to click into place: the narrator's fondness for picking away at dead skin, another character's shapeless, 'urban guerrilla girlchic' dress.
After this, the final story, 'Festival Night', seemed a distraction. It was only after forcing myself to concentrate harder and reread it with 'Territory' out of my head that I saw this story for what it really was: another disarming piece, a subtle and haunting referencing of history by a narrator about to leave Japan to return home, the country having 'burned an impression' on her body. This is a great collection, which also burns an impression on our imagination.