Opera
The Marriage of Figaro and The Elixir of Love (Opera Australia)
Opera Australia's short spring season in Melbourne began with the first revival of David McVicars's highly resuscitable production of Le nozze di Figaro

, first seen in Sydney in August this year. It follows the British director's Don Giovanni already seen in Sydney and Melbourne. Così fan tutte will follow next year – welcome programming of these three Mozart/Da Ponte masterpieces by the national company.
In his long review for Arts Update, Michael Halliwell praised McVicars's production as a 'triumph', a palpable hit:
The elements of farcical comedy are all there, but a deep sense of humanity is pervasive, and evident throughout is the great attention to detail from the sparkling recitatives to absolute clarity in the direction of each individual.
McVicar works on a grand scale, often, as here, with handsome resources, but it is his 'attention to detail' that impresses most, along with his faith in his singers and his eschewal of 'any gimmicky regie-theater impositions', to quote Halliwell again. This luminous production suits the large Melbourne stage. There is always much to savour in a McVicar production – much to watch. Even the comprimarii and supernumeraries are individualised and energised – no directorial scanting here.
The lighting and costumes are exceptional. Jenny Tiramini – longtime associate designer at the Royal Shakespeare Company, then director of theatre design at Shakespeare's Globe Theatre during Mark Rylance's tenure as artistic director – is responsible for the latter. It is easy to see why she won the 2014 Tony Award for Best Costume Design (Twelfth Night). Among the costumes none was better than the Countess's gold dress à la Van Dyck in Act III.
The production is set in the 1640s, a violent time reflected in the physical and sexual violence enacted, or threatened, onstage.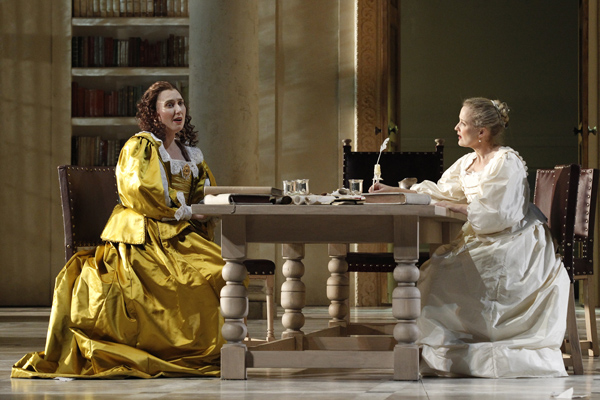 Jane Ede as the Countess and Taryn Fiebig as Susanna in Opera Australia's The Marriage of Figaro (photograph by Jeff Busby)
There have been some major cast changes since the Sydney première, not all of them for the best. Arts Update has heard wonted grumblings about 'Melbourne casts'.
Taryn Fiebig remains Susanna, and this is an outstanding performance, after many fine recent ones from Fiebig. 'Deh vieni non tardar', the exquisite Act IV aria that begins to resolve the day-long madness (Beaumarchais' play is subtitled La Folle Journée), was beautifully sung.
Jane Ede (succeeding Nicole Car, now at the Royal Opera House singing Micaela followed by Tatyana) was a revelation as the Countess. 'Porgi amor', which introduces the Countess in Act II, exposes any technical weakness, but there was none here or in 'Dove sono' in the following Act. Desolate and humiliated, the Countess can be a rigid character, but Ede brought a kind of black humour and requisite disdain to this neglected aristocrat, and her entrance at the end, after the ruse, was dramatic. Ede and Fiebig's refined singing in the Letter Duet was perhaps the highlight of the evening – notwithstanding the two members of the orchestra who chose to saunter to their places during this duettino, both quite visible from the circle, where Arts Update was seated.
Sian Pendry (Cherubino) sang with vigour and was suitably tomboyish. Eva Kong (Barbarina) was funny to watch and sang beautifully in her unfinished cavatina in Act IV.
Andrew Jones was an indifferent Figaro. All night he suffered from wayward pitch and meagre volume; by Act IV he seemed to have little voice left. Shane Lowrencev, taller than the tallest tree, was an imposing, and threatening, Count. This role may not suit Lowrencev as well that of Leporello, but his singing in the great Act III aria 'Vedrò mentr'io sospiro, felice un servo mio?' was notable.
This craziest of mad days chez Almaviva ends, improbably, quite happily. The sublime ensemble that closes the opera was very moving, as it should be.
Simon Phillips's production of Gaetano Donizetti's L'elisir d'amore

has been amusing audiences since 2001, when it was first performed in Melbourne. Australian opera audiences, it must be said, are easily amused, and this spirited revival has the desired effect. Each new wagging tail or simulated humping or liberal surtitle induced more commentary and merriment in the stalls.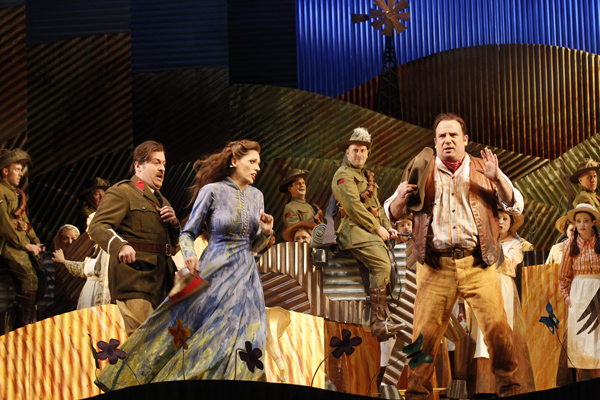 Christopher Hillier as Belcore, Rachelle Durkin as Adina, and Aldo Di Toro as Nemorino in Opera Australia's The Elixir of Love (photograph by Jeff Busby)
Like Figaro, the opera has been popular since its first season in Milan in 1832, which stretched to thirty-three performances. Berlioz, tantalisingly, was present at one of them, but the composer – admittedly grumpy (J'étais tres fort morose') – left because of the rowdy audience. Such was the opera's popularity that Richard Wagner arranged it for piano in 1840. Great tenors have always been drawn to the role of Nemorino, and the first hour is surely one of the most inspired and melodic in Italian comic opera.
Donizetti wrote the opera for Teatro Cadobbiana with typical celerity – just two weeks, according to most authorities. Donizetti was spurred on by the recent success of Vincenzo Bellini's La Sonnambula. (Donizetti was thirty-four; his brilliant Sicilian rival was thirty.) Once again Donizetti collaborated with Felice Romani, the librettist of Anna Bolena, which had triumphed in Milan two years earlier. Romani, the leading librettist of his age, provided the libretti for Bellini's masterpieces, La Sonnambula and Norma.
William Weaver has pointed out that borrowing plots wasn't regarded as plagiarism in the 1830s. 'Romani, who wrote over a hundred librettos, probably never invented a story,' Weaver notes. Here, Romani adapts Eugène Scribe's libretto for La Philtre, which had premièred in 1831. Romani's libretto is a comic miracle – brisk, elegant, insightful throughout.
As in Don Pasquale (1843) – seen here last November, a revival of Rodger Hodgman's excellent production – there only five principals. There are fewer acts: Elixir has two compared with Don Pasquale's three. Michael Scott-Mitchell's corrugated and brilliantly lit and coloured set is rightly celebrated. Gabriela Tylesova's costumes suit the action and the varied characters to a tee.
Conal Coad as Dulcamara (photograph by Jeff Busby)
Simon Phillips places Donizetti's opera comica in 1914, as the Great War begins. It is set in the Australian bush, with sheep and kelpies – even a chook pen. Phillips conceives it as a furious romp, but the cast proves willing and capable, despite some over-direction, as in Adina and Nemorino's final duet, when the endless swirling and gesticulation distract from the brilliant music. Phillips as an opera director is intent on caricaturisation; everything is overdrawn. This works with some of the characters – Belcore and Dulcamara perhaps – but not with Nemorino, given his stubborn, clumsy, purposeful love for Adina. William Weaver (again) has pointed out that 'Nemorino's love of Adina ... is the opera's mainspring, and there is nothing comic about it.'
Happily, Nemorino is left to perform 'Una furtiva lagrima' in stillness and solitude – rarities in this production. Many great tenors have recorded this aria, the best rendition perhaps being Caruso's 1904 version. Aldo Di Toro sang it with feeling and flair. From his opening cavatina, 'Quanto è bella', which introduces this likeable character, Di Toro was the outstanding singer of the night.
Rachelle Durkin, who was so good in last year's Don Pasquale, looks the part as Adina. She is tall, agile, and very slender – with an angular beauty and comic restlessness that remind us of a young Katharine Hepburn. Hers is an agile soprano, and she coped with the demands of the coloratura. It is not a large voice, and Adina probably requires a fuller timbre than this (notable Adinas on record have been Joan Sutherland, Lucia Popp, and Ileana Cotrubas). Durkin was at her best in 'Chiedi all'aura lusinghiera' and 'Prendi, per me sei libero''
Conal Coad acts with his usual comic flair and nimbleness. This Dulcamara is more mendacious than the usual beneficent quack, passing off his Bordeaux as Isolde's love potion. Coad's singing in Act I was worrying, with a pronounced vibrato, especially during 'Udite, o rustici' – with its fast patter section.
Christopher Hillier (Belcore) improved as the night wore on, and was in good voice during his Act II duet with Nemorino. Eva Kong again impressed as the flirt Giannetta.
Orchestra Victoria is playing consistently well this season, first under Anthony Legge (Figaro); then under Benjamin Northey (Elixir). The continuo of Siro Battaglin in Figaro deserves special mention.
The Marriage of Figaro, directed by David McVicar and revived by Andy Morton, continues at the State Theatre, Arts Centre Melbourne until 28 November. The Elixir of Love, directed by Simon Phillips and revived by Matthew Barclay, also runs until November 28 (matinee). Performances attended: Figaro (12 November) and Elixir (21 November).
Arts Update is generously supported by The Ian Potter Foundation.