Alex Miller: The Ruin of Time by Robert Dixon
Sydney University Press, $30 pb, 246 pp, 9781743324073
Literary Studies
Alex Miller: The Ruin of Time
by Robert Dixon
We do nothing alone,' writes Alex Miller, in his brief memoir 'The Mask of Fiction', where he gives an account of the generative processes of his writing. Art, according to Miller, comes from the capacity of the writer to 'see ourselves as the other'. Early in his career, Miller's friend Max Blatt woke him, in his farmhouse at Araluen, in order to dismiss the weighty and unsuccessful manuscript that Miller had given him to read. Blatt's urgent and unsociable rejection of the manuscript may have saved Miller's work, establishing a new emotional basis for his writing. 'Why don't you write about something you love?' Blatt asked. That night, Blatt told Miller a true story of personal survival and Miller began to write afresh. In the morning, Blatt accepted Miller's version of the story he had told with the words: 'You could have been there.'
Robert Dixon describes this event in the first book-length critical study of Miller's work: Alex Miller: The Ruin of Time. It is a remarkable account of nocturnal renunciation and revelation. At the heart of it is an understanding that 'see[ing] ourselves as the other', to the point of writing as if 'you could have been there', within the life of another individual, is not a vague acknowledgment of the value of empathy. It is extreme, intensely personal, and transformative, and it enables the writer to create wholly convincing work. Friendship, in Miller's account of his own life, is the potent accelerant of art. Specific friends are associated with his novels: Max Blatt, Morris Aplin, Jimmy Diamond, 'a Chinese-Australian friend', Liz Hatte and Col McLennan, Frank Budby, Anita Heiss, Stephanie Miller, and Barrett Reid are mentioned in 'The Mask of Fiction', and Dixon's fine 'survey' of Miller's novels establishes other important connections.
'Friendship, in Miller's account of his own life, is the potent accelerant of art'
Dixon's critical study arises from ten years of 'conversation' with Miller and his work, and it is easy to imagine a kind of textual friendship here between fiction and criticism. Miller and Dixon are well matched: novelist and critic are both thoughtful, limpid, and deeply concerned with literature and our cultural and historical inheritances – some of which are very dark. 'We do nothing alone' can affirm the necessity of friendship and inspirational guidance. It can also point to an engagement with genocide, displacement, and massacre – the subject of much of Miller's fiction, which insists on the continuing significance of indigenous history. Dixon's monograph is an exploration of the 'abiding aesthetic and ethical preoccupations' of Miller's novels. It is a timely consideration of a novelist of immense cultural, artistic, and moral scope.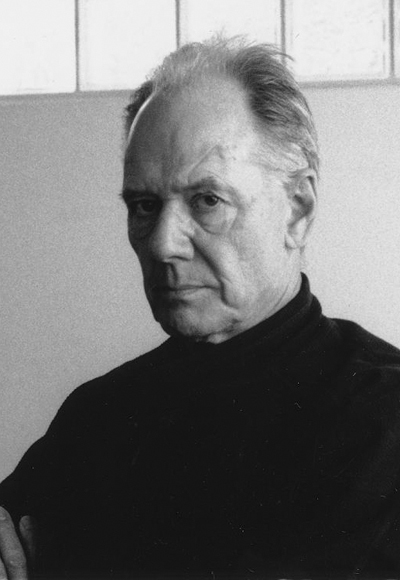 Alex Miller (photograph by Kate Miller)
Dixon modestly describes the book as a 'survey'. It provides a sound foundation for understanding the biographical, literary, philosophical, historical, artistic, critical, theological, and even operatic background of Miller's work. Miller is not, as Dixon puts it, 'middle-brow'. His fiction is accessible, but it is culturally complex, self-reflexive, and intertextual. The novels, as Dixon acknowledges, 'move so effortlessly from the abstract to the concrete, from the historical or the philosophical to the fictional', and they constitute a 'substantial intellectual achievement'.
Elsewhere, I have described Alex Miller as a great writer and a great thinker, and Dixon maps the expanses of Miller's thought – the 'intellectual achievement' of the fiction – with precision and understanding. There are three identifiable zones in Miller's novels: indigenous and colonist violence in central Queensland; modernist and contemporary visual representation; and France and North Africa, in relation to women's compulsions and independence. All lead to important artistic and ethical questions about Australia. Each zone of writing is somewhat distinct and each constitutes a formidable literary achievement in itself. In Alex Miller: The Ruin of Time, they are discussed with cohesive critical intelligence as Dixon's criticism traces an integrated authorial vision. His definition of Miller's central literary concerns is concise: 'friendship, intertextual hospitality, generosity, collaboration, migrancy, being-in-time, being-toward the other and being-toward death'. None of these terms is uncomplicated, or deployed by Miller in an uncomplicated manner. Friendship, for example, is not a simple matter of recognition and compatibility, it has the potential for personal colonisation or parasitism.
'Dixon argues convincingly that ''critics have yet to come to terms with the textures of Miller's style'''
As well as providing the background for an appreciation of Miller's novels and a clear view of their collective preoccupations, Dixon is concerned about reading. He points out that 'Miller has been read too quickly, too transparently as a realist'. Critics have not always grasped the ironies in Miller's representation of politics, especially in the Queensland novels. Dixon argues convincingly that 'critics have yet to come to terms with the textures of Miller's style'. This is part of a larger argument about reading that is threaded through Alex Miller: The Ruin of Time, most apparently in the discussion of the Queensland novels: 'In Miller's literary fiction, reading and misreading – reading the country, reading each other and reading the signs of the past – are explicitly thematized.' This version of reading is part of the rich and multiple perspectives of the fiction and the acknowledgment that European knowledge has severe limitations in relation to indigenous apprehension of the land. In Coal Creek (2013), Miller's most recent – and possibly final – novel, the significance of reading carries great import because the narrator is semi-literate; he is articulate. There is a gap between what is written and what is known. As readers, we are invited to 'see ourselves as the other' at the most basic level, the level of literacy.
Extended critical discussion of a single writer's work is becoming less and less common. Few writers are as deserving of lucid and sophisticated critical consideration as Alex Miller. It is heartening to read a critical work of such scope and acuity, and important for the future of Australian literature that publishers such as Sydney University Press continue to be so committed to Australian criticism.